Posted by Mark Schieber on 18th Jun 2020

Dynabrade belt sanders are the most recognized shape in portable abrasive belt tools. Based in Clarence, New York and founded in 1969, Dynabrade is a top tier manufacturer of American made abrasive air tools. As an industry leader, their promise is to ensure that your sanding and finishing needs are met with consistency. Great attention to detail can be found in every Dynabrade product and the company prides itself on performance, quality control, and durability. Best of all, every Dynabrade industrial air tool is made in the USA. Their air-powered sanders andpneumatic files are used in a variety of heavy industries across the globe. Given the extended service life over the long term, pneumatic belt sanders often prove a more cost-effective solution than buying a comparable electric tool.
Before we get started, It should be noted that air tools do require an adequately powered air compressor to provide stable air flow, power, and speed. Also, keep in mind that although slightly louder than electric tools, air tools don't generate as much heat and with proper lubrication, can run around the clock, 24-7. Lastly, remember that although generally more expensive, air powered tools are a long term, sustainable investment that leads to a safer workplace and less environmental waste.
---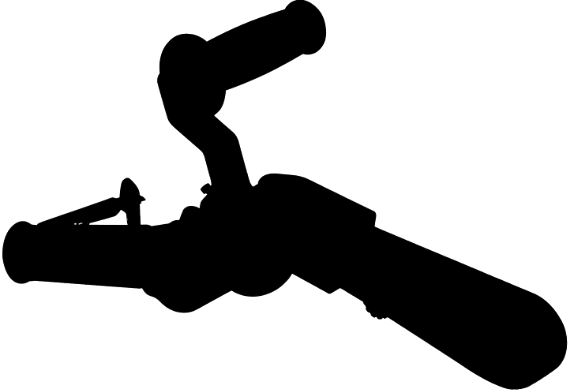 Why Use a Pneumatic Belt Sander?
Some of the advantages of using Dynabrade belt sanders include:

Versatility - Use one handy tool for multiple surface preparation and material removal applications
Throughput - Increased productivity as result of less manual, hand sanding
Agility - Compact size and extended reach for maneuverability in otherwise inaccessible areas
Ergonomics - Lightweight design for greater operator comfort over extended periods of use
Adaptability - Compatible with many different sanding belts when used with the right contact arm
Durability - A properly maintained air tool last much longer than a similar electric tool

Below is a discussion of some of the most popular Dynabrade Belt Sanders on offer and the various applications they can be used for:
---
The Original Dynafile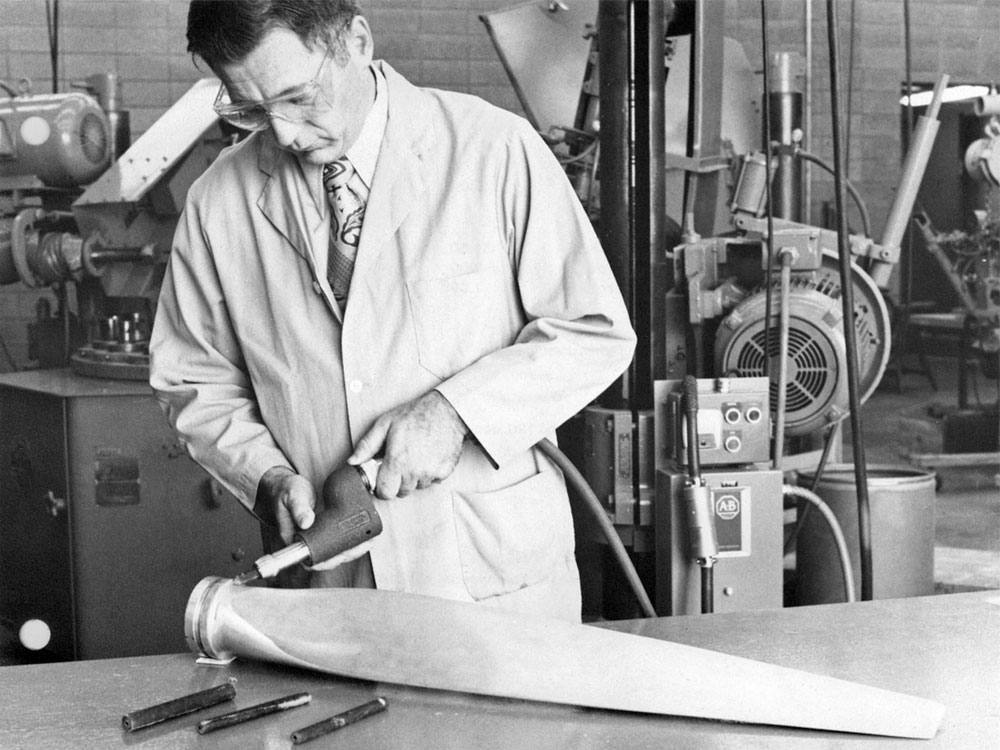 Dynabrade's founder, Walter Welsch, designed the original Dynafile to replace tedious hand filing and sanding. It remains the best tracking handheld abrasive belt tool on the market today. The Dynafile can be used to grind on the contact wheel (tip) or the platen pads (sides). There are a several different versions available. Here is an overview of the three series of Dynafiles:
---
Dynafile I
Dynafile 14000 ("The Original"), for 1/8, 1/4", or 1/2" wide x 24" long belts - Includes the 11218 Contact Arm
Use this tool for turbine blade rework, cleaning off rust (using Scotch Brite style belts), grinding down welds, or sanding the inside of slatted surfaces. A heavy duty shroud protects the motor pulley and keeps debris from accumulating on and around the belts drive wheel. A spring loaded contact arm allows for quick bet changes.
---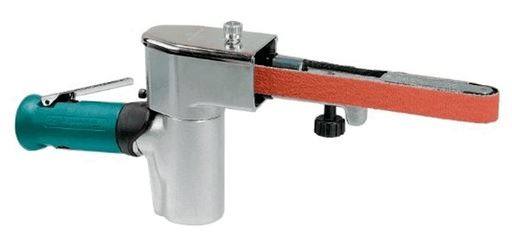 Dynafile II
Dynafile II is the evolved and more ergonomic version of the original Dynafile. Also, notice how the shroud doesn't cover the air motor of the tool allowing for better access into tight spaces. Several models are available, most come with a 1/2 HP, 20,000 RPM air motor with the exception of the slow speed 40381.
Dynafile II Model 40320

uses 1/8" through 3/4" wide x 18" long coated abrasive sanding belts

Dynafile II Model 40326

uses 1/8" through 3/4" wide x 20-1/2" long coated abrasive sanding belts

Dynafile II Model 40335

uses 1/8" through 3/4" wide x 18" long non woven (Scotch Brite style) belts

Dynafile II Model 40381

(5,000 RPM slow speed version for use on exotic alloys) uses 1/8" through 3/4" wide x 18" long coated abrasive sanding belts
Low Profile Dynafile II: This is the compact version of the Dynafile II for work in low clearance spaces.

Model 40352

accepts 1/2" x 18" coated abrasives belts.

Model 40353

is similar to 40352, but is designed for use with non woven Scotch Brite style belts. The major difference is that the 40352 has a rubber drive wheel to prevent non woven belt slippage instead of the standard knurled metal wheel. The non-woven version is great for graining and applying decorative satin finishes to stainless steel.
Vacuum Dynafile II: Model 40330 - 3/4" x 18" long contact arm plus dust collection for reduced mess and improved industrial hygiene. The tool's shroud has an exhaust port and it comes with a hose and dust collection bag. You can even hook it up to your shop-vac or central vacuum system with the right couplers.
Mini-Dynafile II: Two different models on offer for 12" belts (

model 15003

) and 13" belts (model 15013). This is a smaller tool, ideal for working in narrow openings and performing strap style polishing. This little tool is good for taking down welds on two adjoining plates placed at a 90 degree angle. It is also handy for de-burring round cut outs or getting inside channel.
---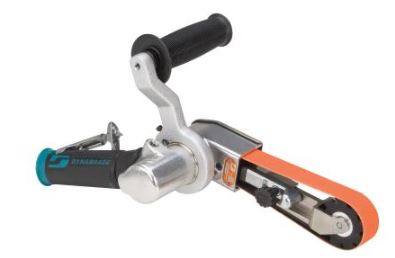 Dynafile III
Dynafile III: Model 15300 is the highest horse power tool in the Dynafile line up. The Dynafile III features a larger 0.7 HP motor for more aggressive material removal jobs as well as a side handle so you can apply extra force to the work. Use it to blend scratch patterns, take down welds, or strap sand. The contact arms for the Dynafile II models also work with this tool.
---
Dynabelter
The Dynabelter is a popular option for even heavier material removal requirements. Use it for heavy blending, weld grinding, and finishing on metal and other surfaces. The Dynabelter is similar to the Dynafile but for bigger jobs. There are three different models:
There is also the unique, but slightly odd Accu-Grinder Model 11486 which features an adjustable depth wheel to prevent undercutting and scrapping parts. The adjustable guide tires help you "stay within the lines" when applying uniform patterns and taking even passes. The Dynabelter is great for pipe and tank work and comes equipped standard with a hard durometer 2" X 1" contact wheel. Pro Tip: For best results the accu-grinder should be used at a 45 degree angle and pulled toward the operator (not pushed) when making your passes.
Features of the Dynabelter:
● Great for stainless steel, carbon steel, aluminum, wood, and composites
● Higher horsepower for faster material removal rates
● Safety-lock lever prevents accidental activation if the tool is dropped.
● Use it to de-burr castings, grind cylinders, and take down welds fast
● A variety of accessories are available to expand its use including contact arm extenders that allow the tool to accept belts up to 60" long.
---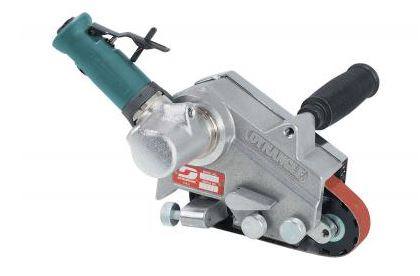 Dynangle I
Yet another Dynabrade original, the Dynangle I is Dynabrade's answer to the traditional belt sander. What makes it special is that you can either slack sand tubes by removing the platen pad, or use it with the platen pad in place to grind on flat surfaces. Another money saving feature is the use of a gearless, direct drive, 0.7 HP air motor which helps keep maintenance costs down. At under five pounds the tool is light and nimble and as with all Dynabrade belts sanders, there are a variety of application specific contact arms available. Out of the box, model 14200 accepts 1" x 18" belts and the belt advances at 6,5450 Surface Feet Per Minute (SFM)
Features and Benefits of Dynangle I:
Compact (only 11" long x 5" tall), ideal for work in tight spots. Great for blending radiuses and graining stainless steel.
Fast and easy belt changes, plus the tool works great with either coated or Scotchbrite style belts
Multiple application specific contact arms available
Standard equiopoed with contact arm 14266 which is a 1" x 18" arm with a serrated 2" X 1" medium hardness rubber contact wheel.
---
Dynangle II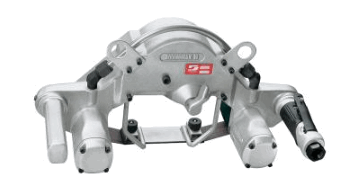 The Dynangle II is a two handed belt sander that can be used in either parallel or perpendicular to the work. Use it with the platen pad in place to surface grind, or remove the platen pad for strap polishing applications on cylindrical parts. There are three models available with either single or dual air motors depending on your horsepower requirements. The dual motor models accept two belts, allowing you to get larger jobs done in shorter amounts of time. Work slats, polish, and grind contours using this tool. Also beneficial for weld take down, surface preparation prior to welding, and blending and finishing weld seams.
Dynangle II Model 14300 - Single Motor, 1.2 HP, 13,000 RPM, 8,500 SFPM - Uses 2" x 34" belts and has a span of 11-1/2" which allows you to sand cylindrical parts up to 3 feet in diameter. Dynabrade sells a conversion kit that allows you to upgrade to the dual motor version when the time is right.
Dynangle II Model 14303 - Heavy Duty, Dual Motor, 2.4 HP, 13,000 RPM, 8,500 SFPM - Uses 2" x 34" belts and is the same in form function as the single motor model, but with more power for bigger jobs. Note: this tool has a large CFM requirement of 106 CFM and if you want to get the most out if it you will need at least a 30 HP compressor.
Dynangle II Model 14306 - Heavy Duty, Dual Motor, 2.4 HP, 13,000 RPM, 8,500 SFPM - Super heavy duty and also just plain heavy, this is the largest Dynangle on offer. It uses 2" x 45" belts and the tools overall length is almost 2 feet. With a belt span of 17" you can grind pipes up to 48" in diameter. Both dual motor Dynangles, come with a 2" x 6" removable platen pad.
Features of Dynangle:
● Quick and easy belt changes
● Accepts multiple types of belts, including non-woven and coated abrasives
● Interchangeable contact arms can be used for refinishing pump screws and drilling screws
● High horsepower motor increases production rates and throughput
---
Take-About Sander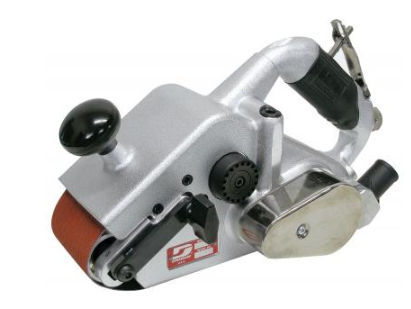 The Dynabrade "Take-About Sander" Model 52900, is an air powered abrasive belt tool that can be used for finishing, graining, and surface leveling. The opposing grips placed at 45 degree angles are reminiscent of an old Skil 100 planer. It is a heavy-duty (and heavy weight sander) equipped with a a robust a 1.3 hp air motor. It uses a 3" x 24" belt which allows for aggressive remove material on metal and wood. Perfect for use with high performance ceramic sanding belts.
Features of the Take-About Sander
● On/Off toggle switch for effortless belt tensioning
● Pistol-grip handle and top control knob for superb operator control
● Works well with your favorite brand of non-woven nylon or regular coated abrasive belts
● Safety-lock throttle lever prevents accidental activation if the tool is dropped
---
Kits and Accessories
Once you choose your belt sander, you might want to consider some accessories to accompany it:
---
Versatility Kits
Many of the tools discussed above are sold in versatility kits which, in addition to the bare tool include: abrasive belts, wrenches, replacement platen pads and a handy carrying case. The 40321 Dynafile II versatility kit is our best seller.
---
Contact Arms
Dynabrade offers a ton of application specific contact arms to choose from. We have most of them loaded on our website and organized by the tool that they go with. View Dynabrade Contact Arms Here You might also want to Download the Dynabrade Catalog for specifics.
---
Air Tool Oil
All of the air tools mentioned in this article require air tool oil. Dynabrade has there own variety as does Ingersoll Rand and Chicago Pneumatic. In a pinch, you use use any non detergent 10 weight motor oil, but actual air tool oil contains special conditioners to maximize motor vane , bearing, and o-ring life. Nevertheless, heat is the enemy and when it come to lubrication, something is always better than nothing. Oil your rotary vane air tools frequently. We stock Ingersoll Rand 10P Air Tool in pint size bottles here at our shop.
---
Air Line Swivels
Air line swivels not only extend the life of your air hoses, but they extend the life of your operator's elbow too! By installing air line swivels, workers will experience less "hose fight" and work more comfortably which ultimately results in better productivity.There are many generic air line swivels on the market that look like this: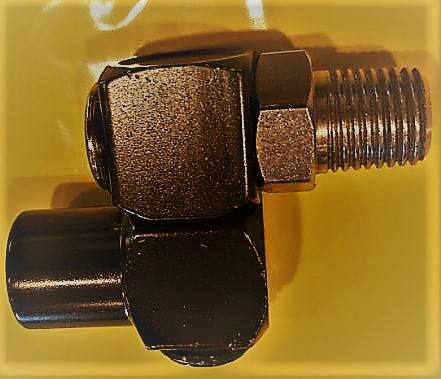 However, for a modern take on the airline swivel, we like the Chicago Pneumatic CP Air Flex which is made from machined 6061 aluminum. Not only does the CP Airflex rotate smoother, but it allows for better airflow to your tools, in turn maximizing air tool performance.
---
Filter-Regulator-Lubricator Units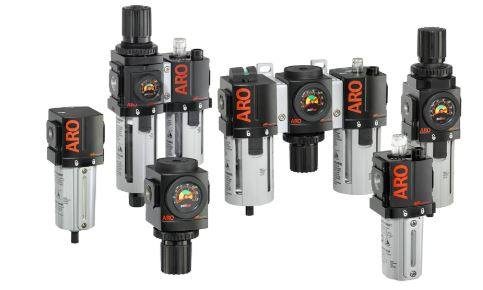 Last, but not least remember that clean, dry, and lubricated air is the key to getting the most life out of your pneumatic tools. Dirty, dry air is a recipe for disaster and if you plan on paying the high price for an industrial grade air tool, you need to protect your investment. For more on FRL units, check out this blog we did a few years back: How To Maximize Air Tool Performance.
In conclusion, Dynabrade has thought of a pneumatic belt sander for nearly every application. They make high quality, rebuildable air tools designed to help you get parts out the door faster. If you need help choosing or configuring a Dynafile, Dynabelter, Take About Sander, or any of the other models mentioned in this article, give us a call, we are here to help. We also repair broken Dynafiles at reasonable rates.
International Air Tool Company - (619) 795-7955
San Diego, California USA