Aerospace

Aerospace is a demanding industry that demands pneumatic tools built to withstand the rigors of production use. At International Air Tool Company, we supply tools designed with productivity in mind. Our goal is to help our customers select products built for the long haul that will lead to greater output on the production line. In this guide we discuss the 5 most common air tools found in aerospace manufacturing facilities and provide a few examples of their applications in these environments.

The critical nature of aerospace drilling calls for perfectly concentric holes. Successful hole drilling in advanced materials requires a drill motor whose horsepower and RPM ratings are well matched to the job at hand.
Before choosing a production drill for your hole making application, it's best to consider the following:
What is the diameter and depth of the hole to be drilled?
What type of material is being drilled and what is the hardness rating in Rockwell C or Brinell?
What is the orientation of the work and is the approach straight on, from above, or at a 45-degree angle?
Are there space restrictions that require the use of a reduced head height right angle drill?
Do you have a feel for what the jobs horsepower requirements are?
What are the recommended Revolutions Per Minute (RPM) and Surface Feet Per Minute (SFM) specifications supplied by the material manufacturer?
Pistol Grip Drilling on an Airplane Fuselage
The drill speed chart below have been provided to us by one of the top aerospace drill manufacturers and can provide some guidance in selecting your next pneumatic drill.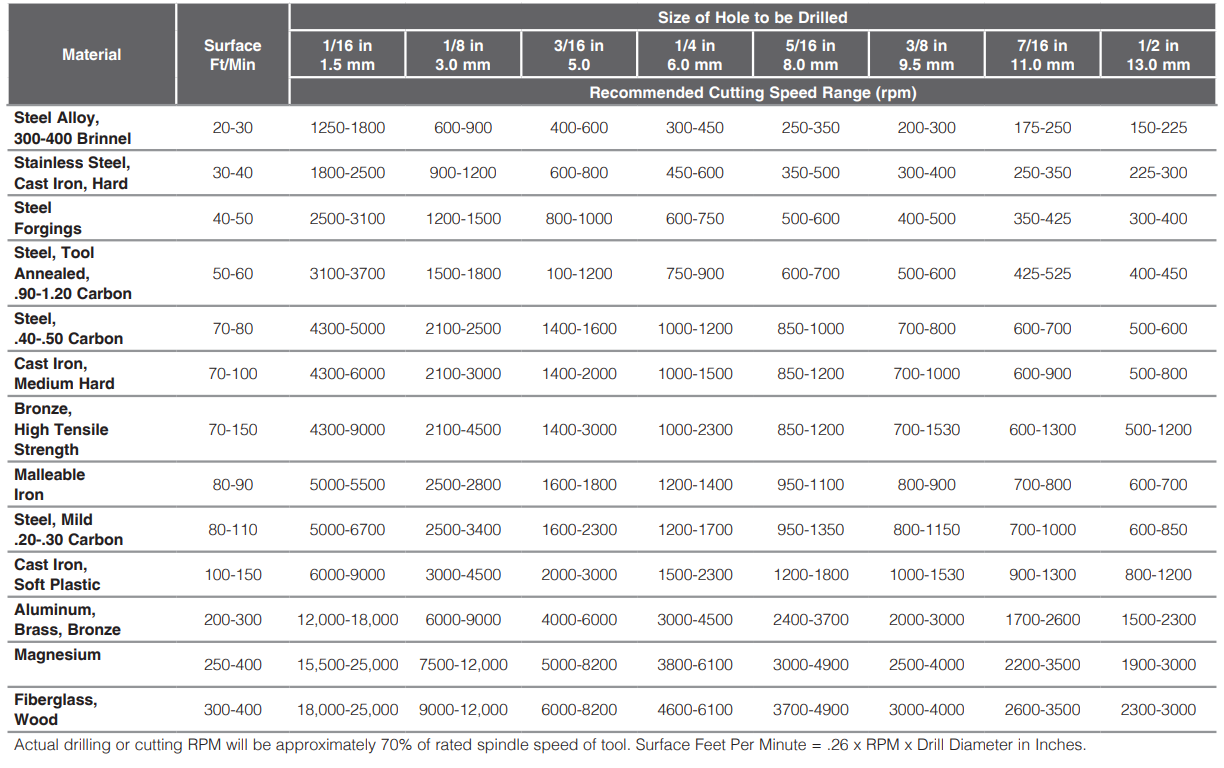 For drilling applications with an unrestricted, head on  approach, we offer a wide selection of pistol grip drill motors by Ingersoll Rand, Sioux, Cleco, Dotco, and Desoutter tools.
Our pneumatic drills range in horsepower from .25 HP to 1.4 HP and operate at free speeds from 400 RPM to 21,000 RPM.
Surface Feet Per Minute (SFM) should also be considered when making your selection (see the aforementioned guides).
Available chucks include Jacobs keyed or keyless chucks with capacities ranging from 1/4" up to 1/2".
Compact right-angle drills built for drilling in tight areas come equipped with female 1/4"-28 chucks and have heads heights that measure as short as 1.1".
Compact right angle drill with a ¼"-28 female head designed for use with threaded drill bits
Aerospace worker in Europe uses a 45 degree angle head drill on a fuselage
Pneumatic Rivet Hammers and Compression Squeezers

For your air hammer and compression riveting needs, we have teamed with Ingersoll Rand, Desoutter, and Cleco to bring you a variety of accurate and easily controllable riveting tools. Our pistol grip style rivet hammers are equipped with .401 or .498 retainers and can handle rivet diameters ranging from 1/8" to 5/16" (depending on whether the rivet is made of steel or aluminum). Our compression riveters are offered with either C-yoke or alligator style jaws and can install rivets from 1/8" to 1/4" in diameter. 
Pistol grip percussive rivet hammers are equipped with adjustable air flow knobs to control the amount of force applied to the rivet. In contrast, compression style riveters use either single or tandem air cylinders to generate the required pounds of squeezing force.  Rivet sets for both styles of tools (rivet hammer and compression riveters) are sold separately and are best obtained from your rivet supplier.
Pistol grip style riveting hammers should be selected based on the size of the rivet to be installed. These tools are used to pound the head of the rivet while the tail of the rivet is deformed using a bucking bar. This is a two man job. Rivet hammers are not of the "POP" rivet variety used for installing blind rivets, but rather are powerful percussive style tools.
The airframe reference (2X, 3X, 4X, 5XB,7XB, or 9XB) refers to the length of the tool's neck and its internal piston, which in turn determine stroke length and blows per minute (BPM). There exists an inverse relationship between blows per minute and stroke length. Tools with a longer stroke hit slower and harder, while tools with a shorter stroke hit softer but faster.
When making your selection, you need to be aware of the shank size of the accessory you will be using with your rivet hammer. Rivet hammer sets (bits) are offered in a variety of styles on the contact end, but their turned shank is always an industry standard .401 or .498. Typically the larger hammers used for driving larger rivets will have the 0.498 shank, while the lighter hitting models utilize the .401 shank.
Desoutter Model CP4444-RURAB
with a 2X Air Frame Reference
Compression Riveters - C Yoke and Alligator Squeezer Style
Pneumatic compression riveters are offered with either C-Yoke or Alligator style jaws. With the C Yoke type tool the rivet is squeezed between the tips of the "C" whereas with an alligator style the collapsing action is similar to the movement of an Alligator's jaws. Regardless of the type of jaws or yoke, only one jaw moves while the other remains stationary.
Compression riveters are offered in single, double, or triple cylinder models. The greater the number of cylinders, the more pounds of force generated by the tool. Greater squeezing force allows for the installation of larger and harder rivets.
Air powered compression riveters install rivets by "flowing" the rivet metal with compression forces. This squeezing action is obtained by coupling the aforementioned air cylinder(s) and piston to a wedge or cam, thus multiplying the original force to extreme ratios. High compressive forces are obtained from a relatively compact unit featuring small diameter air cylinders which use very little compressed air (CFM).
In contrast to rivet hammering, squeeze riveting is far less noisy and can be performed by one operator. Additionally, optimum control may be obtained because the rivet head is formed by a steady, uniform squeezing action. With a compression riveter, the set plunger and dolly are an integral part of the squeezer itself, allowing the length of the return stroke to be adjusted so that the plunger does not have to travel its full length.
In summary, with compression riveting, consistently applied pressure makes for a better appearance of the finished product and maintains the highest degree of structural integrity.
Questions To Consider When Choosing a Compression Riveter:
Rivet material: What type of metal is the rivet made of?
Rivet body diameter: what size is the rivet?
Rivet head: What is the form of the rivet head which will in turn dictate the types of rivet sets selected (flush or cupped)?
Rivet length before and after compression: What stroke length is required to achieve the desired result?
Forces Required: How many pounds (lbs.) of force are required to squash the rivet you will be working with?
Components, Access and Clearance: What are the components being assembled and what kind of access and clearances are available? Is space restricted or is there a long reach to the installation point which would call for the use of extended length jaws?
International Air Tool Company offers top quality aerospace compression riveters from both Desoutter and Sioux. Both brands are designed for the rigors of aerospace production and are highly serviceable when the time comes for routine maintenance. Rivet capacities range from 1/16" to 1/4" depending on the material. Squeezing forces offered vary from 3,000 to 10,400 lbs. and available travel ranges from 9/16" to 1-1/2" of stroke.
For help selecting the right compression riveter for your specific application, speak with one of the experts in our technical support department (800) 608-5210 x 3 or info@intlairtool.com
Desoutter Model CP0351 ASKEL T007773
Compression tool - Riveting Squeezer with Alligator Jaw

Air powered random orbital sanders (sometimes referred to as dual action or "DA" sanders) are invaluable tools in aircraft production and refinishing. With pad sizes ranging from 3" to 11" in diameter, we offer sanders designed for finishing jobs large and small. Furthermore, all of our random orbital sanders are offered with optional dust capture so that they can be connected to a dust bag,  shop vac style vacuum, or a central plantwide vacuum system.
Potential uses for random orbital sanders in aerospace manufacturing include:  Sanding airplane skins, polishing windows and windshields, sanding titanium, aluminum, and stainless steel parts in the paint shop, as well scuffing, buffing, and final finishing work.
In MRO applications, air powered DA sanders excel at: window glass repair and polishing, stripping and painting sidewalls, ring refurbishing, removing oxidation and scratches from parts handling, and taking off paint from the engine cowling, stabilizers, nose cone, and rudders.
When selecting an air powered orbital sander for your application, ask yourself the following:
How aggressive of a cut  is required? -  Most random orbital sanders come with either a 3/8", 3/16", or 3/32" orbit. Larger orbits are better suited to fast material removal, while finer orbits offer a "swirl free" finish. If you can only have one, select a general purpose tool with a 3/16" orbit.
Will hook and loop (velcro) style or sticky (PSA) style sanding discs be used? - Choose your sanders backing pad accordingly or buy extra pads if you will be using both styles of sanding discs (the pads  are interchangeable). If dust capture is a major concern opt for a hook and loop style sander as there are more dust free abrasive options available for this style.
Dust Capture or Plain? - Random orbital sanders are offered in the following configurations:
Non-vacuum models where the sanding dust simply falls to the ground
Self generated vacuum models that connect to a small dust bag via a 6' hose. A variety of bags and filters are available for these self contained systems.
Central vacuum models equipped with a 1" port designed to be hooked up to a stand alone vacuum or  a central plant wide system.
Dynabrade Self Contained Random Orbital Sander Kit
Portable Pneumatic Belt Sanders (Dynafiles)

Perhaps off all the surface preparation tools available, the most versatile for use in aerospace are the patented pneumatic belt sanders made by Dynabrade commonly known as "Dynafiles". The Dynafile is a portable hand held belt sander that accepts a wide variety of contact arms, belts, and accessories. The purpose of the Dynafile is to allow for the completion of multiple jobs with just one tool. Dynafiles are offered in different configurations (Dynafile I, Dynafile II, and Dynafile III), but the overall concept is the same.

The Dynafile is essentially a slow speed gearless die grinder equipped with an attachment that allows for the mounting of small belts ranging from 1/8" to 3/4" in width x 12" to 24" in length. The contact arm attachment that holds the belt is spring loaded which allows for fast, tool free belt changes. The dynafile is designed to  grind, deburr, blend and polish, on metal, plastic, fiberglass, composites, rubber, and glass. When used with a non woven belt (Scotch Brite), the Dynafile is also highly effective at blending turbine blades. Regardless of the application, you can choose to grind with the contact wheel, grind with the platen pad, or finish and polish using the slack of the belt. What makes the dynafile so versatile however,  is its ability to accept a huge variety of available contact arms all designed with a specific application in mind.
The contact arms are what gives the Dynafile its ability to get into recesses and small spaces where more traditional tools can't reach. In aerospace, the Dynafile is particularly useful for grinding down the backs of rivets, blending welds, and surface conditioning prior to painting. 
Additional benefits of the Dynafile include the ability of the motor housing to be rotated in order to position the throttle lever in the position that is most comfortable to the operator.
The Dynabrade Dynafile is compatible with both coated and non-woven belts.
The chart below provides just a small sample of the contact arms on offer:

Perhaps the most widely used air tool, die grinders are widely used in aerospace manufacturing for both light deburring and heavy material removal applications. Inline die grinders are well suited for applications in confined areas, while right angle die grinders provide greater torque under load when more aggressive material removal is necessary. Die grinders are perfect for removing corrosion and paint without damaging sensitive aircraft materials. These compact, yet high-torque tools will not create heat cracks or stress points, all without sacrificing the necessary RPM's to get the job done.
Die grinders are usually equipped with 1/4" collets but are sometimes offered with 14"-28 threads so that a quick change pad holder can be connected directly to the spindle. This setup provides a lower profile tool for accessing restricted areas. Tools with a 1/4"-28 male thread are sometimes referred to as disc sanders.
When selecting an inline or right angle die grinder for your application, be sure to select the orientation that allows the best access to the work. For example, if the goal is to deburr the bottom of a blind cylindrical casting, an inline die grinder with an extended neck (and perhaps an extended carbide burr) is in order. Conversely, if you are working parting lines on the outside of the same part, an operator would just use a basic right angle die grinder.
Die grinders are typically offered in 1/3 HP, 1/2 HP, or 1 HP. When selecting the horsepower of your die grinder you need to be conscious of the amount of material to be removed. For a job entailing light deburring, rust removal, or for taking off paint, a 1/3 horsepower tool will suffice. Given the fact that this work will most likely be carried out with a small diameter quick change disc, there is no need for a high power tool for this application. Furthermore, higher horsepower die grinders weigh more and will cause greater operator fatigue over time. In contrast, if the work consists of removing a fair amount of metal, you don't want to be underpowered and should opt for a one horsepower model despite the added weight. The logic here is that the higher powered tool will take off material faster and will be held for less time.
Speed is another consideration. Faster is not always better. Choose a speed rating that is compatible with your chosen abrasive. Engineered Abrasive technology is such that the grains perform performally optimally within a certain speed range and not faster. Overspeeding abrasives generates excess heat which reduces tool life and can harden or discolor the work. Our favorite speeds for right angle die grinders are 12,000 RPM and 20,000 RPM for non-woven (scotch brite) and coated abrasives (quick change sanding discs) respectively. For inline tools to be used with carbide burrs, in our 16 years experience we have found the sweets spots to 18,000 RPM or 25,000 RPM. Fine deburring applications required the use of an 1/8" shank burr, often called for a 30,000 RPM die grinder. As a general rule of the thumb, the larger the burr head the slower the tool.
Since the back up pad threads directly on the spindle without the need for a collet, the end result is a low profile tool with less runout.
In conclusion, while not entirely comprehensive, in the preceding guide we have discussed five of the most common pneumatic tools used in aerospace manufacturing. We have discussed tools for hole making, adjoining sheets, surface preparation, and grinding with the goal of light stock removal. The tools in our discussion should allow you to tackle 80% of the day to day applications found on a modern day aerospace production line.
Our company prides itself on helping customers solve technical challenges related to their application of pneumatic tools. Additionally we represent only the highest quality air tool manufacturers. For help selecting the proper tool for you aerospace manufacturing job, reach out to us at (800) 608-5210 or drop us an email at info@intlairtool.com