Posted by Guest Post on 8th Jul 2022

Die Grinders and Sanders - A Comparison
A pneumatic die grinder and an air sander are two tools that need to be in every handyman's arsenal. The two tools have similar uses, but they differ in many aspects. Grinders can easily cut, sand, polish, buff, machine, and deburr. This is due to the wide variety of attachments available. As a result, a grinder becomes one of the most flexible weapons in your arsenal. A sander is mostly used for sanding, however polishing accessories for random orbital sanders and disc sanders are available. Sanders, on the other hand, are not as adaptable as grinders, but they are ideal if you want to work on vast surface areas.
Is it possible to use a grinder as a sander and vice versa? Yes, a grinder may be used as a sander and vice versa. Both tools can be used for different purposes as long as the proper attachment is used, however you want to choose the right tool depending on the task at hand.

In this article, we will talk about what a die grinder and disc sander are, the pros and cons, and recommend the best ones out there. Furthermore, we will compare the two tools to see which you should choose if presented with the option.
Die Grinders

Most people are familiar with the Dremel tool, which is a miniature electric counterpart of the larger die grinder. The majority of die grinders are pneumatic, however electric models are also available.
Pneumatic Grinders have been designed to maximize productivity, thanks in part to their lightweight construction and powerful motors. This results in more work being done with a minimal amount of effort by the operator. They have been designed to withstand the burdens of industrial use and are also very easy to maintain. Some applications include weld removal, manufacturing plants, ship repair, metal fabrication shops, and much more.
Benefits Of Using An Air Powered Die Grinder
Precision and Power
Larger instruments, such as disc sanders, are inaccurate and designed to sand broad areas fast. Handheld air die grinders are a bit more accurate, with some types built exclusively for completing delicate jobs. Smaller discs, such as roloc wheels or micro cut off wheels, are commonly used in this type of an air grinder as s well as various shapes of die grinder bits, also known as carbide burs. Pneumatic die grinder is not only smaller than a standard angle grinder, but it also spins significantly quicker. There are two types of typical die grinders: those with a straight body and those with an angled body. When using a die grinder with sanding discs, use the proper backing pad.
Weld Removal And Rust Removal
Traditionally, air powered die grinders are tools that have been used to grind different surfaces, notable metals such as steel, aluminum, and even precious metals. However, their high speeds of over 10,000 RPM and high power output have more uses than grinding down metal. Carbide burrs are designed for machining materials of virtually any strength. Milling tools from PFERD deliver the perfect combination of tungsten carbide, shape and cut geometry and, if required, coatings, makes this possible.

A die grinder is your best friend when working with old machinery, particularly iron or steel. Rust is a layer that forms on iron or steel after it reacts with the moisture in the air. Using a die grinder and the right tools, you can grind away the top layer of rust with relative ease. Apply a sealant on the metal surface after you are done, and the surface is protected.
Paint Removal In Auto Repairs
If your vehicle has been in an accident, the paint in that section has been compromised. Before you can repair that section, you'd need to sand it down to prepare it for repainting. Using a die grinder, you can remove the paint in hard-to-reach areas where other tools might not be able to reach. If the damage is extensive and the panel needs to be cut, you could add a cutting wheel attachment and have that piece removed as well.
Working On Non-Metal Surfaces
While die grinders are made to be used on metal, other surfaces can also be worked on with them. Pneumatic Die grinders can be used to sculpt wood to make attractive shapes and different art pieces. You can attach different attachments to a die grinder, which gives you the ability to work in many different ways with the wood.
Woodworkers most notably use air die grinders when smoothing out a wooden surface. By using die grinders, the result gives it a professional look that is a welcome addition. Where a traditional sander might take you many hours to get a piece looking nice, a die grinder can expedite the process.
Furthermore, air die grinders can also be used on plastic surfaces, and occasionally, glass surfaces if you are careful.

There are different types of attachments out there for your die grinder:
---
Best Die Grinders
When buying a die grinder, a few things need to be considered.
Collet Size
The collet size will let you know what size bit can be installed. The most common size is ¼ inch, but there is a wide range of bits you can get.
Power
Pneumatic die grinder motor HP output and it's speed mesured in RPM. High-powered grinders will finish the task considerably faster. Consider purchasing the air tool with the greatest power rating within your budget.
Here are some of our recommended die grinder models:

Powerful 0.40 hp air motor delivers plenty of strength with 25,000 RPM. Feature a vane motor and a lightweight, composite housing that can stand up to harsh temperature changes. Compatible with piped-away exhaust kits, this powerful tool allows you to switch between front, rear and dual exhaust options. Made to withstand repeated drops, harsh chemicals and tough work environments. Ideal for light material removal, cleaning rough castings, deburring parts, cleaning up welds, and other finishing tasks. These die grinders have a comfortable, ergonomic body shape that ensures you'll get more done with less fatigue.
---
The Sioux Tools SDG03S25 Straight Die Grinder is backed by a long and proud heritage of innovation as Sioux Tools have helped to shape the face of the tool industry. Sioux offers Straight Die Grinders that are designed for high volume industrial production. Manufactured from high quality materials, and utilizing the most advanced designs, this tool is constructed to hold in the toughest working environments.
---
Pneumatic Sanders

A sander is a tool that has been around for a long time. It has had many forms through the years, but it exists to perform three basic functions: Shaping an object, smoothing it out, and removing material. Disc sanders employ a compact abrasive pad that grips the sander and is easily removed. Disc sanders differ from belt sanders in that the disc rotates rather than moving back and forth. Disc sanders are sometimes referred to as orbital sanders or palm sanders.
Benefits Of Using A Sander
A disc sander is a tool whose primary use is to smoothen a surface. Thanks to its high speed and ease of functionality, it saves you a lot of time and effort compared to traditional sanding methods. Using a disc sander has many benefits:
Easier To Use
Compared to other sanders, disc sanders are always a fan favorite because they are easy to use. There is no learning curve with a disc sander, and all you need to do is plug in the device, angle the surface correctly, and begin polishing the surface. Keep checking to see if you have reached the required amount, and make sure you don't leave it on one surface for too long because it will continue to sand it down.
Higher Quality End Product
Some people will swear by traditional methods, but there is no comparison to a disc sander, which will always provide a better quality finish. Wood or metal, a disc sander will sand it down much quicker and better than any other method. There won't be any rough edges or coarse surfaces that will compromise the quality of your product.
Multiple Uses
A disc sander is considered a multipurpose tool because its use is not just restricted to rough sanding. A disc sander can polish or smoothen metal surfaces as well. Disc sanders give you the ability to change the grit of the sander, meaning that one sanding surface can be used for wood, and another can be used for metals. Furthermore, different wood and metal versions require different levels of grit that a disc sander can easily accommodate.
Powerful
Using a disc sander, you can fly through tasks because it does the job faster and better. Where you might have spent an hour sanding down a surface manually or with a smaller more detailed die grinder, a disc sander will get the job done in minutes and allow you to do a lot more with the time you have.

Sandpaper Grit - What Is It?
Grit is defined as the level of coarseness that sandpaper has. It is sized using a gauge number. The lower the number, the coarser the grit on the sandpaper. A fun fact is that the grit number signifies the number of holes found on the screens used to sieve the abrasive grains when the paper is being made. For example, 24-grit sandpaper was made using a sieve with 24 holes per square inch in the screen from which the abrasive grit was dropped.
How It Works.
The grit will determine how deep the sanding will go when sanding down a surface. 1000-grit sandpaper will be extremely gentle, whereas 24-grit sandpaper will be extremely coarse. The former is used to polish painted surfaces because it isn't very abrasive, while the latter is used to strip off paint and other stubborn materials.
Different Grit Ranges
There are different types of sandpaper with varying amounts of grit.
#24-#80: Coarse
At this level, the sandpaper is extremely coarse and can be used to strip stubborn material off a surface. It can also smoothen out the corners in tough materials and prepare them for higher grits. This must be used with extreme caution because it can easily damage a surface by sanding through it.
#80-#150: Medium
At this level, you can use this sandpaper for many different uses. It is considered medium because, with light pressure, you can polish a surface, and with strong pressure, you can also strip a strip the material of it. This grit is recommended for people who have little experience with sanding, and also it is a safe way to get the job done.
#180-#220: Fine
At this level, you are using this after the second or third sandings to smoothen surfaces before putting on another coat. This sandpaper is considered fine or ultra-fine sandpaper and its most common use is for furniture work.
#320: Ultra Fine
At this level, you are using sandpaper to polish painted surfaces or use them for wet sanding.
---
Different Disc Types
Resin fiber discs are commonly used for metal mixing, grinding, deburring, and finishing. Typically used on an angle die grinder with a suitable backing pad. Resin fiber discs are abrasive and high-duty, and they are professionally constructed for a variety of applications ranging from surface blending to heavy stock removal. The strong fiber backing gives strength to the disc and ensures that it remains stiff when in use, reducing the possibility of mistakes and damage.

---
Flap discs are a new type of grinding wheel that uses coated abrasives. This provides you with additional adjustability on the work piece as well as a gentler grind. Because of their ability to smooth out welds, remove mill scale and rust, and aggressive stock removal, they are one of the most favored abrasives among welders and metal fabricators. Flap discs are constructed of small bits of sandpaper adhered to a solid backing. Because they are comprised of many pieces of sandpaper rather than a single piece of sandpaper, this improves not just the efficacy, but also the longevity of the discs.

---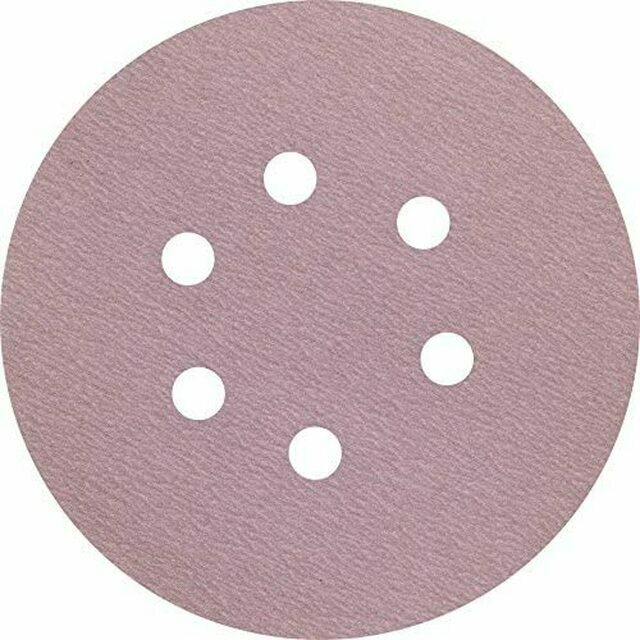 A disc is the most frequent shape of hook and loop sandpaper. Hook and loop sanding discs are particularly flexible in that they are available in a wide range of grades, from coarse to superfine. This means they're suited for a wide range of tasks on a wide range of materials, from wood to metal and virtually anything in between. Hook and loop sanding discs are composed of fabric or paper and have a Velcro-like backing. The sanding disc is attached to the sander by a series of hooks and loops. This makes changing the disc relatively simple, without sacrificing the quality of the disc used.

---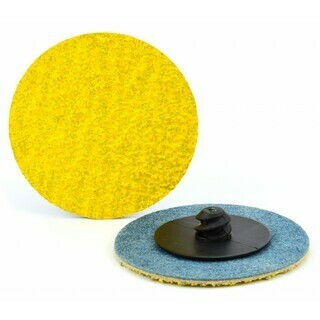 Quick change discs are the preferred tool for grinding, deburring, and blending in narrow spaces and tight corners. Quick change discs are an excellent choice for consumers who want to enhance their productivity due to its simple attachment technique. Quick change discs are often used on carbon steel, stainless steel, and aluminum for a variety of reasons. A quick-change disc, for example, can be used to remove a weld and prepare a piece of carbon steel for the next stage in the manufacturing process. These rapid change discs are available in a number of sizes and grades, making them ideal for basic sanding applications such as blending, breaking edges, and eliminating machine markings.

---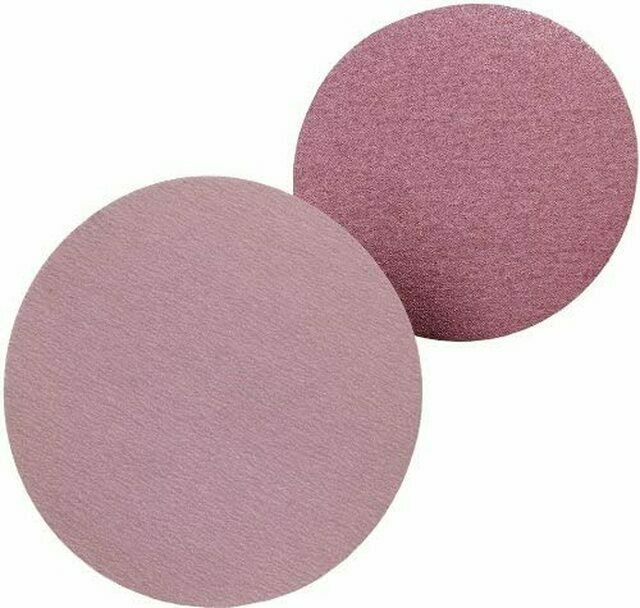 PSA Discs (Peel & Stick Discs)

PSA (pressure sensitive adhesive) sanding discs have a sticky back and are useful for large operations where the sandpaper is likely to wear out. These discs are designed for long-term use, with many workshops using them until the abrasive is totally depleted. Depending on the coarseness of the disc, PSA discs are best suited for usage on wood, fiberglass, or metal.
---
Best Air Sanders
Buying a disc sander is a simple process. However, before doing so, there are things that you need to consider.
Power (Motor HP)
The more power a sander will produce, the quicker the job will be done. High-powered sanders will also get the job done much more efficiently. With your budget, consider getting the sander with the highest power rating.
Speed (RPM)
The more power a sander will produce, the quicker the job will be done.
Disc Size/Capacity
Depending on the type of work you are doing, pick a disc accordingly.
Grip Style
Offered in palm-style, pistol grip, right angle, vertical and straight configurations.
---
Here are a few of our favorite Pneumatic Sanders: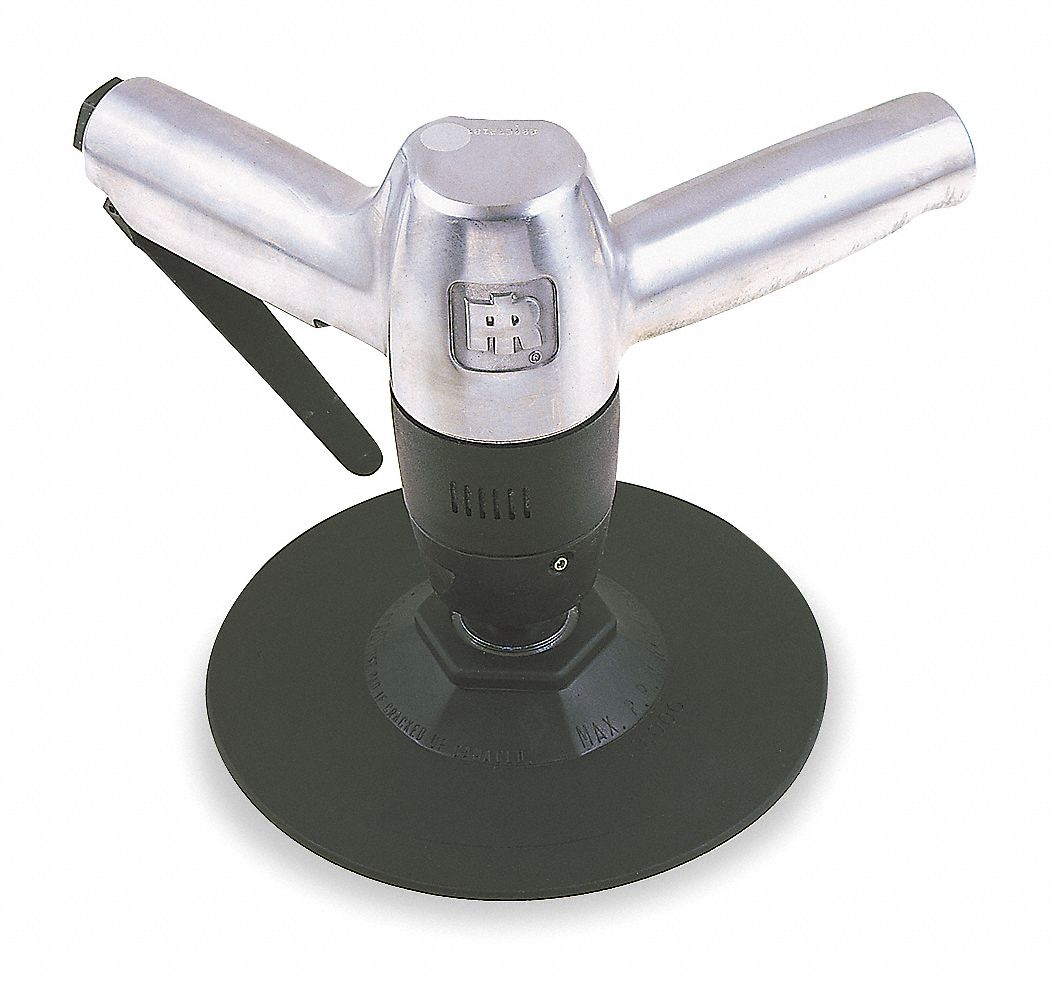 Ingersoll Rand 7S60L Heavy Duty Vertical Sander
Ingersoll Rand 7S60L Vertical Sander, Pro Series designed for large areas and heavy duty materials, the Ingersoll Rand Pro Series 7S60L Heavy Duty Vertical Sander is ready to get any job done. 7S60L Vertical Sander has a built-in mist lubricator that automatically oils the motor whenever the throttle is activated for smooth operation. It is equipped with solid steel motor and arbor housing, can withstand repeated drops and harsh conditions.
---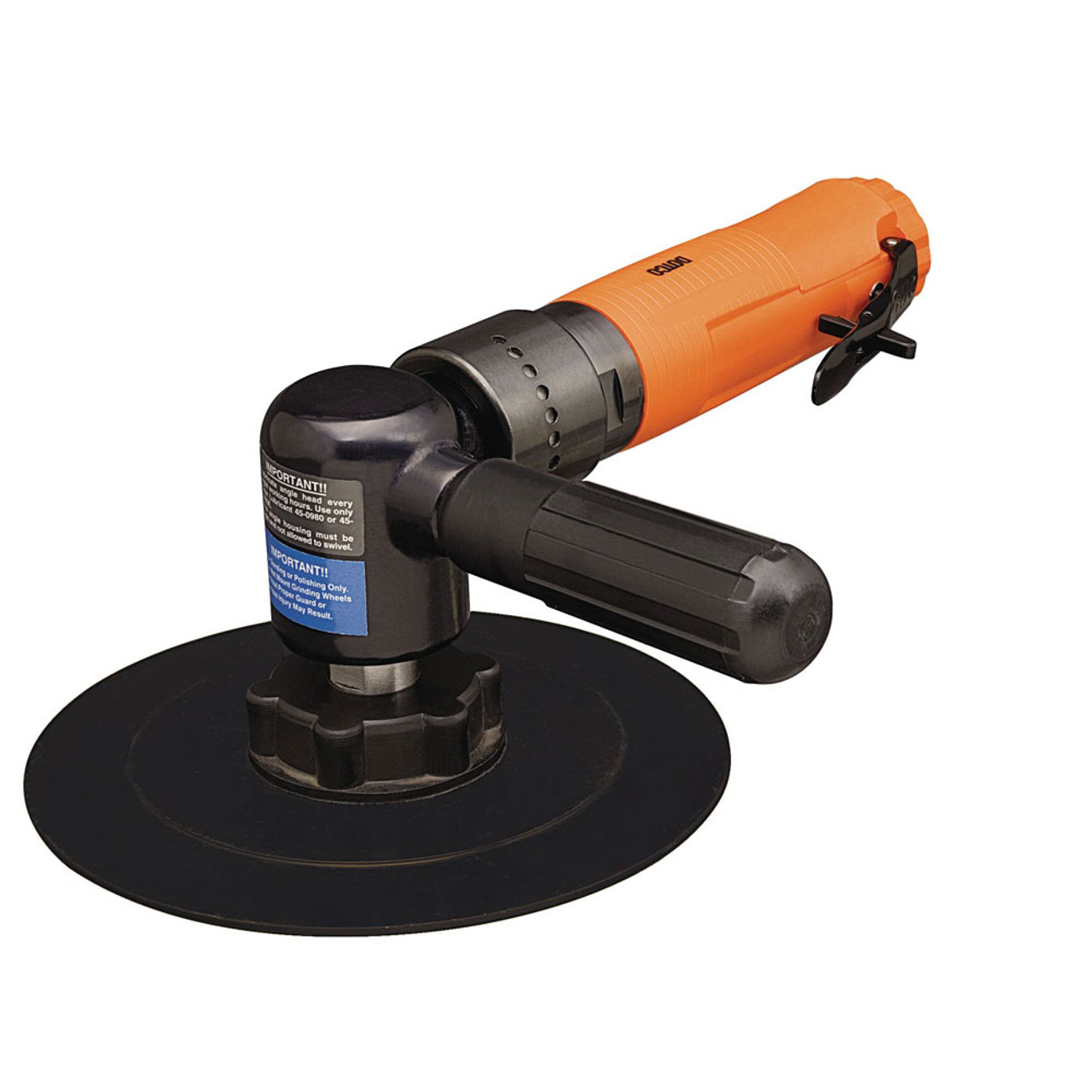 Dotco 12L2751-80 Heavy Duty Head Right Angle Sander

Dotco 12L2751-80 12-27 Series Right Angle Sander features a durable aluminum housing and a high output motor for demanding sanding applications. Dotco 12L2751-80 Sander features a heavy duty low profile head for superior durability. It also features a durable composite housing and is engineered to outlast and outperform the competition in the harshest environments. It is compatible with disc sanding and polishing, wire brushes, buffing wheels, abrasive sheets, woven or non-woven belts etc.
---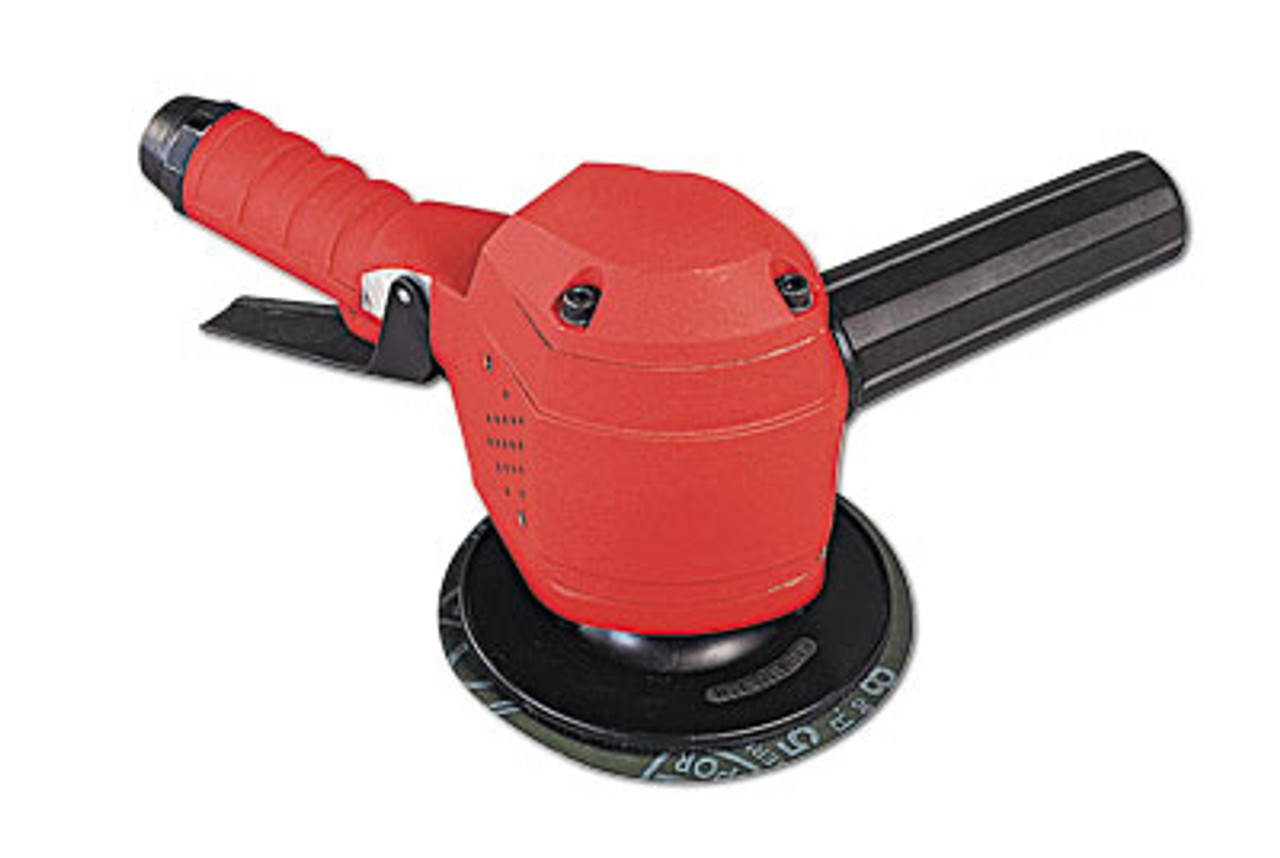 Desoutter KL1120A Pneumatic Vertical Sander
Desoutter KL1120A Vertical Sander maximizes the material removal rates while getting ideal deburring precision. Powerful 1.02 hp air motor delivers plenty of strength with 12,000 RPM. Desoutter 6151700220 Sander is suitable for high production environments such as those on production/assembly lines, where high durability is required and the tools are used frequently. This sander combines the best of durability, dependability and versatility for your most demanding applications.
---
Safety Notes
When comparing these two power tools, die grinder is inherently can be more dangerous. This is mainly because grinder discs and bits rotate at a very fast speed. These attachments tend to produce sparks and debris, so in addition to gloves, you should use safety eyewear when using grinders.
Sanders are thought to be safer, however, never underestimate them. Always wear gloves and keep your eyes on the task at hand. Sanders also create a lot of dust, so wearing safety glasses is essential. To keep sanders from causing a major mess, we suggest you buy sanders with a good dust collection system.
When Should You Use a Die Grinder?
For grinding and cutting materials such as metal, plastic, wood or even concrete, a grinder is typically the first choice. You can sand, smoothen, and even polish a surface if you have the correct tools, such as sandpaper or discs with the appropriate grit.
When Should You Use a Sander?
Sanding is used for delicate sculpting of softer materials, as well as smoothing and even polishing a surface. It enables you to generate sparkling surfaces by using very fine sandpaper - the greater the grit number, the finer the abrasion. When it comes to metal or wood (re-)finishing or restoration, sanding is the procedure of choice.
Final Thoughts, Which Air Tool Should You Use?
It depends on what you're doing: if you need a hand-held power tool that's flexible and can do grinding, cutting and sanding, consider getting a die grinder (sometimes known as a "grinder/sander" since the functionality is mainly overlapping), If you do a lot of surface smoothing or polishing, you might want to invest in a disc or an orbital sander as well.
---
For help choosing the correct Tool or Abrasive for your application, please call (800) 608-5210 or email info@intlairtool.com