Posted by Frank Rizzo on 10th May 2023

Pneumatic needle scalers, colloquially known as "needle guns", are powerful percussive tools driven by compressed air. Ingersoll Rand Needle scalers are designed to make manual scraping and chipping tasks more efficient and effective. Compared to commercial quality electric tools, Ingersoll Rand air-powered needle scalers are more reliable, versatile, and cost-efficient than what find at a big box hardware store.
If you're looking for an all-around needle gun kit to remove rust, paint, and other debris from metal surfaces, the Ingersoll Rand 182K1 Needle Scaler Kit is a solid choice. The core component of the kit is the Ingersoll Rand 182 scaler itself which enjoys a well-deserved reputation for being both hard-hitting and reliable. Whether used as a chisel scaler or a needle scaler, this hard-working inline tool quickly cuts through corrosion and old coatings to reveal a smooth metal surface beneath. Because of the 182's popularity, we stock it as a chisel scaler (Model 182L), a needle scaler (182LNA1), and the "best of both worlds" version, the 182K1 kit which we discuss in detail below.
182K1 Scaler Kit Overview
Metal is prone to corrosion over time. The Ingersoll Rand 182K1 Needle Scaler Kit is a complete kit designed to help professionals remove rust, paint, and other debris from metal surfaces in a rapid fashion. The kit's high-quality needle scaler, replaceable needles, chisels, and carrying case makes it an excellent investment for anyone looking to increase job site productivity. The bare 182 tool features a 1/2" hex shank opening that accepts Ingersoll Rand style 1/2" notched chisels. However, as mentioned above, It can also be converted to a needle gun by attaching the needle scaler attachment included in the kit. Please note that this tool is not compatible with Cleco and Texas Pneumatic style accessories.
The standalone tool (Model 182L) without the needle scaler attachment, is designed to scrape coatings from horizontal or vertical surfaces using 1/2" shank chisels. The tool is percussive in nature and when activated, uses a back-and-forth motion to remove welding spatter, chip old paint, and scrape off built-up layers of coatings. However, many operators choose to first use the tool with the needle attachment in place, with the goal of breaking up the materials to be scraped during the second operation.
Markets & Applications
Scalers are indispensable tools for performing medium to heavy-duty surface preparation in a variety of markets.
Thanks to the variety of included accessories, the Ingersoll Rand 182K1 Needle Scaler Kit is well equipped for use in numerous industries such as welding, fabrication, automotive, construction, and shipbuilding.
More specifically IR needle guns can be found In the following types of facilities:
Metal Fabrication and Welding Shops
Manufacturing Plants
Construction Sites (Especially Structural Steel)
Shipyards and Ship Repair Facilities
Railroad Construction and Maintenance Shops
Automotive Body and Repair
Steel Bridge Maintenance
Additionally, In the field, maintenance crews rely on scalers to remove rust from their fleet of equipment. Thus, needle scalers are equally effective in production, maintenance, and even re-work.
What's Included In the Ingersoll Rand 182K1 Needle and Chisel Scaler Kit?
Opting for the complete kit is convenient because you get everything you need to start work right away. It's also 30% cheaper to buy the kit than to buy the accessories separately.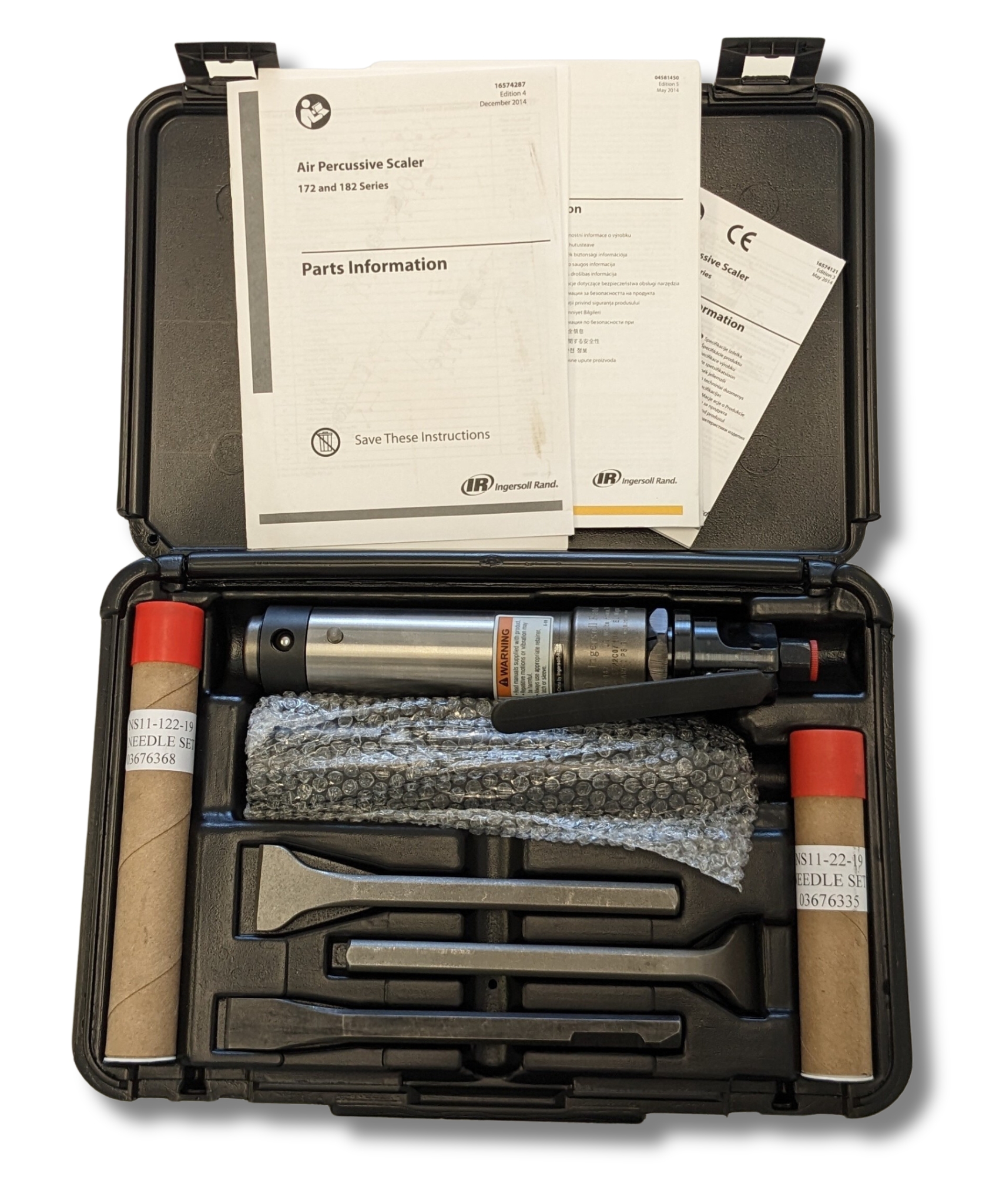 Here's what's included in the kit:
Convertible model 182L chisel scaler with a 1/2" hex shank opening
Complete NS11A needle attachment with 5" long needles (this is what you will needle to convert the base tool to a needle gun)
One set of NS11–22–19 needles - 5" long
One set of NS11-122–19 needles - 7" long
One WF–14A – 6 - 1/8" angle chisel
One WF–14B – 6 - 1/8" straight chisel
One WF–14F – 7" flat chisel

Blow-molded plastic carrying case

Parts List and Exploded View
Ingersoll Rand 182L Chisel Scaler
The Ingersoll Rand 182L In-line Air Chisel Scaler requires about 13 Cubic Feet Per Minute (CFM) of Air Flow to operate properly. Furthermore, like most air tools, it operates optimally at 90 PSI. The tool's internal piston is precision heat treated for maximum performance and hits at 4000 blows per minute. The scaler is compact, well-balanced, and has low vibration to minimize operator fatigue. For maximum tool life, the 182 and all its variations should be well lubricated preferably using an FRL unit. If working conditions prevent the use of an FRL unit, then the tool should be lubricated each with 2 to 3 drops of air tool oil before each shift, and then again during the second part of the shift. We recommend Ingersoll Rand 10P Air Tool Oil.

Specifications:
Throttle: Lever Activation | Stroke Length: 1.06" / 27 mm | Piston Bore: 0.88" / 24 mm | Weight: 4.06 lb. / 1.84 kg | Length: 9" / 229 mm | BPM: 4,000 | Min. Hose Size Diameter: 5/16" / 8 mm | Air Inlet Size: 1/4" (Requires 1/4" Fitting)
Features:
Long nozzle section extends the retainer life and permits the use of a variety of accessories.
Positive chisel retainer is simple to operate and allows for quick accessory changes.
Strengthened head block holds up under the most extreme conditions
More on the NS11A Needle Scaler Attachment Included in The Kit...
The NS11A Needle Scaler Attachment is the main accessory that comes in the kit. It attaches to the bare 182 tool to convert it from a chisel scaler to a needle scaler. The attachment includes a round housing, a set of needles, the needle holder, ram, bushing, and the tensioning spring. The needle housing is adjustable to allow for minimal or extensive protrusion of the needles. This is to accommodate operator preferences for rigidity and aggressiveness.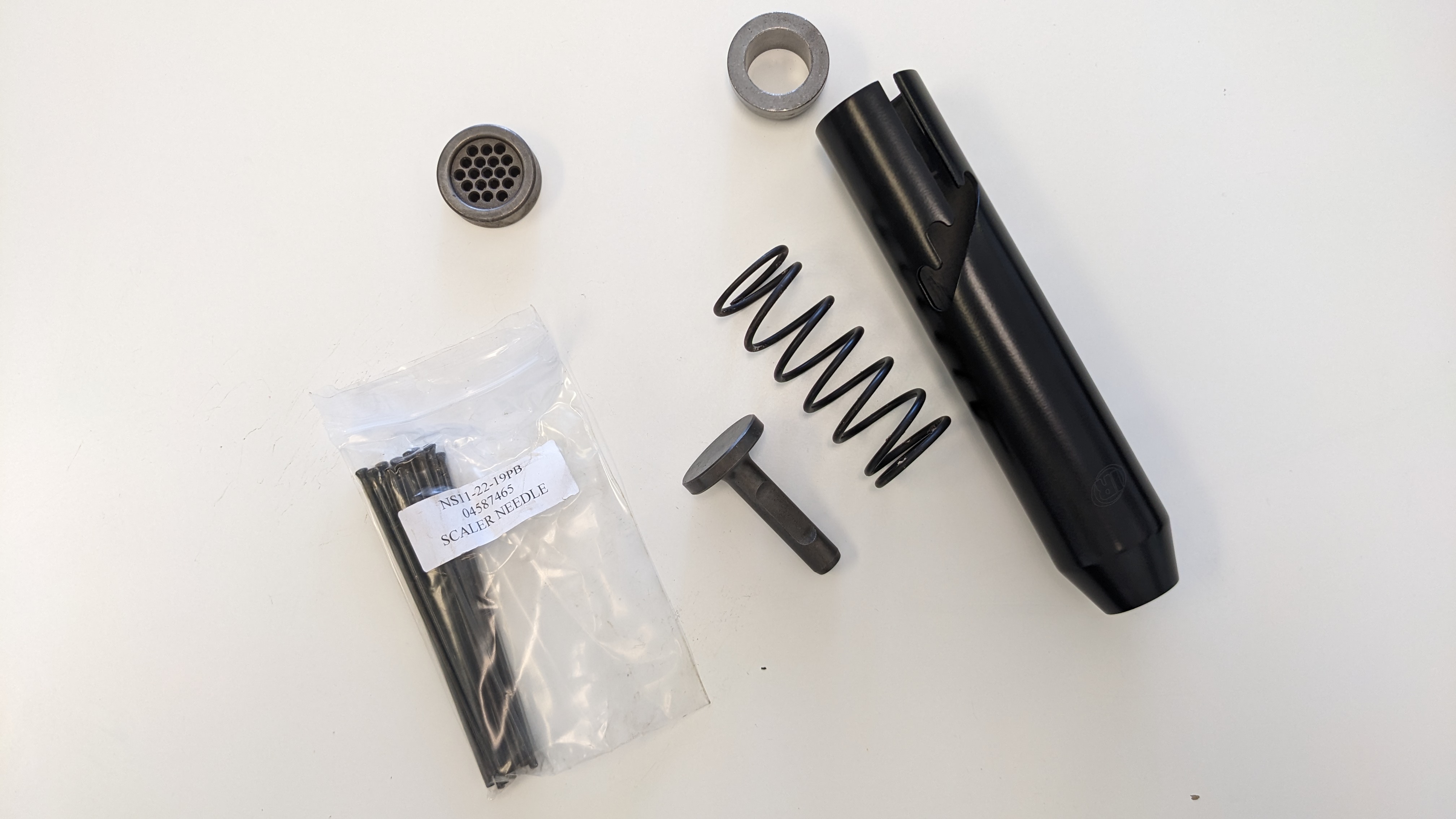 2 Sets of Needles Included
The needles included in the 182K1 kit are designed to suit various cleaning tasks. The kit includes one set of NS11–22–19 needles that are 5" long and one set of NS11-122–19 needles which are 7" long. Both sets of needles are 3 MM in diameter and have round points on their ends. They are made from high-quality carbon steel and designed to last, ensuring you get the most material removal for your money.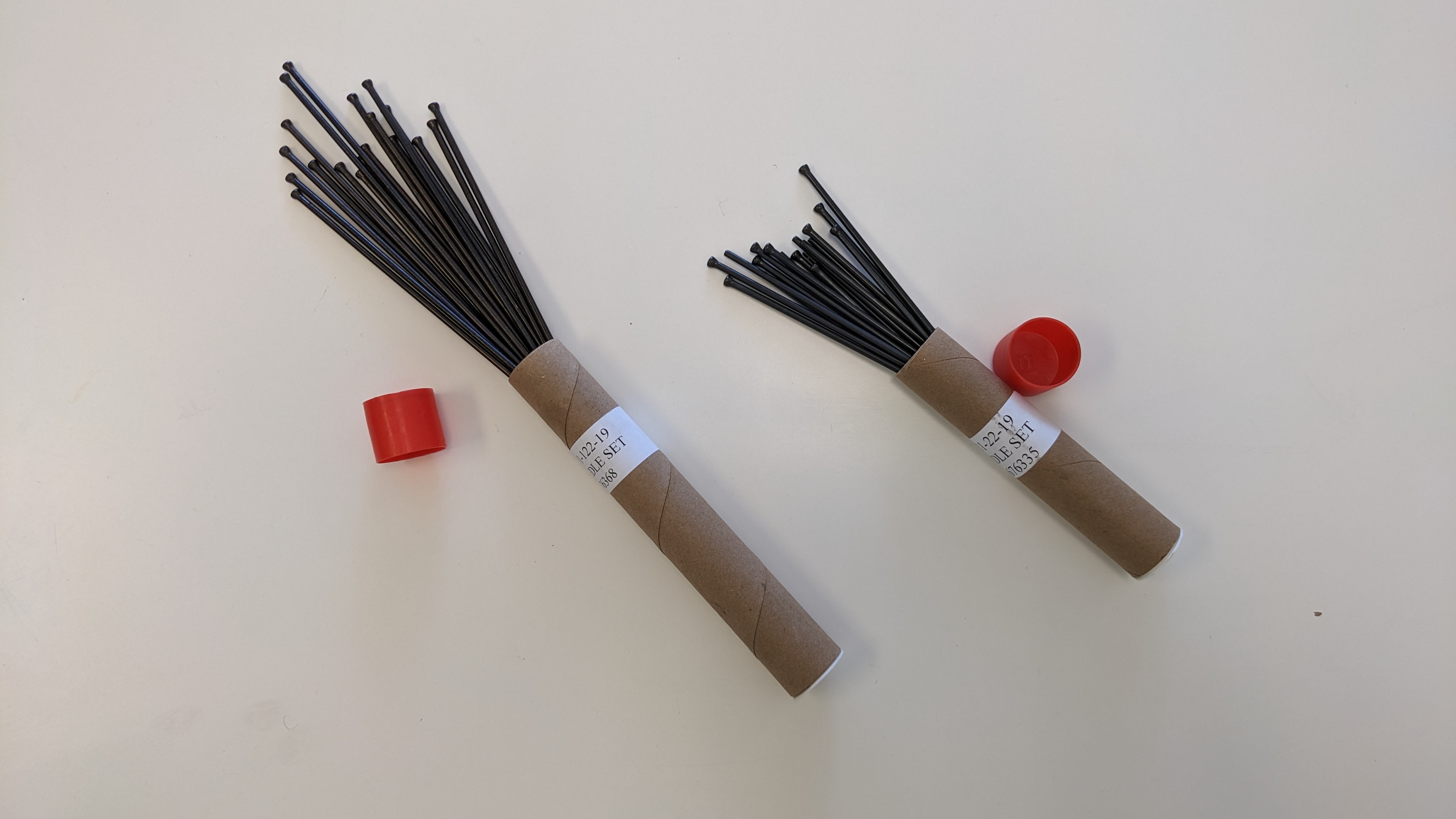 3 Scaling Chisels Included
The 182K1 kit also includes chisels that are ideal for a variety of heavy-duty scaling jobs. The 1/2" IR notched hex shank is highly durable and can withstand repeated use. The chisels included with the kit include the WF–14A – 6 – 6-1/8" angle chisel, WF–14B – 6 – 6-1/8" straight chisel and the WF–14F – 7 - 7" flat scaling chisel. For details on the included chisels, see the photos and specifications tables below.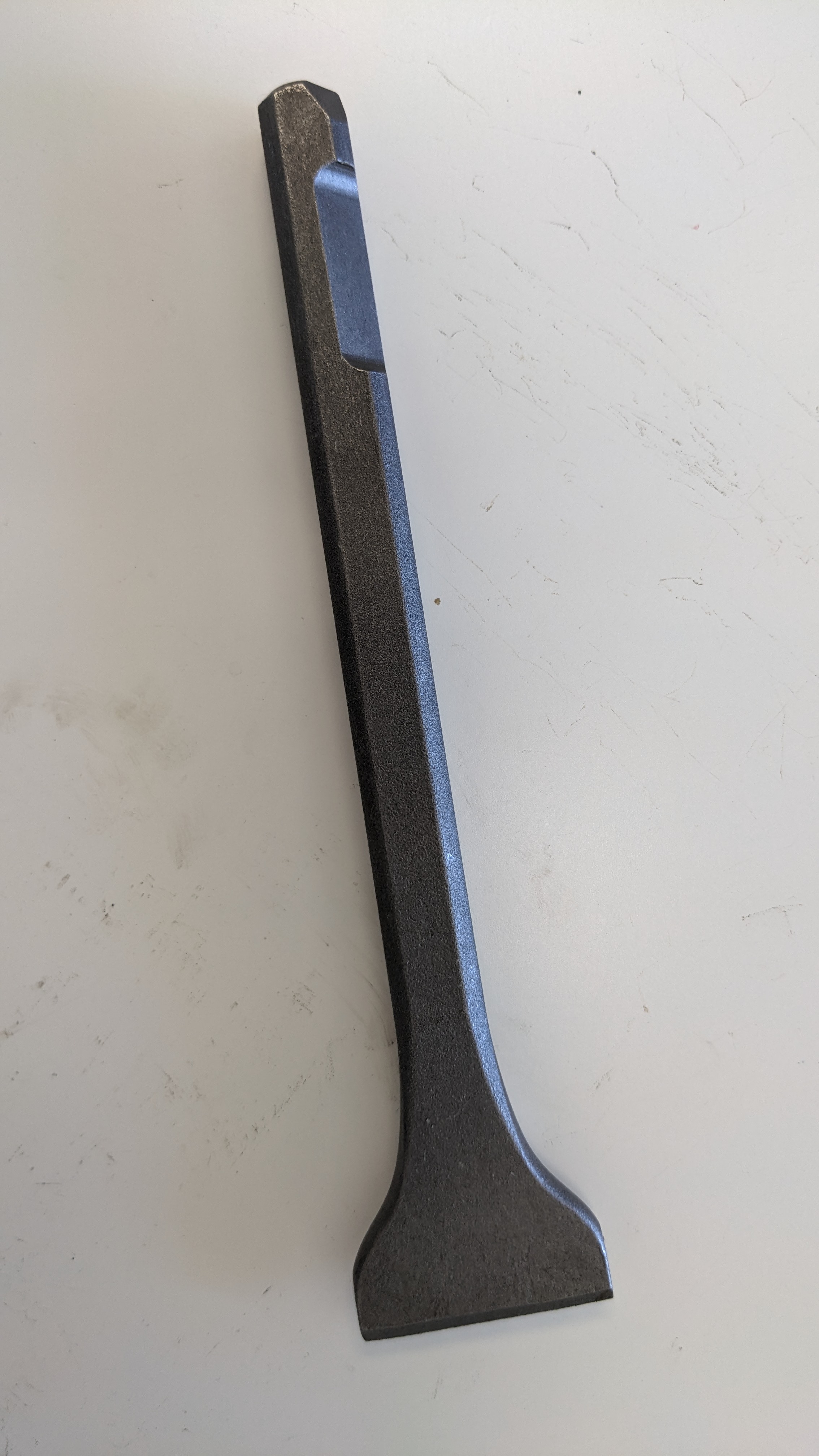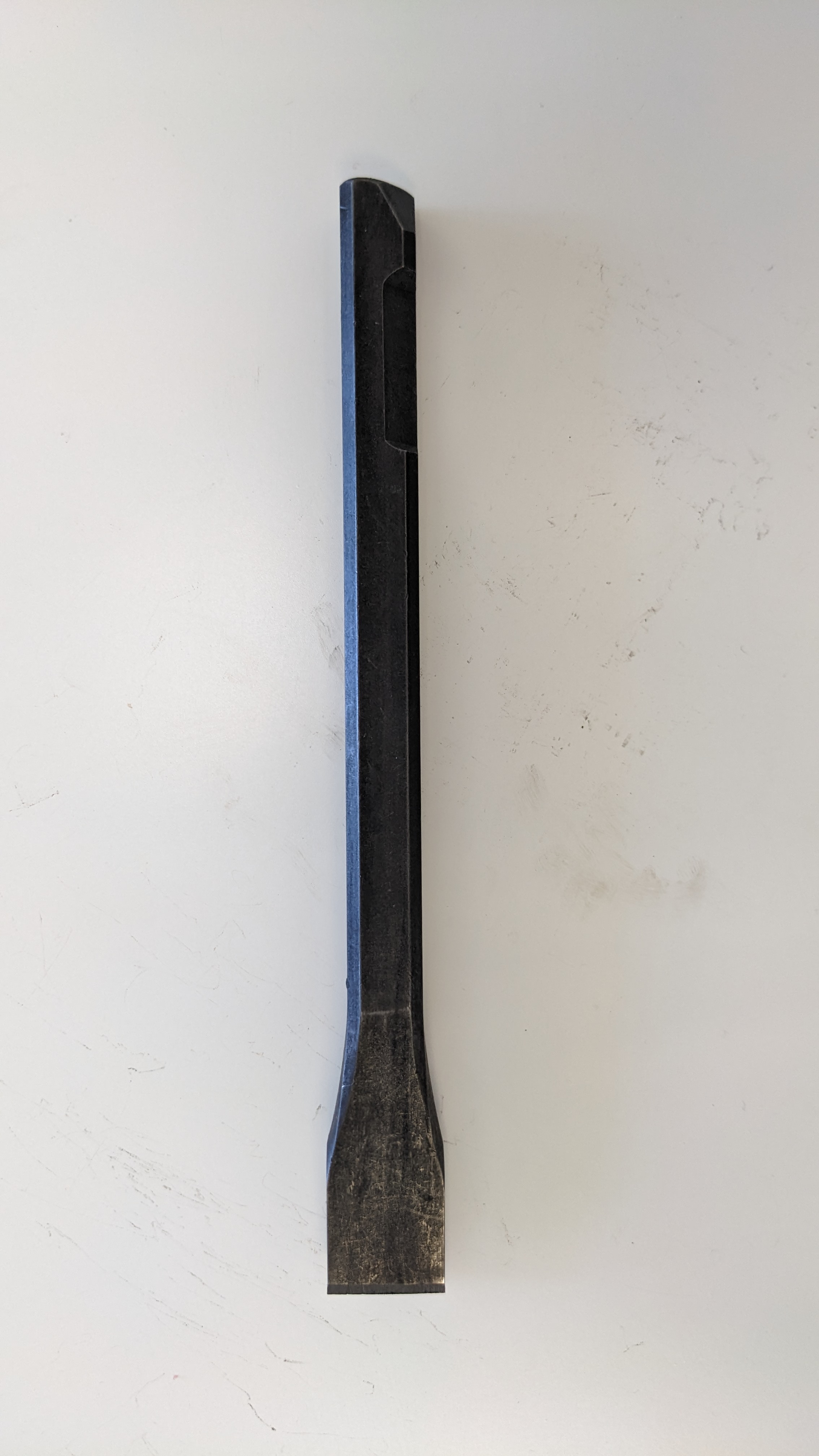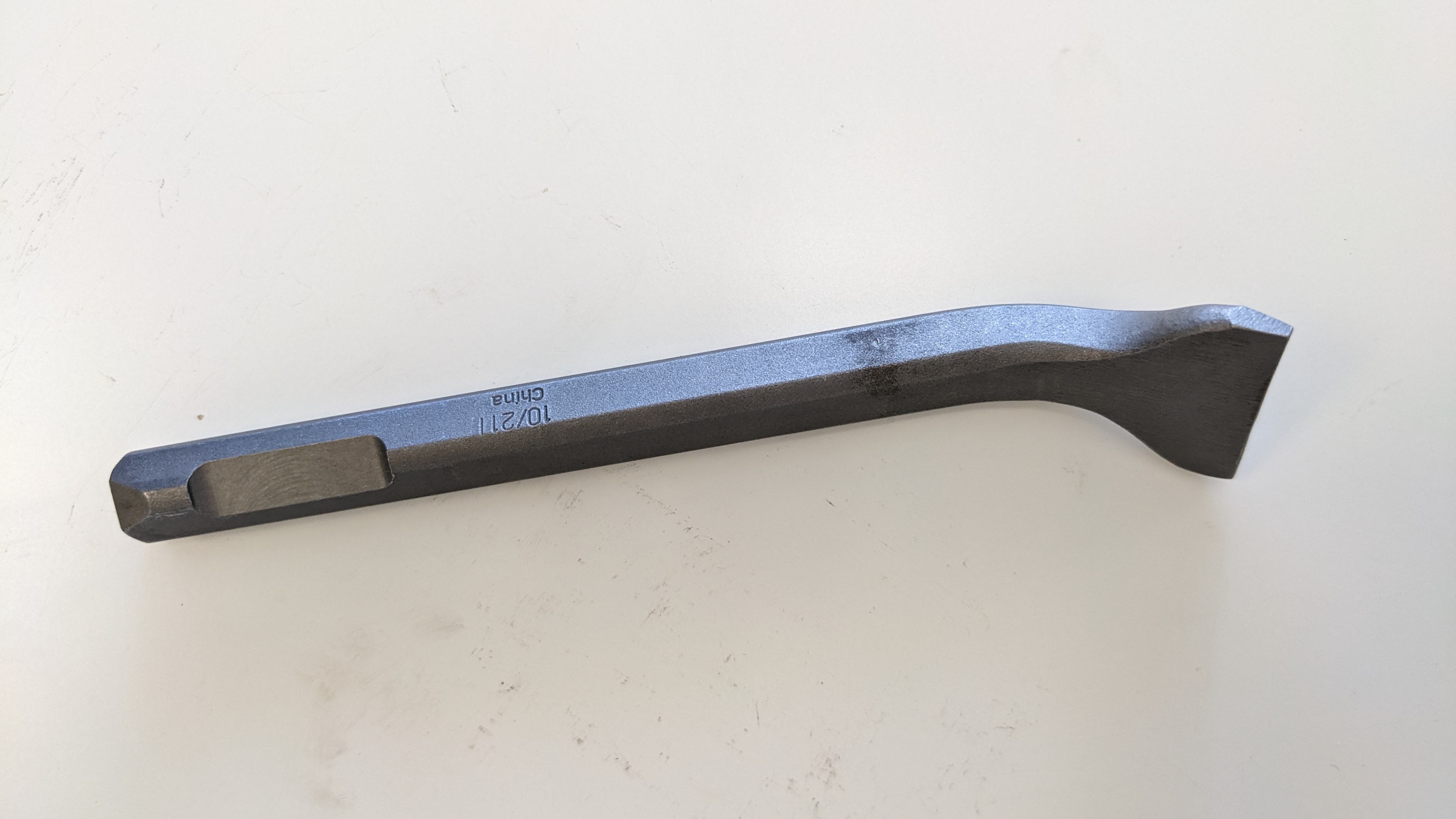 Blow Molded Carrying Case
The 182K1 kit includes a blow-molded carrying case designed to protect the scaler and its attachments during transport and storage. The case itself is 100% plastic and while it may serve the DIY crowd, it's not ideally suited to a heavy-use environment.
Ingersoll Rand 182K1 Needle Scaler Maintenance
Although the Ingersoll Rand 182 is a powerful tool, it's susceptible to normal wear and tear and requires regular maintenance to ensure proper operations and longevity. The kit comes with a maintenance manual outlining the steps to care for the tool.
Common wear parts include the tool's air valve, throttle face, throttle valve spring, and various retainer components. For a complete list of Ingersoll Rand 182 Needle Scaler parts please review the parts list below:
Ideally, the needle scaler should be cleaned and oiled after each use to avoid internal rusting resulting from contaminated air. It's also important to frequently check the needles for wear and replace them if they become damaged. Proper maintenance ensures your tool will operate optimally for years to come.
Conclusion and Key Takeaways
The Ingersoll Rand 182 Needle Scaler is a heavy-duty needle scaler designed for a variety of jobs. Its primary use is to remove rust, paint, and other debris from metal surfaces. However, we have seen it used with custom-made accessories and even mounted in fixtures in order to adapt the tool to the job at hand.
As described above the 182K1 includes some of the most common and universal accessories. However, more application-specific accessories such as beryllium copper and stainless steel needles can be purchased separately.
International Air Tool Company offers on-site product demonstrations at job sites and factories located throughout Southern California and Baja, Mexico.
To schedule a site visit or for additional information regarding the 182 needle/chisel scaler please call (800) 608-5210 or email info@intlairtool.com