Posted by Mark Schieber on 21st Sep 2020
Introduction
Anyone familiar with industrial metalworking can attest to the quality and durability of the Dotco brand of pneumatic die grinders. Nevertheless, due to recent re-branding and the now interchangeable use of the Cleco and Dotco names; it's hard to decifer each tools intended usage or why so many variations of a simple tool need to exist. In fact, the latest Cleco Production Tools catalog contains no less than 17 pages dedicated to collet style die grinders alone.
In this guide, we set out to clearly explain the features and benefits of each tool, so you can make an informed decision when buying your next Dotco (or Cleco) die grinder.
Dotco - What's in a Name?
Long time air tool users may remember when the Dotco, Cleco, Buckeye, Gardener Denver, and Master Power brands all belonged to Cooper Power Tools based in South Carolina. This is no longer the case. The current parent company, Apex Tool Group (ATG), was formed in 2010 through a joint venture between Danaher Corporation and Cooper Industries. The company was later sold to private equity firm Bain Capital who remains the sole owner of these brands today.
New ownership in any organization inherently brings change, and the re-branding of the Dotco line of grinders is no exception. The short of it is that Dotco, Cleco, and Master Power are now treated as sub-brands of what is now known as Cleco Production Tools. The original Cleco brand is still just Cleco, but the other brands have been sub-categorized as Dotco by Cleco or the Cleco MP Series (formerly Master Power). Gardner Denver and Buckeye have been discontinued entirely. Whereas in the past, the Cleco brand was associated primarily with assembly tools (and a hand full of grinders), the Cleco Production Tools moniker now covers all assembly and material removals tool in the line up.
Here is a Summary:
Cleco Production Tools Brands: Cleco, Dotco by Cleco, and Cleco MP Series
Cleco: DC assembly tools, torque controlled pneumatic assembly tools, and some USA made material removal tools
Dotco: USA made material removal tools
MP Series (formerly Master Power): general purpose (import) material removal tools
Die Grinder Glossary of Terms and Characteristics:
In order to fully understand what you're getting when you buy any die grinder, it's a good idea to understand the salient characteristics that define them. While some of the following may seem familiar and obvious, other points are more subtle, but can prove equally as important in selecting the right tool.
Revolutions Per Minute (RPM) - If you don't know what these are, you may need more help than this guide. Nevertheless, it's worth pointing out that the RPM's listed in Dotco's catalogs are for tools that are set to 90 PSI of air pressure. The RPM ratings also assume the use of a sufficiently large diameter (minimum 3/8") air hose to allow for adequate air flow as measured in Cubic Feet Per Minute (CFM). It should be pointed out that the RPM's in Cleco's catalog are listed as free speed RPM's (No load RPM's). The factory basically spins the tool in the air, then measures the spindle speed with a tachometer. Air tools will not spin at the rated free speed RPM when operating under load. You should select the RPM's of your grinder based on the abrasive that will be used with it. For obvious safety reasons, you should never the exceed the Max RPM ratings of your abrasives. Also, more is not necessarily better as different RPM tools should be selected for different applications. Horsepower also plays a major role in a tools ability to cut or grind away material. More on this later...
The Governor or Speed Controller - Unlike drill motors, die grinders don't use planetary gears to regulate the speed at which the tool's spindle turns. A governor (aka speed controller) is a small valve like device found within a tools housing which increases air flow during times of heavy load in order to maintain RPM's constant. On angle grinders for example, the speed controller in conjunction with the bevel gears determines the final RPM's delivered to the spindle. Speed controllers are located just after an air tool's valving, but behind the air motor itself.
Horse Power - An air tools horsepower is determined by the diameter of the tool's air motor residing in the housing. The air motor assembly is comprised of a cylinder, rotor, vanes, end plates, and bearings. Compressed air introduced into the the cylinder spins the phenolic motor vanes, which then generate horsepower. The larger the diameter of the cylinder, the more horsepower that is generated. Larger air motors require larger components all around, and thus, as horsepower increases, the overall size and weight of the tool increases as well. It should be noted that higher horsepower tools also require greater air flow (CFM), so make sure your air compressor is large enough to power them. Since higher horsepower tools have a larger footprint, they are heavier in the hands of the operators. In the interest of operator comfort, only choose as much horsepower as the job at hand dictates.
Exhaust Direction - Most Dotco and Cleco grinders are offered with either front or rear exhaust.This choice mainly comes down to operator preference and comfort. In our experience, we have found that most end users prefer the exhaust to be routed out the rear of the tool, and 80% of the tools we sell are rear exhaust models. Nevertheless, operators using inline grinders with rear exhaust in a vertical orientation tend to get blasted with air while working a part with deep recesses (long cylindrical castings for example). In this case, a front exhaust tool might be a better choice. Additionally, some operators like the way that front exhaust tools blow away chips from the work area, making it easier to judge their work in progress. Nonetheless, OSHA has fire hazard restrictions on blowing aluminum and titanium chips around the shop floor, and it would be wise to check with your local authorities before making your tool selection.
Collet Series and Sizes - Both Dotco and Cleco Die Grinders are offered with HG, 200, or 300 series collets that accept accessories with shanks ranging from 1/16" to 1/4" in diameter. Pencil grinders typically use 1/8" collets while traditional die grinders almost always come with 1/4" collets.
Series HG Collets are prominent on Dotco precision and pencil grinders of both the rotary vane and turbine varieties. The HG series collets thread on to the chuck body of the tool itself.
Here is an example of a model 10R9000-03 turbine grinder with the collet removed. Note the threads on the end of the collet that faces the tool: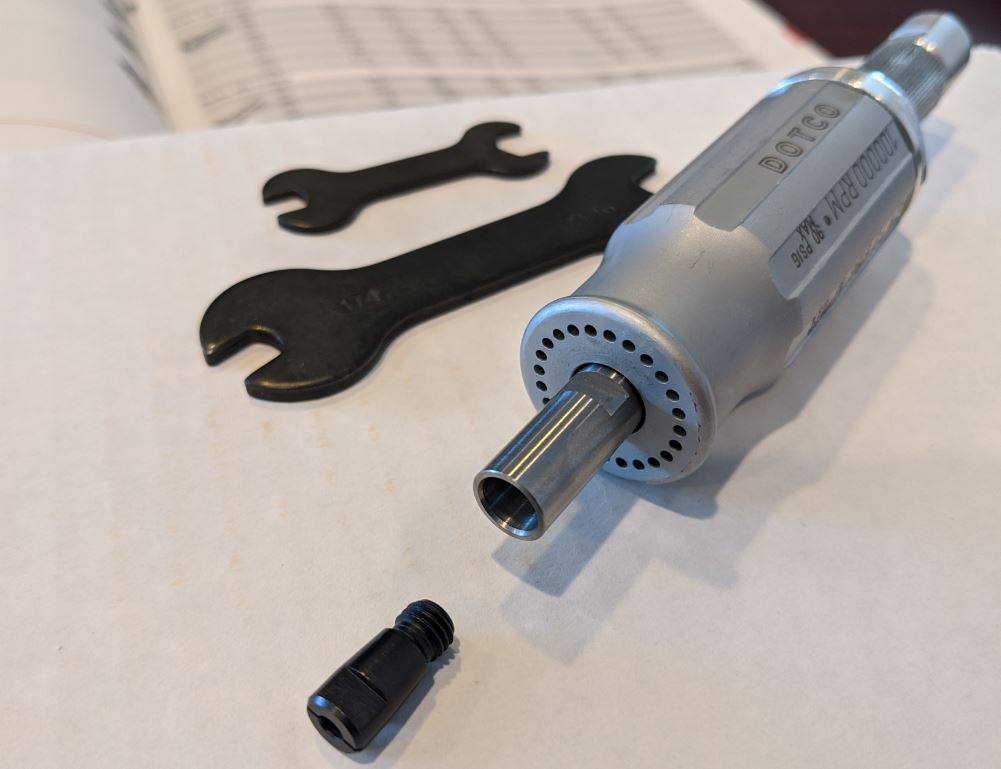 The 300 series collets consist of a collet cap and a nose-piece that the collet nests in. The whole three piece assembly then threads onto the tools chuck body. The 300 series system is long and slender which may offer better accessibility into recessed work areas. I have included images below for clarity:
Dotco 10LF281-36 Die Grinder with 1/4" 300 Series Collet: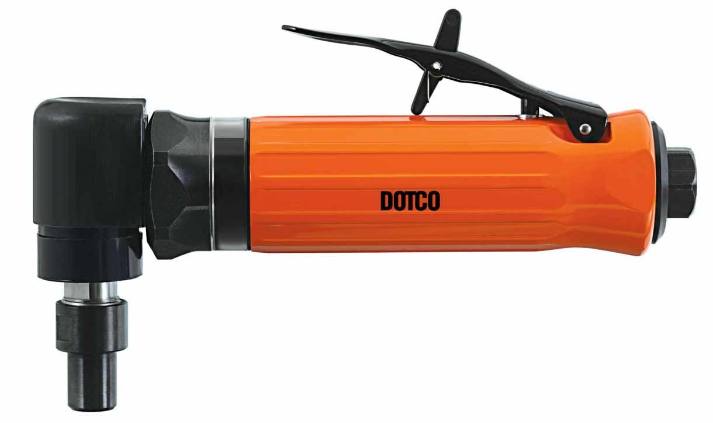 300 Series Collet System Exploded View from a Right Angle Die Grinder: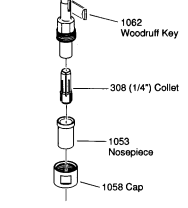 200 Series collets don't utilize the nose piece seen above, and the collet itself nests directly into the spindle (chuck body) of the tool. Example #1 below depicts a 200 series collet system found on inline (straight) die grinder. Example #2 tool shows you what it looks like on a right angle die grinder:
Example #1 - 200 Series Collet System on an Inline Die Grinder: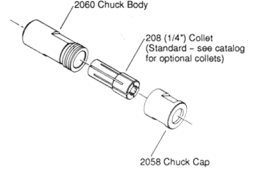 Inline Die Grinder with 200 Series Collet:

Example #2 - 200 Series Collet System Found on a Right Angle Die Grinder: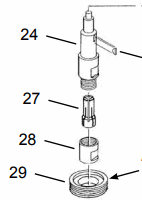 The bottom line is that the the 300 series, with its slender nose piece for its accessibility into restricted work areas, features a taller, 3 piece design. The 300 series is shorter, more rugged and offers a simpler design.
The Relationship between RPM and Torque:
Dotco grinders use their motor, governor and/or bevel gears to get RPM's to the tool's spindle. The higher the RPM's, the lower the stall torque of the tool. Conversely, tools with lower RPM's are going to put out more torque and be harder to stall. Faster is not always better and you want to choose a tool based on whether you are roughing or finishing. Higher RPM tools are better for final detail work, while slower RPM tools offer faster material removal rates. Operators should let the tools RPMs and torque do the work for them. "Leaning into" a tool doesn't yield more grinding productivity and stalling out the spindle of an air tool just to demonstrate machismo is downright dumb.
Gears or No Gears:
Most Dotco grinders are governed or geared in order to obtain the torque to speed ratios described above. However, there are gearless models available where the air motor is connected directly to the output spindle of the tool. In a right angle gearless grinder, the motor is placed vertically in the head of the tool to eliminate the need for bevel gears. Gearless models put off less vibration, but also have less torque than their geared counterparts. The main advantage of gearless grinders is that they are less expensive to maintain.
Gearless Dotco Die Grinder Model 12L302-36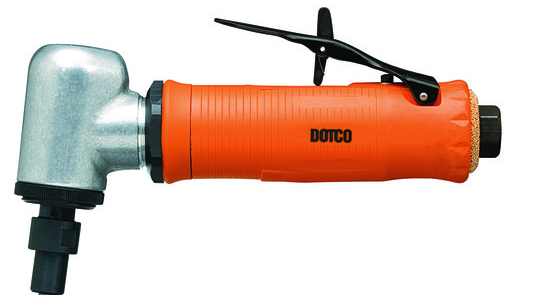 The Different Series of Dotco Die Grinders:
This series of articles covers Dotco die grinders that use a collet system to mount sanding and grinding accessories. We will not cover threaded spindle tools (i.e. 5/8"-11 angle grinders) in this guide. We begin below with pencil and precision grinders, and in part #2 move on to 1/4" inline die grinders. We conclude the series in part #3 with a thorough discussion of Dotco right angle die grinders.
Turbine and Rotary Vane Precision Pencil Grinders - These compact, high RPM grinders are ideal for light deburring, de-flashing, surface preparation, cleaning and finishing. Use these tools with carbide burrs, abrasive stones, mounted wheels, points, and molded abrasives. They are typically used for intricate detail work in mold, casting, and turbine engine applications. Precision grinders are offered with rotary vane or turbine air motors. A discussion of the various series follows: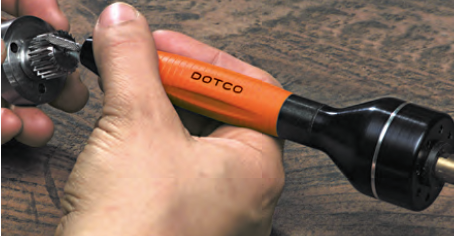 Turbine Precision Grinders
10-90 Series Turbine Die Grinder - 100,000 RPM - .06 HP - High Speed, Low Torque Turbine Precision Grinder for Detail Work - Super Lightweight and Compact - Weighs Less Than 0.5 Lbs and Measures Only 5.4" Long - 1/8" Collet - Front Exhaust - Roll Style, Variable Speed Throttle

These high quality, American made precision grinders feature: a high speed turbine motor, lubrication free operation, and high precision ball bearings for extended life. A variable speed roll throttle allows you to control the RPM's which when combined with the low run-out spindle leaves a superb finish on parts. The tool is lightweight, quiet, and puts out super low vibrations which amounts to greater operator ergonomics and less fatigue. A rugged aluminium housing holds it all together. Excellent for de-burring exotic alloys in aerospace or turbine engine applications.
10-95 Series Turbine Die Grinder - 80,000 RPM - .10 HP - Mid Speed, Mid Torque, Turbine Grinder for Precision Deburring Work - Traditional Die Grinder Style Body with Lever Activation - Weighs 2 Lbs - 5.8" Long - 1/8" Collet - Front Exhaust -Thumb Throttle Lever Start - Aluminum Housing

Less of a pencil grinder, but definitely still a precision grinder, this tool incorporates the body of a traditional inline die grinder with a high performance turbine motor for fast material removal rates. While not as compact as the 10-90 series, the 10-95 series is more rugged and better suited to operators who have been accustomed to using a standard size die grinder. Good precision grinder for guys with big hands and no lubrication required! This tool is better suited to fab shops and general manufacturing.
12R91 Series - Precision Grinder - Governed Air Motor - Turbine - 65,000 RPM - .10 HP - Weighs 0.441 Lbs. - Measures 5.8" Long - 1/8" Collet - Rear Exhaust - Twist throttle

The 12R91 series turbine grinders feature a governor that adjusts air intake to the motor based on the amount of load placed on the spindle. This feature is designed to prevent stalling when you are really trying to hog off material (relatively speaking, this is only a .10 HP tool). The 12R9 series is also the slowest speed Dotco Turbine Grinder and at 65,000 RPM, will produce a bit more torque than its counterparts above. Just to re-emphasize turbine air motor utilize precision ceramic bearings and do not require lubrication. This is a great general purpose turbine grinder found across a broad range on industries.
Non Turbine, Rotary Vane Precision Grinders
12-03 Series Right Angle Gearless Precision Grinder - 90 Degree Head - .10 HP - 80,000 RPM - Weighs 0.3 Lbs - Measures 5.8" Long - 1/8" Air Inlet - Roll Throttle - Various Over Hose Lengths Available - 1/8" Collet

The 12-03 series is unique in that it features a gearless design. The tool uses a traditional rotary vane air motor which has been mounted vertically in the head. The output shaft of the tool connects directly to the air motor eliminating the need for a gear train. The composite body essentially contains just the valving and not much else. This is a great tool for work that requires a ninety degree approach, and the lack of gears in the head allows for decreased maintenance. At 80,000 RPM the tool falls in the middle of the pencil grinder speed range. A variable speeds roll throttle controls the fun.
10-04 Series Precision Inline Grinder - 60,000 RPM - .10 HP - Weighs 0.2 Lbs - Measures 5.8" Long - Aluminum Housing - 1/8" Air Inlet with Over Hoses Offered in Varying Lengths - 1/8" Collet - Roll Throttle

The 10-04 series is a rugged, 60,000 RPM precision grinder that utilizes industrial grade ball bearings in its construction. The tool's most notable characteristic is its durable design. With an aluminum housing and collet guard protecting moving parts from debris and impacts, the 10-04 will be part of your finishing operation for many years to come. The only disadvantage of an all metal housing tool, is that some operator's complain that the tool gets cold during continuous use. A high quality pair of work gloves solves the problem. Exhaust air gets piped away from the workstation through the use of the supplied over hose.
12-04 Series Precision Inline Grinder - 60,000 RPM - .010 HP - Weighs 0.2 Lbs - Measures 5.8" Long - Composite Housing - 1/8" Air Inlet with Over Hoses Offered in Varying Lengths - 1/8" Collet - Roll Throttle

The 12-04 series features all the functionality of the 10-04 series, with the addition of a more ergonomic composite housing to prevent cold transfer to the operator's hands. The composite housing makes the tool slightly larger in diameter than the 10-04 series and adds a nominal amount of weight (.10 Lbs.).
Cleco MP Series (Formerly Master Power) - MP4200 & MP4201 - Weighs .43 Lbs Each - General Purpose, Rotary Vane Pencil Grinders in Right Angle and Straight Orientations - 70,000 RPM 0.10 hp (0.044 kW)

The MP Series is Cleco's re-branded version of the old Master Power tools which were formally blue. In form and function they are the exact same and the only thing that has changed is the color of the housing. The MP Series are imports and are best suited for the value minded consumer who will give them occasional use. Nevertheless, they are slim, comfortable, and able to fit into to tight spots. The MP4200 model features double ball bearings to ensure smooth running and a longer service life. Just keep in mind, that the internal parts of these tools are not made from the purest metals, nor are they machined to the same tolerances as their industrial counterparts. For maintenance work these are a fine choice, but for production work you should choose and industrial model.
220G Series - Push-Pull Start Activation 60,000 RPM Pencil Grinder - Weighs .40 Lbs. Measures 4.6" Long, 1/8" Collet, Aluminum Body

The 220G is an interesting take on the industrial grade pencil grinder and is definitely designed for intensive production use. The most stand out characteristic is the tools pull style rear throttle. Internal components are machined and heat treated and the tool uses premium quality bearings to ensure low run out, high concentricity, and a long service life. This grinder is American made. Standard equipment includes an exhaust over-hose, a built in air filter, and an integrated speed controller. The 220G is offered stand alone or in a pencil grinder kit which includes an assortment of carbide burrs, mounted points, and a blow molded carrying case. Cleco even offers a model without the rear pull throttle which activates once connected to an air supply and is designed to be used in an automated / fixtured environment.
14/18 Series - Steel Body 50,000 RPM 0.1 hp (0.074 kW) Roll / Dial Throttle Precision Grinder- Weighs .50 Lbs. - Measures 3.9 Inches Long (Roll Throttle) or 5.9 Inches Long Dial Throttle - 1/8" Collet

By far and away the most industrial Dotco precision grinder on offer. At 40,000 and 50,000 RPM respectively, the 14/18 series is where the line between precision grinder and traditional die grinder starts to blur. With its steel housing and all industrial ball bearings, If you are looking for a super duty precision grinder, you've just found it. At only 3.8" long in the roll throttle version and 5.9" long with a dial (shown above), the Dotco 14/18 is as compact as it is tough. This tool is offered standard with either 1/8" or 1/4" collets, but has a separate part number for each, so be sure to order the right one. Use this tool with confidence in harsh environments such as foundries and polishing shops.
15Z Series - Air Marking Pen 20,000 RPM 0.06 hp (0.044 kW) - 1/8" Marking Stylus - Weighs 0.3 Lbs., Measures 5.5" Long - 1/4" Air Inlet - Aluminum Housing
While less of a grinder and more of an engraver, this Dotco air marking pen is handy for marking tools and parts around the shop. There are certainly less expensive options out there, but by going American made, it will probably be the last pneumatic engraver you ever buy. The tool features a pull style throttle and an 1.8" carbide tipped replaceable stylus. Buy the kit and get a durable carrying case and a 5' air hose included. Demand Dotco quality for your industrial engraving needs.
Part #1 Wrap Up:
This concludes our first part of the this two part series. Hopefully we have provided you enough ammunition to allow you to make an informed decision when choosing your next Dotco Precision Grinder. In part two of the series, we will breakdown the different Dotco 1/4" die grinders, which comprise the heart of of the line up. Until next time, thanks for reading and happy grinding...
Mark Schieber
President
International Air Tool Co.