Posted by Mark W. Schieber on 17th Nov 2021
---
The modern pneumatic die grinder has its roots in old-school tool and die grinding work. Presently, however, these highly adaptable tools can be found in industries ranging from welding to woodworking. While seemingly homogenous in design and function, there are subtleties that set these tools apart from one another.
In this article, we share our opinion (based on 16 years of experience in the air tool industry), on which tools are the best die grinder investment for your money. The 5 die grinders we reviewed in this article are designed for intensive use in a production environment. This is in contrast to more commercial quality die grinders which are made for intermittent use. For more information on the difference between the two, please see our blog on the $500 vs., the $50 die grinder - what's the difference?
How We Tested Them:

Each tool was tested at a mid-sized fabrication shop (50 welders give or take) over the course of 6 month's time. The tools were primarily used with carbide burrs to take down weld seams in the corners of plates which were welded together at 90 degree angles. The die grinders were also used with spiral sanding bands to deburr parts and for some light surface preparation prior to painting. 70% of the testing was performed on mild steel, 20% on aluminum, and 10% on stainless.
Each tool was connected to a ⅜" diameter air hose powered by a 75 HP compressor. An FRL unit was used at all workstations to ensure clean, dry, lubricated air was fed to each tool.
---
How We Rated Them:

To arrive at our aggregate scores, we used a 1 to 5 point scoring system across 5 categories for a maximum score of 25 points. We then took the total points earned and divided them by the 25 points possible to come up with a percentage score. Lastly, we assigned the tools a letter grade based on their overall percentage score.
All tools were rated on the following criteria: performance, ergonomics, serviceability, durability, and price.
---
The Contenders

(In No Particular Order)


Ingersoll Rand G1H250RG4 "G1 Series" Inline Die Grinder
---
2021 List Price: $491.00
Why We Like It:

Ingersoll Rand is a well-known brand that build more than a century of engineering into its die grinders. Just putting an IR die grinder into the hands of our tester welders produced smiles and a positive reaction.
Launched nearly 15 years ago, the G1 Series is a proven winner designed to withstand the rigors of production grinding. In essence, the G series is an updated version of Ingersoll Rand's Cyclone Series grinders which were popular during the 90's.
The beauty of the G1 lies in its simple design, low vibration operation, and ease of disassembly. It also features a "D" shaped, a chemical resistant grip that is meant to mimic the shape of the human hand, making it comfortable to hold over periods of extended use.
For shops where operator exhaust preferences vary, the tool features a reversible flow plate which allows a choice between front or rear exhaust direction. While not the most modern design, the G1 gives the impression of being well made and is clearly designed to be rebuilt over and over again. The flared housing provides a good resting point for the hand and was well received by our testers.
Simple Design with Few Moving Parts for Ease of Servicing
---
Pros:

The only tool we tested with reversible exhaust
Ergonomic housing
Robust safety "kickstand" style lever throttle
One nut motor removal for quick servicing
Available tune up kit with all the parts required to give the grinder renewed life
Assembled in Southern Pines, North Carolina USA

Cons:




Average power and torque
Not as drop proof as some of the models we tested.
Loud, at 94 decibels dBA sound power, wear your ear plugs.
No integrated governor or speed controller
---
Scores:
Power and Performance: 4.0
Ergonomics: 4.5
Serviceability: 4.5
Durability: 4.0
Price: 4.0
Overall Score: 21 out of 25 (84%) Letter Grade: B
Click here to buy Ingersoll Rand G1H250RG4 Die Grinder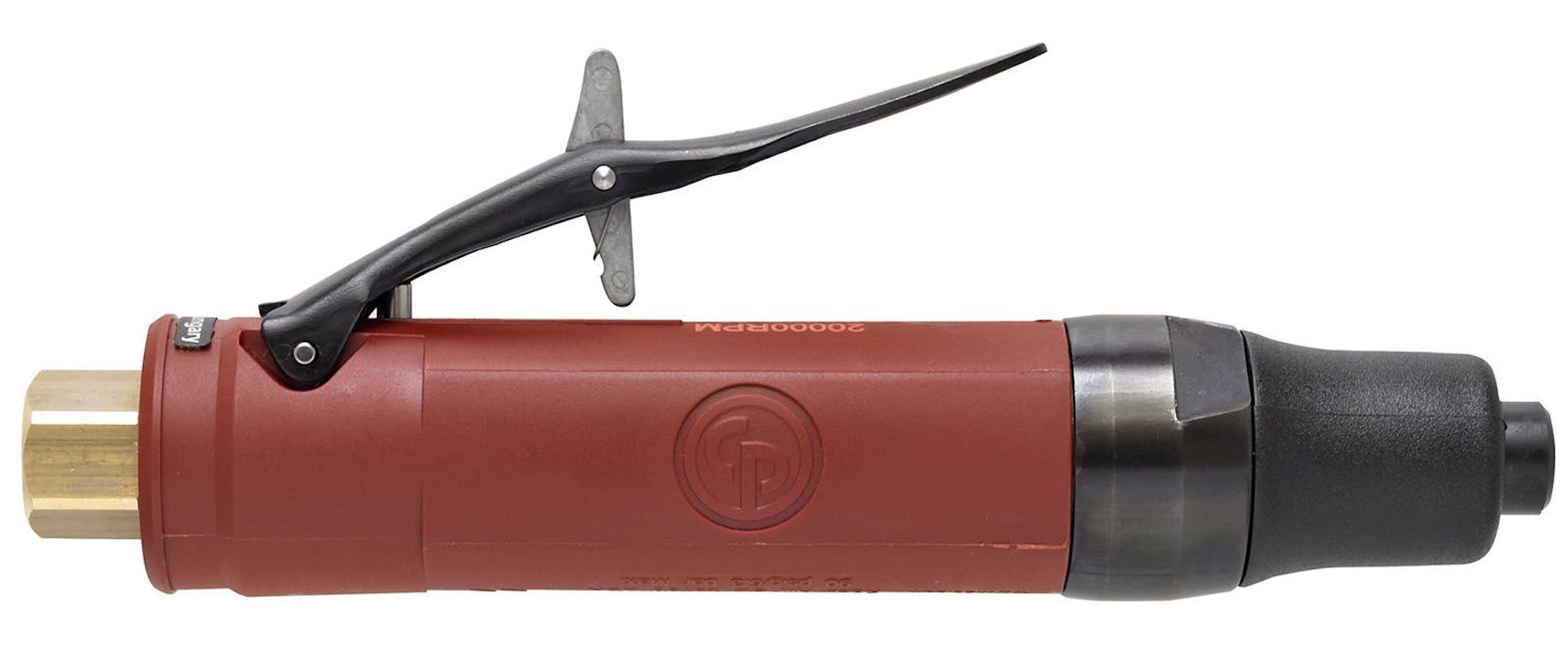 Chicago Pneumatic CP3019-25 Inline Die Grinder
---
2021 List Price: $564.85
Why We Like It:

While Chicago Pneumatic may sound like an all American brand, "CP" has been owned by Swedish monolith Atlas Copco since 1987. The CP3019-25 has a distinctly European feel to it.
The engineers at Chicago Pneumatic managed to squeeze ½ HP of a grinder that has the smallest diameter body of all the tools we tested. At just 1.17" in diameter and weighing in at just .83 Lbs, the CP3019-25 has the best power to weight ratio in its class, making it one of the best die grinders on the market. Both the tool's power and slim presentation was immediately noticed by all of our welders who tested it. It was also really easy to get into corners.
CP is the only manufacturer in the shootout that prints a recommended service interval in its collateral, in this case, 2000 operating hours. Our maintenance teams really appreciated this as it helped pre-determine a preventive maintenance schedule.
A quick disassembly of the CP3019-25 reveals first rate components that are machined to tight tolerances. This long lasting tool exudes quality and has plenty of power to take down welds, port, deburr or break edges. We are big fans of the CP3019-25.
Slim and Lightweight Design for Operator Comfort and Access To Tight Areas
---
Pros:

2000 hour service interval before scheduled maintenance
Ergonomic design with insulated housing keeps vibrations and cold transfer to a minimum
Governed air motor with speed controller automatically increases air take during times of hard use
German bearings and high quality, heat treated components for smooth operation and a long service life.

Cons:

Most spare parts sold only in kits, many one off parts not available separately
Exploded view and disassembly/reassembly instructions are less than clear. Small print in the manual.
Complete tools and spare parts are stored at a warehouse in Belgium, not in the USA
Pricey
---
Scores:
Power and Performance: 5.0
Ergonomics: 4.5
Serviceability: 4.0
Durability: 4.5
Price: 3.5
Overall Score: 21.5 out of 25 (86%) Letter Grade: B
Click here to buy Chicago Pneumatic CP3019-25 Inline Die Grinder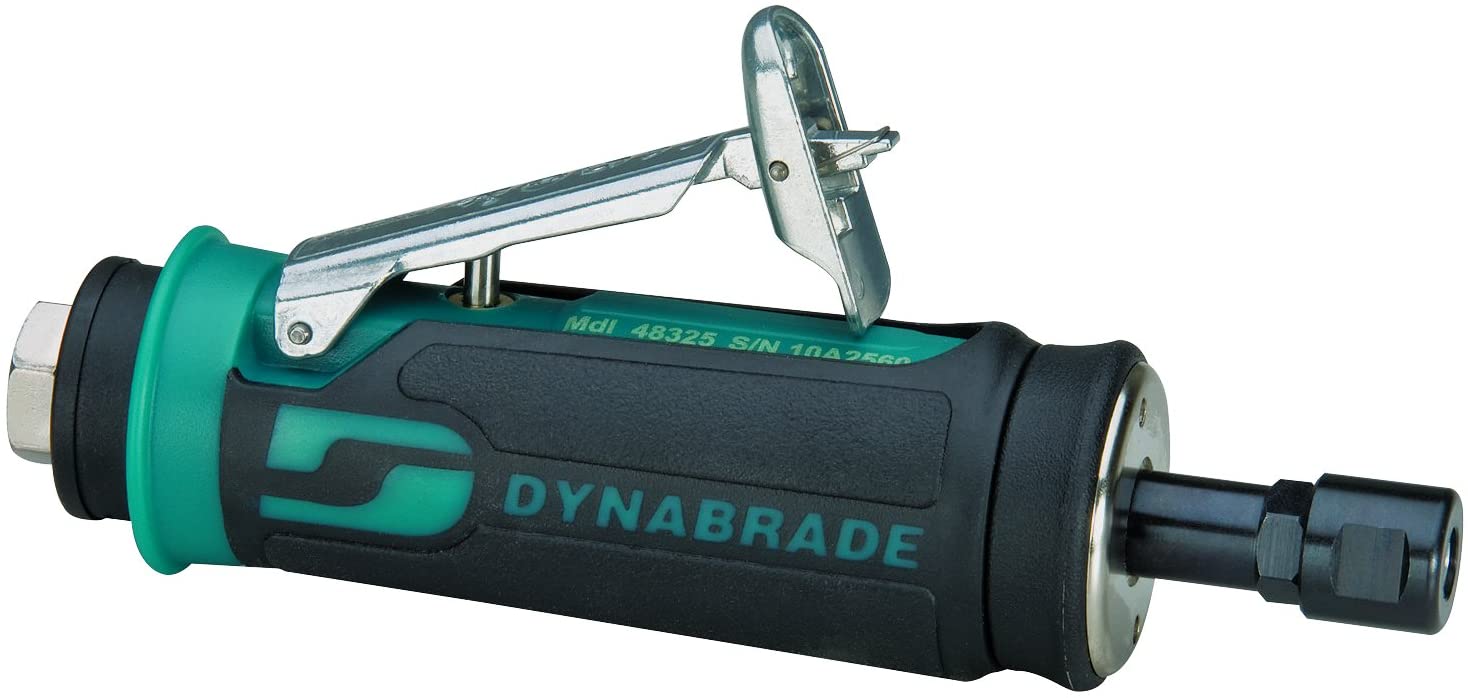 Dynabrade 48325 "Straight-Line" Die Grinder
---
2021 List Price: $385.00
| | | |
| --- | --- | --- |
| Brand: Dynabrade | Motor (HP): 0.4 | RPM: 25,000 |
| Model: 48325 | Collet: 1/4" | Exhaust: Rear |
Why we like it:

Dynabrade brands itself as an all American company, proudly flying the American flag on its sales collateral and taglines. The majority of the components that go into Dynabrade tools are produced by craftsmen within a 400 miles radius of their Buffalo, New York headquarters where the tools are assembled. Dynabrade tools truly are made in America.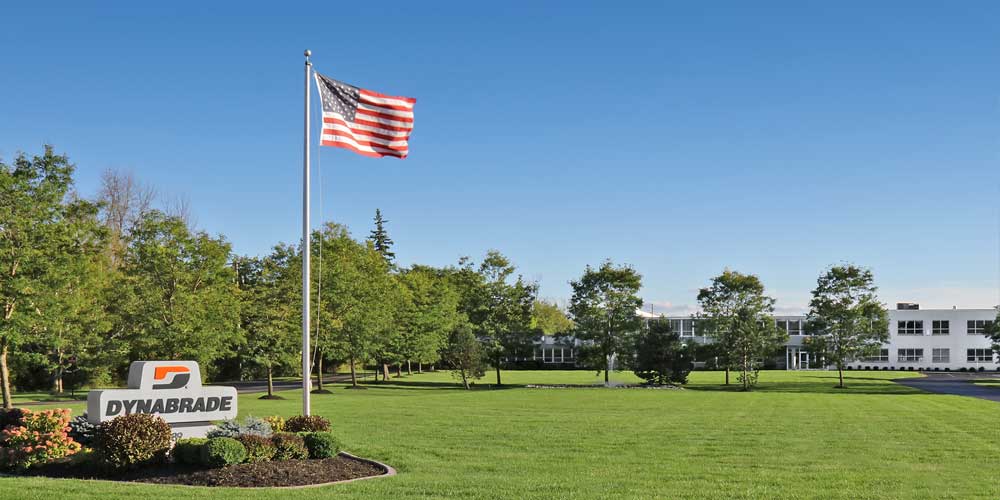 Dynabrade die grinder features an ergonomic grip that makes it slip resistant and comfortable to use. Dynabrade also engineered an air pocket between the tools liner and housing to prevent cold transfer to the operator's arm. We received positive feedback from our operators stating that the housing of the tool did not get as cold as some of others.
While not the "torquiest" tool, the 48325 performed adequately when we ran it with both carbide burrs and coated abrasives. At 79 dBA, the Dynabrade 48325 is also the quietest tool we tested ,without the need for cumbersome mufflers or overhoses.
While this tool is undoubtedly made well, our overall impression was that it is better suited to slightly cleaner environments such as aerospace or automotive manufacturing. We were not convinced that this die grinder would hold up in an environment more extreme than the one we tested it in, but could be wrong.
---
Pros:

Awesome "tactile" slip resistant grip
Robust 200 series, 3 piece collet firmly grips accessories
Gearless design for reduced maintenance
Tune up kit includes both high wear and medium wear repair parts (huge plus)
Great price point
Made and stocked in the USA - Both complete tools and parts are readily available to ship from New York.

Cons:

Thin housing liner needs to be handled with care during service
Has a less "industrial" feel than the other tools we reviewed
Proper servicing requires some special tools, the use of shims, and a bearing press
---
Scores:
Power and Performance: 4.0
Ergonomics: 5.0
Serviceability: 4.0
Durability: 4.0
Price: 4.0
Overall Score: 21 out of 25 (84%) Letter Grade: B
Click here to buy Dynabrade 48325 "Straight-Line" Die Grinder


Dotco 12L1082-36 Inline Die Grinder
---
2021 List Price: $372.00
| | | |
| --- | --- | --- |
| Brand: Dotco | Motor (HP): 0.3 | RPM: 25,000 |
| Model: 12L1082-36 | Collet: 1/4" | Exhaust: Rear |
Why we like it:

With its minimalistic, yet classic design, there is something about the Dotco line of die grinders that's hard to put a finger on. While there is nothing flashy about the tool's appearance, those who have worked with them understand that Dotco manufactures the longest-lasting die grinders on the planet. With 100+ years of engineering built into its construction, the Dotco die grinder is in our opinion, the most well-rounded industrial grade die grinder available. The Dotco tool was well-received by all of our test welders citing its ability to rapidly remove material.
Dotco grinders are clearly designed with the operator in mind. They are small, lightweight, and comfortable to use, without sacrificing durability. Furthermore, the machined parts are expertly balanced and finished with elastomer coatings for the longest tool life possible. Add to this a drop-resistant and highly ergonomic housing and the Dotco 12L1082-36 die grinder has all the makings of a winner.
---
Pros:

Legendary reliability
Ultra-compact package. The 12L1082-36 weighs just 080 lbs. and measures a mere 6" in length.
Super "torquey" motor - the power can be felt just by activating the throttle while running the tool in the air.
Tight machining tolerances and precision bearings means low run out and more power to the spindle
Highly rebuildable over and over again - tune up kits available
Assembled in USA
Part of Doco's best seller program, available to ship fast

Cons:

Slightly flimsy "kickstand" style safety throttle lever is quickly defeated by the ambitious operator
Motor assembly requires the use of small alignment pins that are easily misplaced
Previously 100% American made, unfortunately, even Dotco is now starting to source components from overseas.
---
Scores:
Power and Performance: 5.0
Ergonomics: 4.5
Serviceability: 4.5
Durability: 5.0
Price: 4.5
Overall Score: 23.5 out of 25 (94%) Letter Grade: A
Click here to buy Dotco 12L1082-36 Inline Die Grinder


Sioux SDG03S25 Straight Die Grinder
---
2021 List Price: $277.50
Why we like it:

Last, but certainly not least is the sleeper of the group, the Sioux SDG03S25 inline die grinder. Sioux tools is a proven, 100-year-old brand wholly owned by Snap On Power Tools. Sioux is a very American manufacturer that still does a good deal of manufacturing at their plant in the mountains of North Carolina. Sure components are sourced globally, but in short, Sioux makes very high-quality air tools at reasonable prices.
When you pick up this little grinder, it's light, but still has enough weight to it to feel sturdy in the hand. The spindle is thick and the throttle lever sturdy. Nevertheless, the most stand-out characteristic of Sioux's "Signature Series" die grinders is the drop-in motor. After removing the tool's motor retainer (collar nut), the entire air motor can be removed and replaced with a fresh one in a matter of minutes. This feature drastically reduces time on the bench, and makes the Sioux Signature Series well suited to use in a production environment.
Another nice feature is the built-in air regulator on the bottom side of the tool's housing. With a few turns of a flat head screwdriver, you can decrease air pressure to the motor if you want to run the tool slower than its max-rated 25,000 RPM's.
---
Pros:

Incredible price point for an industrial grade die grinder
Ready to install "drop in" replacement motor available for less than 50% of the price of a new tool
Slightly extended spindle keeps operators hands away from the work
Variable speed "teasing throttle" allows for controlled grinding
Low air consumption at only 11 CFM
Standard equipped with a heavy duty 200 series collet
Assembled in USA

Cons:

The tool's design gives the impression of "light industrial" - somewhere in between an entry level grinder and a genuinely industrial type one.
The 0.3 HP air motor doesn't generate as much torque and power as the 0.4 or 0.5 of the other models we tested
Despite the convenience of the drop in motor, this tool had a slightly shorter service interval than some of its rivals.
Some of our testers mentioned that the housing grip is a little too fat
---
Scores:
Power and Performance: 4.0
Ergonomics: 4.0
Serviceability: 5.0
Durability: 4.0
Price: 5
Overall Score: 22 out of 25 (88%) Letter Grade: B+
Click here to buy Sioux SDG03S25 Straight Die Grinder


Summary, Low Down and Overall Winner:
All the die grinders above performed well in a fabrication and weld shop environment. You will notice no affiliate links in this post and no one paid us to review any tools. We chose these tools because of our relationship with the manufacturer's and our positive experiences with their brands in the field.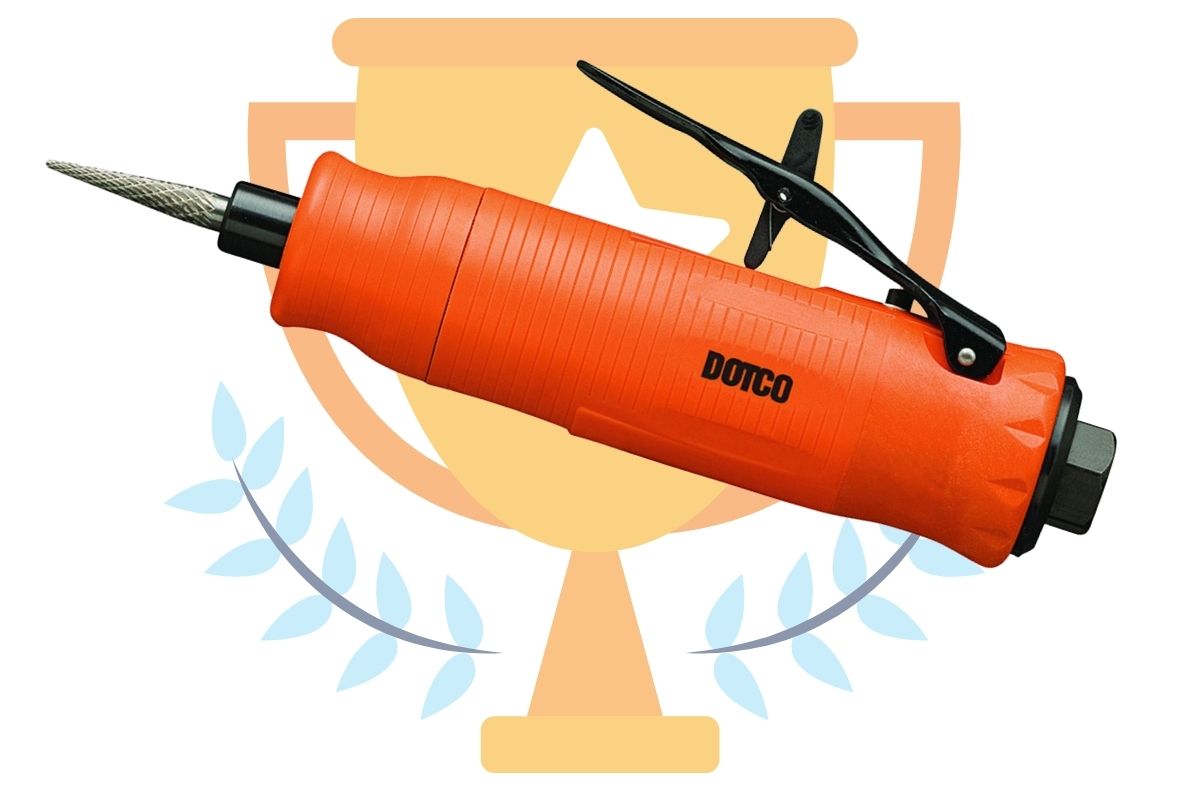 Our pick for the #1 best die grinder (industrial grade, straight orientation) of 2022 is the Dotco 12L1082-36
---
The primary reasoning behind our selection is the tool's stellar performance and amazing reliability. While not the fanciest design or most gimmicky tool of the bunch, the Dotco takes off material fast and doesn't complain under the harsh working conditions of a smokey, sooty weld shop. It's also fairly priced at $334.80.
With its precision machined and elastomer coated parts, buying a Dotco tool is an investment in quality. If properly cared for and serviced, the 12L1082-36 will serve you well for many years to come.
The Runner Up: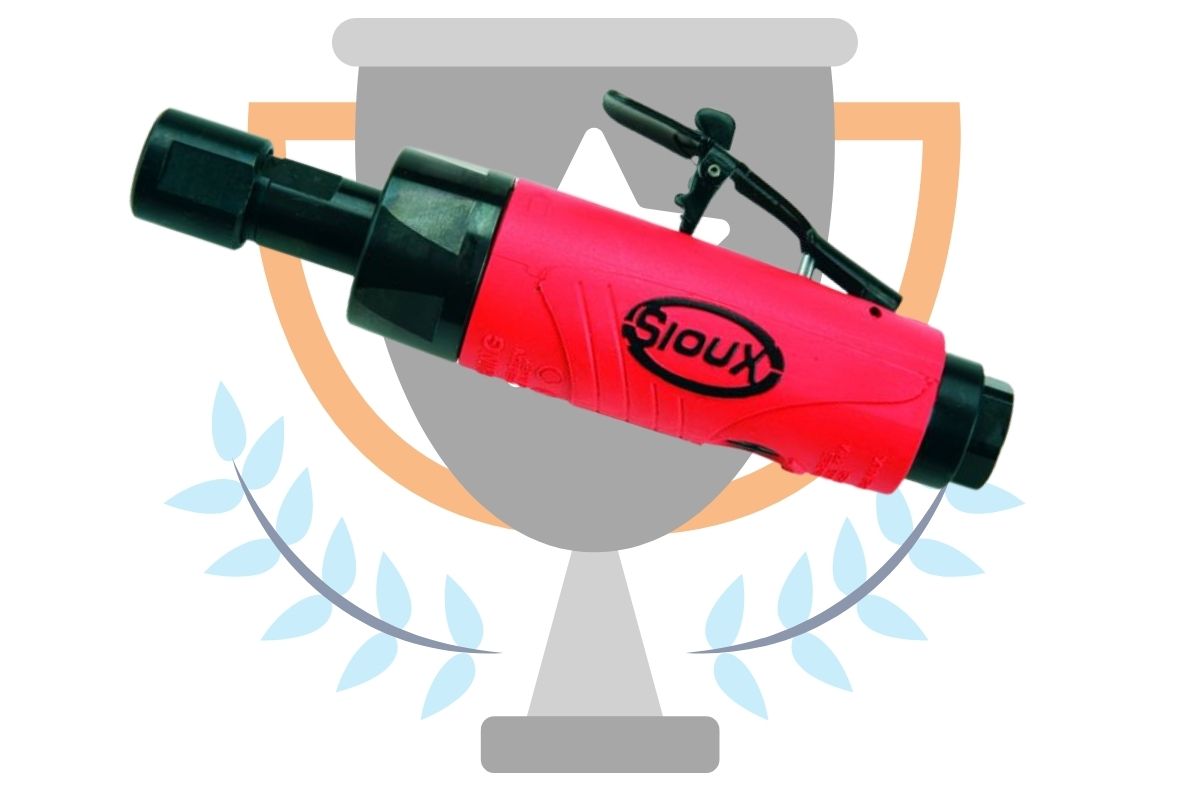 The second-place finisher and dark horse for the runner-up position is the Sioux SDG03S25
---
For just over $200 you are not going to find a better value priced industrial grade die grinder. This tool offers a lot of added features in a compact package. It's also made by an American company with a century-long heritage of quality and design.
Sure it doesn't say IR or Dotco on the handle, but with the convenience and price of the drop in motor you can buy the complete tool and a separate drop in motor assembly for the price of one of the bigger name tools. It's like getting to two tools for the price of one.
So that wraps it up. One thing that was lacking from our experience was testing these die grinders across different environments. We only tested the tools in a fab shop and it would have been beneficial to run them in other industries.
In conclusion, If you want to talk about which of the above tools is the best die grinder for your specific industry or application, that's what we are here for. Shoot us an email, schedule a consultation, or give us a call.
Thanks for reading and safe grinding.