LENOX Band Saw Blades: Benefits, Options, and Applications
Whether you are a hobbyist, industry professional, or a production sawing facility, selecting the right band saw blade for metalworking operations is crucial to achieving a quality outcome.
Choosing the right blade for the job is imperative, as selecting the wrong style can damage the blade, leading to unnecessary costs and production delays. Taking into consideration the following factors for each metalworking project can ensure proper cutting performance:
Type of material to cut - carbon steel, stainless steel, nonferrous metals, etc.
The shape of the material - solid tubes, hollow tubes, I beams, extrusions, bundles etc.
The types of cuts required - straight, intricate, curved, etc.
Size of the blade - length, width, thickness
The blade's number of teeth per inch (TPI)
Blade material and construction – bi-metal or carbide tipped
Cutting Speed
LENOX industrial band saw blades are a leading choice for metalworking operations, and this article will discuss the key features and benefits of these industry-leading products.
Company Background
For over 100 years, LENOX has been manufacturing premium industrial saw blades, power tool accessories, hand tools, and other consumer products in more than 70 countries. From the company's East Longmeadow, Massachusetts facilities, they still test, design, and manufacture their extensive line of products and never ship a blade until it has proven its ability to perform.
Combining advanced manufacturing technology with a dedicated research and development team has allowed LENOX to remain a leader in the industry, with their products consistently outperforming traditional brands while delivering exceptional value.
The cutting performance achieved using LENOX blades is second to none, as the company focuses on the needs of sawing professionals worldwide todevelop products that make the job easier.
In 2017, LENOXjoined the Stanley Black & Decker portfolio, allowing them to utilize the knowledge and skill of 52,000 global employees with a shared focus on developing innovative, world-class products using cutting-edge technologies to maintain their reputation as a global leader in the tools and accessories industry.
Bi-Metal or Carbide tipped, which to use?
A broad range of LENOX products is available to ensure optimal blade performance based on specific application requirements.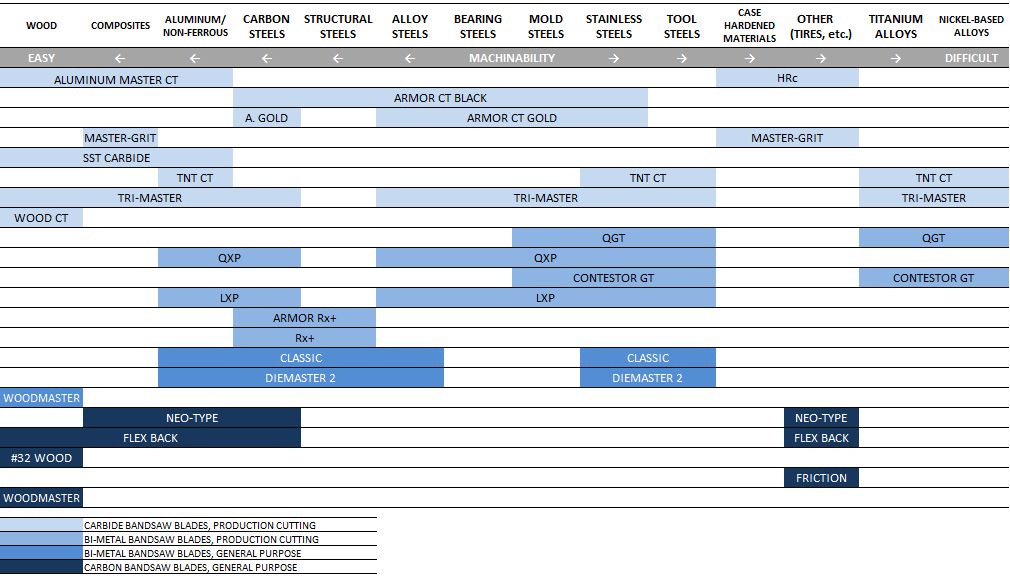 ---
LENOX Bi-Metal Band Saw Blades
LENOX Bi-Metal Band Saw Blades offer a cost-effective solution for metal sawing applications, thanks to their combination of high-speed steel tooth tips and flexible alloy steel backing material. With a wide range of products available, you can find the optimal blade for your specific application needs.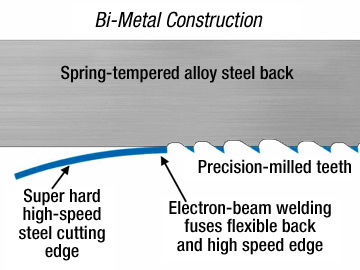 Key blade options include:
Diemaster 2: A Bi-Metal blade that outlasts Carbon Steel blades by 6 times ensuring extended blade life.
Matrix: A Bi-Metal blade measuring .020 thick, also providing 6 times the lifespan of Carbon Steel blades.
Classic: The Ultimate Multi-Purpose blade is suitable for various cutting tasks.
Classic Pro: The Ultimate Multi-Purpose Blade specifically designed for production cutting.
QXP: A blade designed for high-output sawing, offering long life even at high cutting rates.
METALWOLF HRx: Engineered for cutting Structurals, Tubing, and Bundles, providing exceptional performance in these applications.
Armor RX+: Engineered for extended blade life, ensuring durability and longevity.
Contestor GT: Designed for high-performance sawing, delivering outstanding cutting results.
Choose LENOX Bi-Metal Band Saw Blades for cost-effective and high-performing solutions in wide variety of metal sawing applications.
---
LENOX Carbide Band Saw Blades
LENOX Carbide Band Saw Blades are designed to deliver premium performance in a wide range of sawing applications. With high-performance backing steel and optimized carbide grades, these blades offer exceptional cutting speed and extended lifespan compared to other band saw blades.
Here are the core blade models available:
Choose LENOX Carbide Band Saw Blades for premium performance, faster cutting, and longer blade life in a variety of demanding sawing applications.
---
Band Saw Blade Thickness
When it comes to selecting a bandsaw blade, the thickness becomes a crucial factor in determining its overall performance and durability. Blades are designed in various thickness options to cater to different cutting requirements, offering versatility and customization. Common thicknesses range from .014" to .063", providing a wide range of choices.
Choosing the right blade thickness requires careful consideration of your specific cutting application. Several factors come into play, including the diameter of the saw's wheels (pulleys) and the nature of the work to be performed. Thicker blades exhibit greater resistance to high strain levels during cutting, but they may be more susceptible to breaking when subjected to bending, particularly on smaller wheels. The repetitive flexing of the blade with each revolution pushes the steel close to its elastic limit, which can result in metal fatigue and increased breakage. Conversely, thinner blades are often recommended for lighter workloads.
By making an informed decision regarding blade thickness, you can optimize the performance and longevity of your bandsaw. It ensures smooth and efficient operation, tailored precisely to meet the demands of your cutting tasks. So, take the time to evaluate your specific requirements and select the ideal blade thickness for superior cutting performance, while minimizing the risk of premature blade failure.

Selecting the Proper TPI (teeth per inch):
When utilizing a bandsaw to cut materials, finding the right balance in the number of teeth per inch (TPI) becomes crucial. The TPI directly affects both the speed and quality of the cut. The recommended range typically falls between 3 and 12 teeth per inch, with 6 TPI serving as the popular choice for general-purpose sawing. It's important to note that a lower TPI count allows for a faster cut, but the tradeoff is a rougher finish. Conversely, a higher TPI count delivers a smoother cut, albeit at a slower pace.
For tasks involving resawing, it is advisable to employ the widest blade compatible with your bandsaw, opting for the fewest teeth per inch. This combination ensures efficient and effective cutting performance. By carefully considering the appropriate TPI and selecting the right blade thickness, you can achieve optimal cutting performance while simultaneously minimizing the risks associated with metal fatigue and blade failure. Striking this balance ensures that your bandsaw delivers precise cuts with remarkable efficiency and longevity.
---
Speed Selection
Generally, harder materials require slower blade speeds, while softer materials can be cut at higher speeds. It is recommended to consult the manufacturer's guidelines or reference charts provided by LENOX to determine the optimal speed range for specific materials.
Carbide Speed Chart
---
Bi-Metal Speed Chart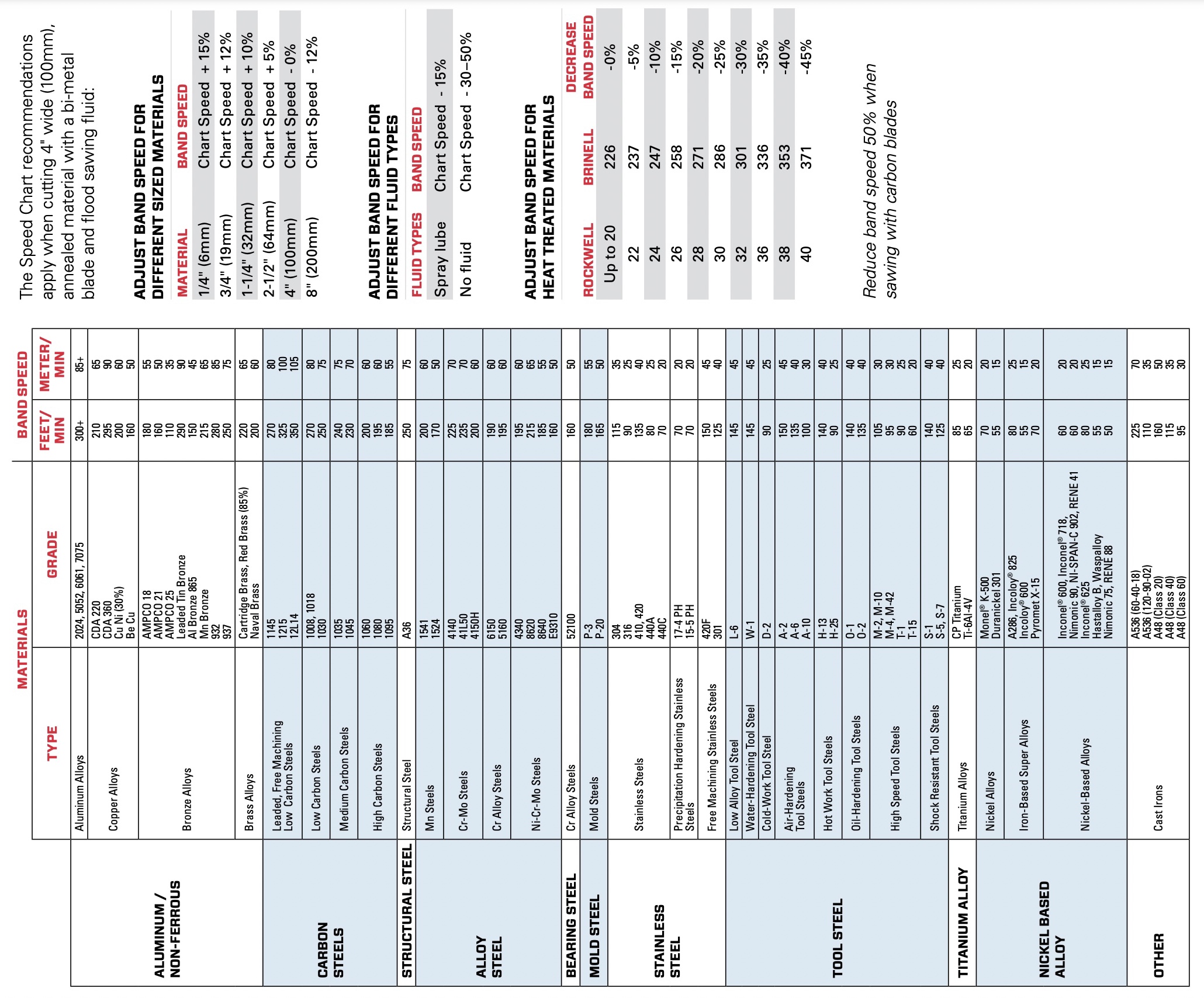 ---
Coatings
LENOX offers various coatings for their band saw blades to reduce friction and increase durability, some of which include:
Armor Coating: Provides higher productivity and faster cutting by creating an armor-like barrier that protects every tooth from wear and heat. Aluminum, Nitrogen, and Titanium nitride combine to create a tough coating that forces heat into the chips instead of the workpiece or blade.
Armor CT Black: The micro-grained carbide material can efficiently cut a broad range of metals, and the tough coating offers superior protection to each tooth, creating an armor-like barrier against wear and heat buildup
Armor VP: Utilizes an advanced carbide grade combined with HONEX technology to limit tooth wear and extend the blade life. Can handle a broad range of materials and cutting rates.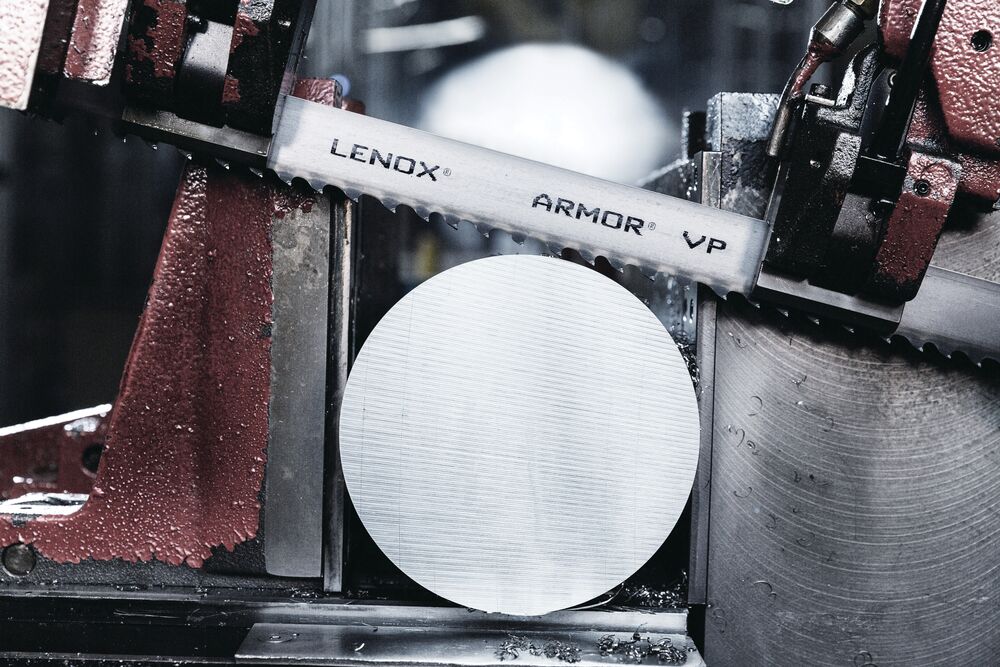 ---
Blade Break-In: Getting Long Life from a New Band Saw Blade
What is Blade Break-In?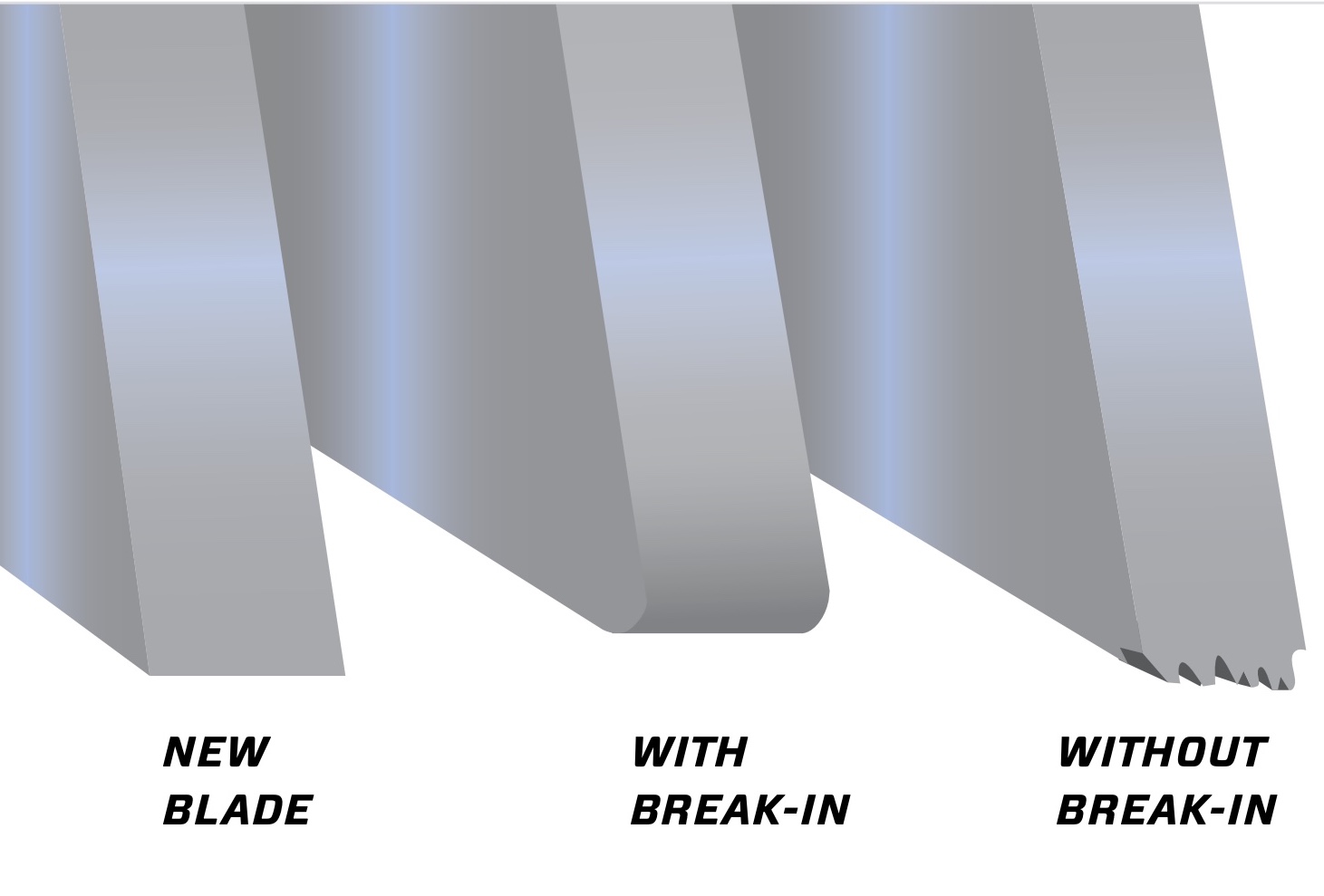 When you first receive a new band saw blade, its tooth tips are razor sharp. However, to ensure the blade can withstand the cutting pressures involved in band sawing, it is essential to perform a break-in process by honing the tooth tips to form a micro-fine radius. Failing to perform this honing step can lead to microscopic damage to the tooth tips, ultimately reducing the overall lifespan of the blade.
How to Break in A Band Saw Blade:
In a pinch, a good starting point would be to reduce your RPM and feed rate by 50% for the first 20 to 30 minutes of cutting with a new blade.
For those looking for a more specific answer, If you are cutting aluminum, other non ferrous metals, or low Rockwell (HRC) carbon steel, you should adjust the SFPM (Surface Feed Per Minute) down by 50% for the first 50 to 100 square-inches of material to be cut. After that, gradually ramp up to your usual cutting parameters.
When working with harder metals such as exotic alloys, nickel based alloys, high HRC steel, or 316 stainless, then you will need to adjust your SFPM speed down to only 75% of the normal sawing rate for the first roughly 25 to 75 square-inches. At that point, again begin to slowly increase the SFPM (surface feet per minute) until you reach your normal feed and speed rates.
Why Break-In a Band Saw Blade?
Conducting a proper break-in on a new band saw blade has significant benefits, particularly in terms of its longevity. By following the break-in process, you can dramatically increase the life expectancy of the blade. This means that it will endure more cutting tasks before needing replacement, saving you both time and money in the long run.
By taking the time to properly break in your new band saw blade, you are investing in its performance and durability, ensuring optimal cutting results and extending its overall lifespan.
LENOX Band Saw Blades should be your choice for metal cutting applications
LENOX is a global leader in the manufacturing of band saw blades, constantly developing innovative techniques to improve metal cutting efficiency and productivity.
While delivering unsurpassable performance capabilities, the blades can cut through most tough metal materials, including steel, pipes, sheet metal, and more. With over a century of industry experience, LENOX has become a gold standard in hand tools, power tool accessories, and band saw blades. The precision cutting performance ensures users can get it right every time.
LENOX band saw blades provide a wide variety of benefits, such as faster cutting speeds, longer blade life, precision, and versatility. The high-quality product also offers features not found in other conventional style band saw blades.
Try LENOX band saw blades for your own metalworking needs and see how they can not only improve the quality of your work, but also provide a faster, safer, more enjoyable experience.
---
Looking for more information about the Lenox Band Saw Blades? Click here to view the Catalog
For more information please call (800) 608-5210 or email info@intlairtool.com