Posted by Natasha Teymourian on 19th Feb 2019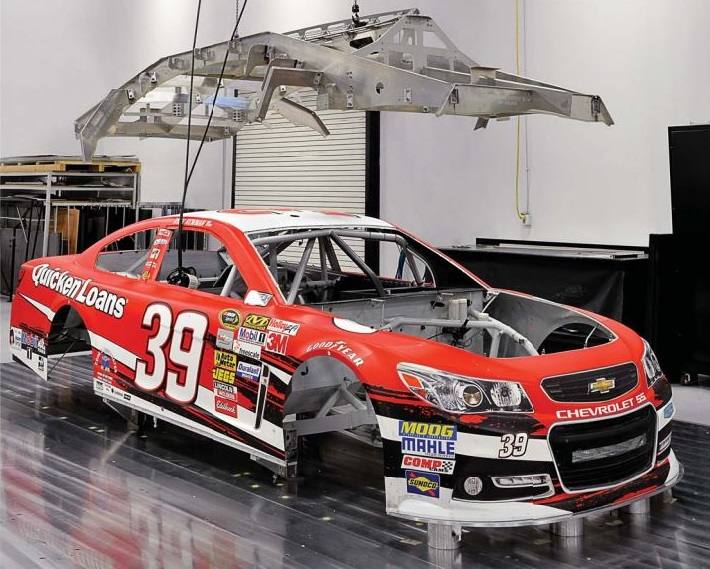 In 2007, NASCAR introduced the "Car of Tomorrow" (COT) Template to offer a solution to the concern of driver safety. These templates serve as a restriction to racing teams (and their assembly facilities) because they require each car to be built to the same NASCAR specifications and guidelines of bodywork and chassis design.
The only issue with these NASCAR Cars of Tomorrows is that they don't have much flexibility – meaning that every shop that builds cars for NASCAR must use the same large aluminum template to make sure that the requirements are met.
For most shops and manufacturers, this switch meant that they had to find a way to maintain (or even increase) efficiency while handling these new templates. Stewart-Hass Racing, one of the NASCAR assembly manufacturers, they were looking to keep production up while repetitively lowering, raising, and positioning these car-sized templates over and onto the cars themselves, with enough precision to not damage the expensive template or the even more expensive car.
Who is Stewart-Hass Racing?
Stewart-Hass Racing is a title-winning NASCAR Sprint Cup Series team co-owned by three-time Sprint Cup champion Tony Stewart and Gene Hass. They helped build the cars for their three entries from Ryan Newman, Danica Patrick, and Tony Stewart in the elite Sprint Cup series out of their 140,000-square-foot state-of-the-art facility in Kannapolis, North Carolina. They cover all parts of NASCAR building, from research and development, to assembly, and testing.
Their old shop set-up was a common electric wire rope winch that they mounted to a mobile A-frame gantry. While this method worked, it was a tedious and time-consuming challenge for their shop crews. Here's a brief overview of the process that their team went through:
First, they raised the template, rolled the gantry with the template into the work area, positioned it over the car, then lowered it; After they checked the tolerances, they raised the template and rolled it away to continue working.
And all of that with the winch's slow lifting speed, unreliable brake, and abruptness: all potentially dangerous to the template, brand new car, and operator.
How'd they fix it?
Tired of being slowed down, Stewart-Hass Racing decided to make a change: they installed an overhead crane system in their primary garage. In this system, they included six CM Chain Hoists (ShopStar Hoists, to be specific – with 250 lb. capacities and 20 ft. of lift). They also installed one 500 lb. capacity CM ShopStar in their Research and Development Area.
To position the NASCAR design template onto the under-construction cars, the shop paired the hoists over the three car assembly areas. With a more reliable brake than the wire rope winch, the Shopstar is equipped with a dual braking system that ensures the load will hold.
This switch to Columbus Mckinnon increased their productivity in all areas: not only did Stewart-Hass get the efficiency that they'd been craving, but they also got improved operator safety and confidence (as well as extra protection for the car and template). Repetitive raising and lowering ended up going by faster, with the ShopStar's H4 duty cycle and 16 ft/minute lifting speed.


"[Lifting the templates off the car is] something that has to happen quickly, efficiently, and quite often. We converted over to the Shopstar because of speed, dependability, and the braking system; it made our process much more efficient by switching over," says Greg Zippadelli, Competition Director at Stewart-Haas, "So, this makes our job a lot easier, has sped up our process significantly, and you know in racing that's what matters."


The CM ShopStar electric chain hoist was designed for commercial and industrial applications, featuring an H4 duty cycle (300 motor starts/hour) and capacities up to 1,000 lbs. The compact frame was constructed with a rugged cast aluminum alloy frame that's both lightweight and durable. Safety features such as a dual braking system, 10 pocket lift wheel, and standard protector overload device ensure that heavy loads can get where they need to go.
But that's not the only electric chain hoist offered by Columbus Mckinnon – the CM Lodestar is an economic powerhouse, available in both the Next Generation Series and Classic Series. Look up at the ceiling in any manufacturing plant and see it riddled with the classic orange hue from these industry standards. The CM Lodestar Hoist handles up to 3 Ton Capacities, making it ideal for heavy duty industrial applications. Made in the U.S.A., these H4 duty standard hoists are easy to install and maintain.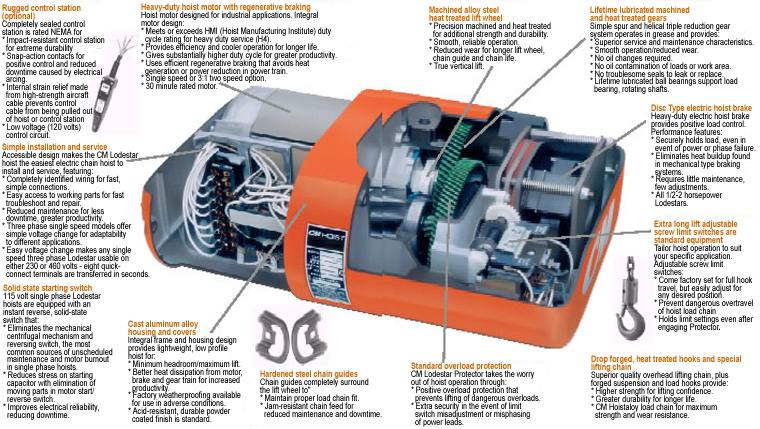 International Air Tool & Industrial Supply Company is proud to partner with Columbus McKinnon and offer these hoists worldwide. Browse all CM Hoists and their accessories here.
Have any questions about what kind hoist would best suit your needs? That's what we're here for! Give us a call at 800-608-5210 or shoot us an e-mail at info@intlairtool.com and our well-informed team can help you out.