Purchasing a chipping hammer may seem straightforward, but there are several design features that have a big impact on productivity, ease of use, and worker safety. Our experienced product specialists source the highest-quality air powered chipping hammers to meet our customers needs.
We've compiled this chipping hammers buyer's guide to help you narrow your search and select the right pneumatic chipping hammer for your construction, demolition, masonry, and concrete needs.
---
Clarify Your Project Needs
From the outset, you'll need to be clear what functions you need from your chipping hammer. The most common applications include:
Demolition
Edge & material shaping
Forming and cleaning out holes
Cutting through stone, concrete, and certain types of metals
Rust & paint removal
De-burring
Even if you have a single task in mind, consider what other applications you might have in the future. Selecting a more versatile chipping hammer will provide greater project flexibility and reduce long-term project costs.
---
Material Considerations
The type of materials you're working with also dictates which chipping hammer you will need. We'll start with metals, which have more obvious limitations. Generally, the softer the metal, the more likely it is to give under a chipping hammer's force. When using a chipping hammer on more durable metals, the chance of cracking, chipping, and other damage arises, even if it is possible to cut through it. In this case, chipping hammers should be selected for shorter strokes and lower impact energy.
This may seem counter-intuitive, but it's a faster impact rate that will cut more safely through harder materials, while higher impact force and longer strokes risk unintended damage to the surrounding area. The same dynamic applies when it's only necessary to scale or shape a metal material, rather than fully pierce it.
On the other hand, if metals are reinforced in some way, even softer metals might require higher blow/impact energy to fully penetrate without trapping the impact mechanism. This is also true of reinforced concrete or masonry, especially when it's unknown where rebar or other reinforcing material is.
Working with soft materials - For softer materials where the goal is scaling, think low-impact energy and short strokes with a high impact rate to enhance productivity (1" or 2" stroke lengths)
Light chipping and scaling. For this kind of work, you also need a smaller chipping gun with a high blow rate, but low impact energy (1" or 2" stroke lengths)
Tougher materials. To some extent, this depends on the hardness of the material and the application itself, but usually, you will opt for a longer stroke, higher impact tool designed to penetrate.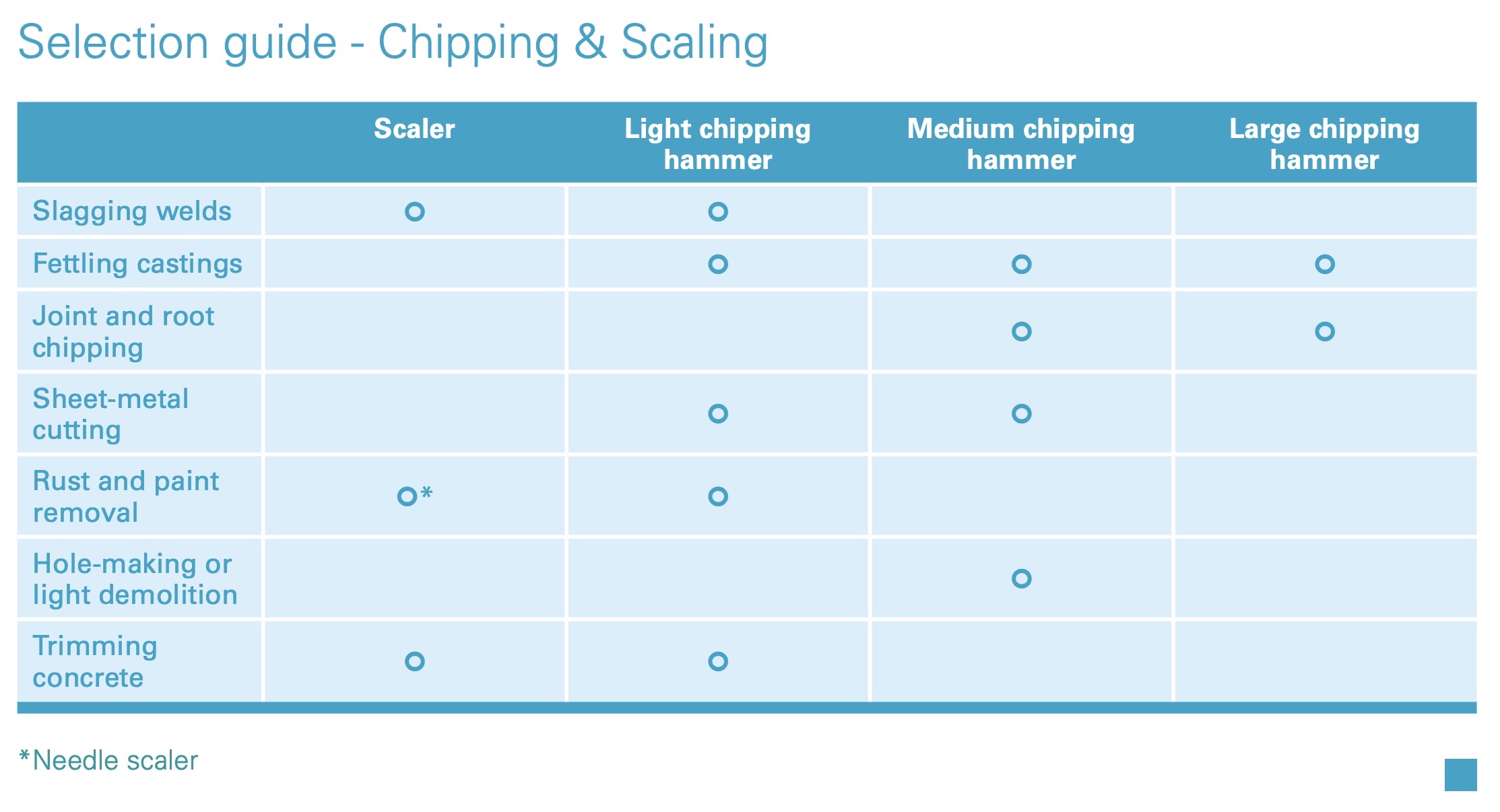 Here, the type of material and scope of the project are coequal considerations. For instance:
If your goal is purely demolition, there's no disadvantage to using chipping hammers with more power.
If you must cut cleanly through reinforced materials without causing non-local damage, your selection must hit the "sweet spot" between adequate, but not excessive, force.
For heavier demolition, you should move up to a

Rivet Buster

.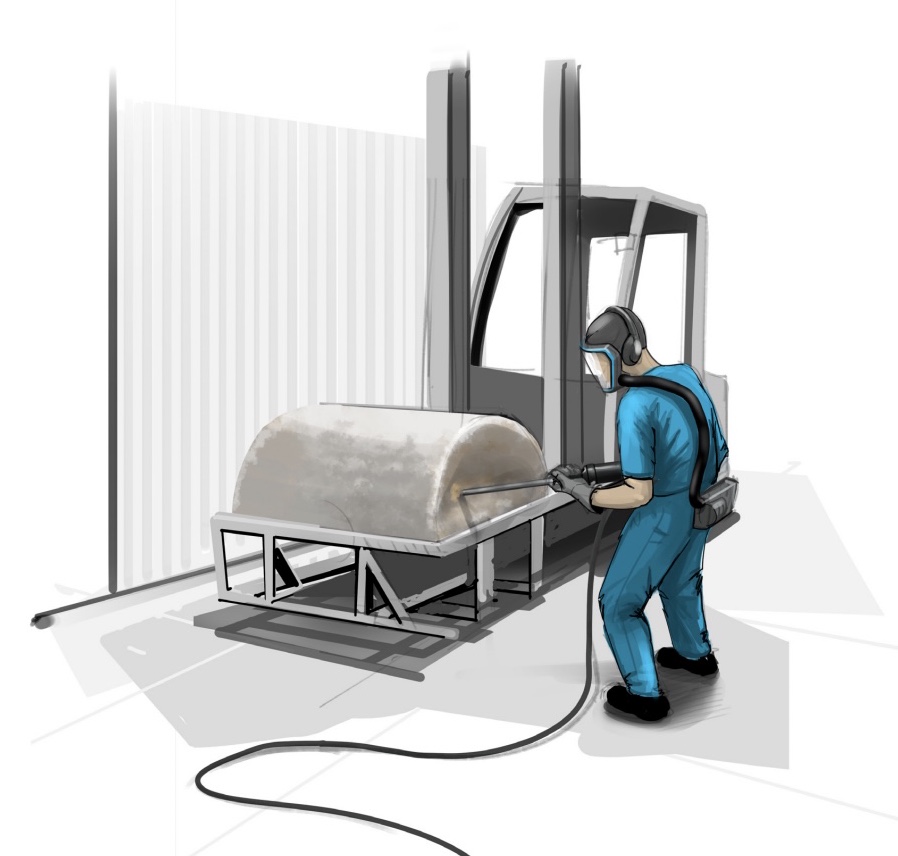 Knowing your material and product specifications is essential to maximizing productivity and minimizing damage for all but the heaviest demolition projects.
Sample Chipping Hammer Specifications:
Blows Per Minute: 1480 to 2500 BPM depending on the stroke length of the tool. As with all percussive tools, there is an inverse relationship between blows per minute and stroke length.
Air Consumption - Required airflow for a chipping gun rarely exceeds 35 CFM. This means a truck mounted, 10 HP compressor could power one tool.
Bore (Piston Diameter): 1-⅛"
Stroke Length: 1" to 4"
Nozzle Sizes:

.580" Hex Nozzle for Use with Hex Shank, Oval Collar Accessories
.680" Round Nozzle for Use with Round Shank, Oval Collar Accessories
.580" Hex Nozzle for Use with Hex Shank, Round Collar Accessories
.680" Round Nozzle for Use with Round Shank, Round Collar Accessories

Recommended Air Hose Diameter: 1/2"
---
Heavy-Duty vs Lighter-Duty Applications
Larger chipping hammers are required for heavier chipping work, such as trimming steel structures, tank cutting, and concrete demolition. Heavier-duty chipping hammers are also suitable for removing hard films, such as burnt-on sand, or to clean cement mixers, foundry crucibles, and other heavy industrial surfaces.
Not every application involves removing large quantities of material. Soft material shaping, deburring, and other light-duty jobs may require equipment that's lighter and easier to handle, so the operator has more control.
Small-to-medium sized chipping hammers are most suitable for the following applications:
Light demolition
Drilling plug holes
Joint and root chipping
Removing flash from light-alloys and iron castings
Sheet-metal cutting (note: this usually requires higher impact energy)
Trimming concrete & softer metals
Splitting spot welds
Fettling castings
The lightest-duty jobs, such as rust and paint removal, are best performed using needle or chisel scalers instead. Trimming concrete and slagging welds can usually be accomplished with either a chisel scaler or lighter-duty chipping hammer.
---
Tool Grip - Swan Neck vs D-Handle
Another consideration is grip, which has a major effect on handling, especially in tight spaces. When that's the case, many contractors prefer a swan neck design.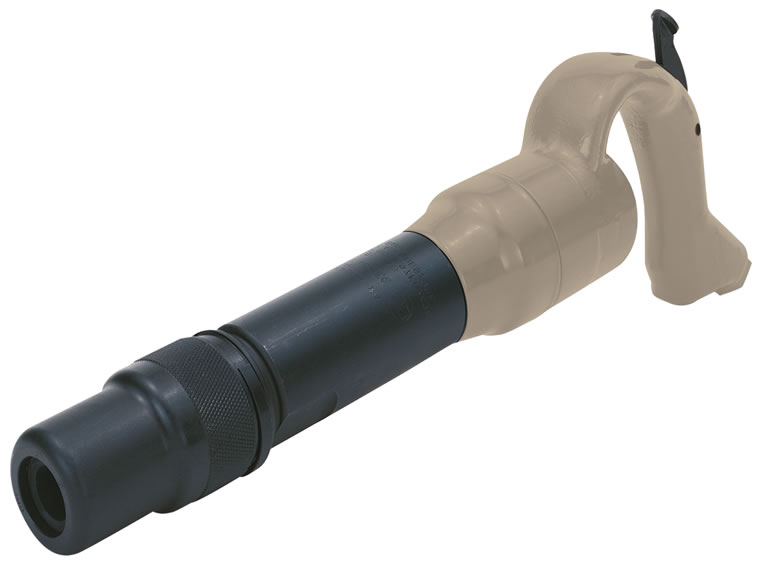 They allow workers to reposition their grip as needed, and the chipping hammer's smaller form and lighter weight makes the tool much easier to handle with precision (especially for extended use).
The D-shaped handle also ensures the operator's hands and arms are in line with the tool's chisel for maximum effectiveness and comfort throughout the work day.
---
Matching Product Specifications & Job Applications: The Key to Efficiency
Getting the most out of your chipping hammer requires a firm understanding of its specifications, because the product specs determine the type and amount of work output you can expect from it. For the widest functionality, maximizing productivity may require multiple chipping hammers, all suited to different functions. Alternately, a thorough understanding of product specs can help you determine which chipping hammer will work for multiple applications, avoiding more purchases than strictly necessary.
As we'll discover, smaller chipping hammers don't always mean less force; depending on piston velocity and other factors, smaller forms could result in more blow energy, if it's concentrated onto a smaller space. Higher weight is also not an indication of power, as newer chipping hammers are made of lighter alloys.
Hammers with the same impact mechanism.

Table 1 shows an example of the correlation between bore, stroke, impact rate and energy per blow for hammers with the same impact mechanism. Hammer 1 has shorter stroke and smaller bore, compared to hammer 2 which shows higher impact rate, but lower energy per blow.
Hammers with different impact mechanism.

For hammers with different impact mechanisms (Table 2) it is not as easy to compare hammers just based on bore and stroke data. Hammer 3 has longer stroke and consequently higher energy per blow, but it also has a higher impact rate. However, hammer 3 has a stroke that is 55% longer than hammer 2, but the energy per blow is only 25% higher. So hammer 2 has – for its size – a very efficient impact mechanism.
---
A Note On Shank and Nozzle Sizes
The nozzle of a chipping hammer is where the shank of the bit goes. Chipping hammers feature two nozzle sizes:
and
Independent of the tools nozzle, they may be equipped with either a round or oval collar style bit retainer. The collar of the bit nests inside the nose of the retainer. You must make sure that when you purchase a chipping hammer and/or bits that both the shank and collar sizes match up. Below is an example of a retainer with an oval shaped collar, therefore the bit to be used with this retainer must also have an oval collar.
To further illustrate, here is a list of potential chipping hammer nozzle (shank) and retainer (collar) combinations.
.580" Hex Nozzle for Use with Hex Shank, Oval Collar Accessories
.680" Round Nozzle for Use with Round Shank, Oval Collar Accessories
.580" Hex Nozzle for Use with Hex Shank, Round Collar Accessories
.680" Round Nozzle for Use with Round Shank, Round Collar Accessories
---
A quick note on the characteristics of round shank versus hex shank bits - Round shank, round collar bits have a tendency to rotate (dance) during use, which can be desirable or undesirable depending on the application. Hex shank bits do not rotate when the tool is operating.
A round retainer is shown in the photo above.
---
How To Measure Chipping Hammer Performance
A chipping hammer's performance depends on four factors:
Hammer rate
Impact energy
Stroke length
Bore diameter
In the field, the true measure of power is the rate of material removal. Measured mathematically, chipping hammer power is determined by a very simple equation:
Power (Watts) = Energy per blow (Joules) x Impact rate (Hertz)
Stroke and bore (or piston) size affect impact energy, which further alters total wattage because the energy of each blow is proportional to the piston's mass and velocity.
As stroke length increases, so does piston velocity, increasing impact energy. This effect is enough that a larger chipping hammer with shorter stroke length may be less powerful than it appears (and vice versa). Note that as stroke length increases, the impact rate usually decreases; but a longer stroke will almost always increase energy per blow, even with the slight reduction in rate.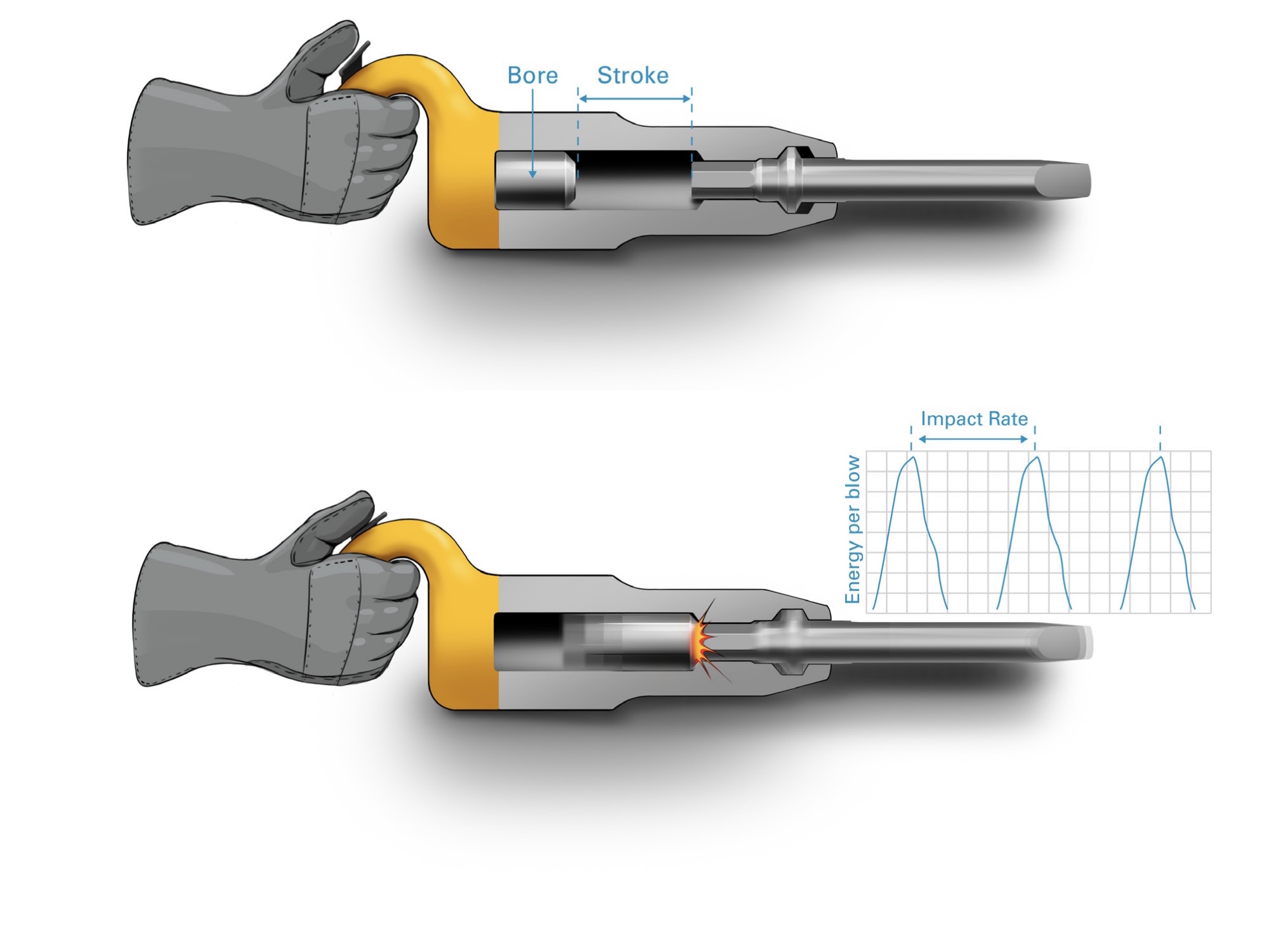 The impact mechanism (i.e., bit width, shape, and sharpness) further contribute to energy per blow, enough to potentially increase energy per blow proportionally higher than the chipping hammer's stroke length. A hammer with a moderate stroke length but a highly efficient impact mechanism could perform better than expected, compared to a hammer with larger stroke but a lower-quality bit.
Comparing an impact hammer's energy per blow with its power output helps determine the efficiency of its impact mechanism. For instance, an A/B comparison of two different hammer/bit combos could reveal that one hammer's impact mechanism contributes to total power output proportionally more than does another hammer's greater stroke length, if the latter has an inferior bit.
Finally, air consumption (as measured in cubic feet per minute or CFM) is an important factor, because it determines what type of compressor you'll need, along with how much waiting is required to supply the chipping hammer with enough air pressure for the intended duration.
---
Safety and User-Friendliness
While ease of use and safety may not start at the top of your list, it will be after extended use. Beyond chipping hammers' specs, it's important to dig deep into product features, so you can maintain efficiency while reducing fatigue and injuries. Certain features will also extend the product lifespan, revealing which product is the best long-term investment.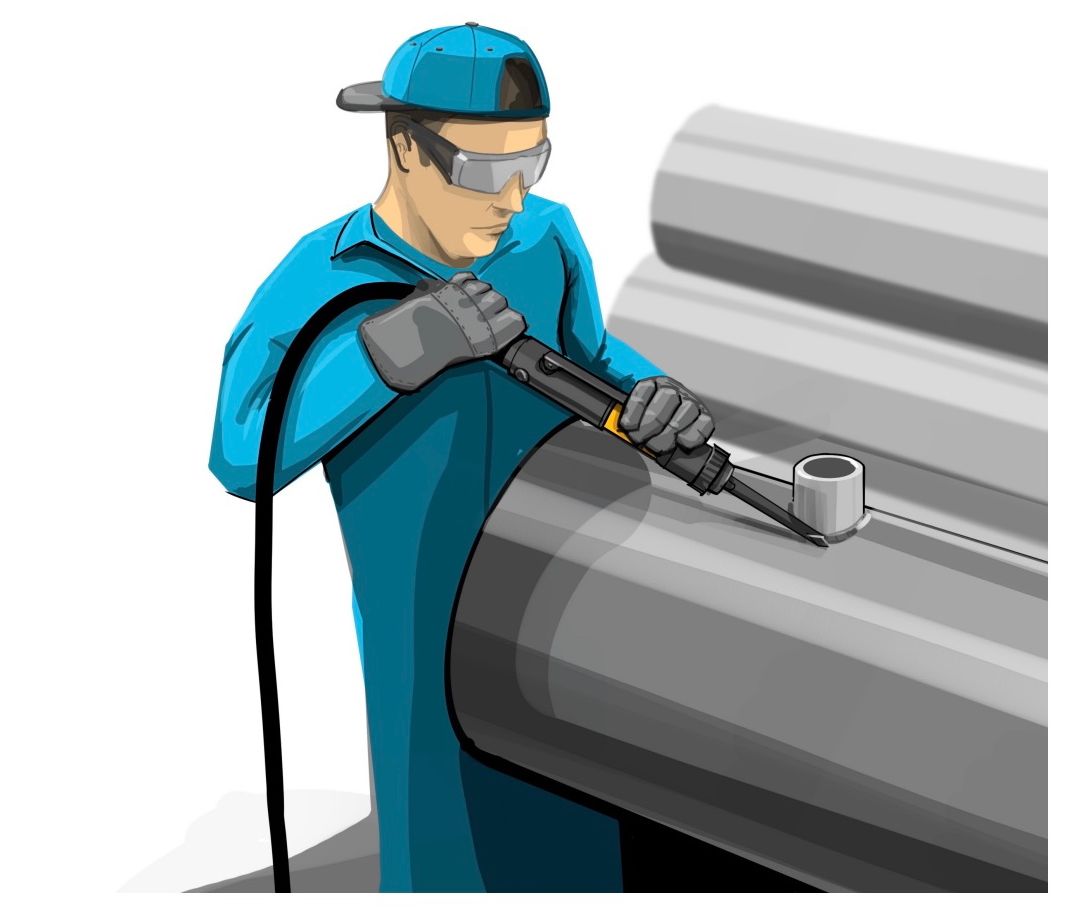 The right combination can improve speed and efficiency, reduce injuries, and extend product longevity. When buying a chipping hammer, be on the watch for any of the following features according to your priorities:
Push-in, quick-change bits with lock spring retainers
Heat shielding, both for comfort and longer-life pneumatics
Directional exhaust for more thorough cooling
Lock-on triggers (can reduce hand strain during extended use)
Vibration damping for reducing repetitive stress injuries (RSIs) to the hands, wrists, and elbows
Electronic Feedback Control Circuits (EFCC) for a softer start and to maintain power under load
Replaceable parts, for easy maintenance
A tease type throttle for precision control
---
How To Select The Right Chipping Hammer for You
For large-scale, heavy-duty needs, such as large-scale demo work, selecting a chipping hammer can be as easy as choosing the most powerful option that has the right combination of features. As soon as your chipping hammer needs become more specific and application or material considerations become more nuanced, you'll need to look more closely at each product's specs, features, and form.
The fastest way to find the best chipping hammer according to your project requirements is requesting assistance from International Air Tool & Industrial Supply Company. Our highly knowledgeable and experienced air tool professionals can help you determine which chipping hammers and impact mechanisms are most suitable for the exact scope and purpose of your projects.
Contact us to discuss your hammer chipping needs — and ask about our 100% satisfaction guarantee.