Posted by Mark Schieber on 29th Sep 2020

After 15 years in the pneumatic tool business, we get asked a lot about the best brands of pneumatic grinders. While we represent many world class air tool manufacturers, the grinders that seem to hang on the longest are made by Dotco. In fact, we call on a foundry in San Diego that still has Dotco and Cleco grinders on their floor that were made in the 80's and 90's. It's hard to distinguish the exact year they were produced because the engraved serial numbers have worn off the housings from so many years of intensive use. This is due to the fact that this particular customer grinds highly abrasive aluminum castings, two shifts a day, 6 days a week. We attribute the longevity of Dotco tools to their advanced engineering, tight manufacturing tolerance, and use of premium materials throughout. Furthermore, Dotco Air Tools are still made in the USA.
In this guide to Dotco die grinders, we help you choose the best tool for the job at hand... The die grinders are organized by their horsepower rating and suggested use. Please note that due to the recent re-branding of the Dotco and Cleco brands of air tools, we use these names interchangeably throughout the guide. All the tools in this guide are of the rotary vane variety and each is designed for intensive production or heavy maintenance use. The Dotco grinders that follow are designed to be rebuilt over and over again, as opposed to tossed in the landfill at the first sign of trouble. They are expensive, but worth every penny if you depend on these tools to make a living.
The grinders below are shown with 200 series or 300 series collets. Many of them can be ordered with either style. For a refresher on the difference between the two series of collets, please visit the first blog in this series titled: Dotco Die Grinders Part #1 | Pencil and Precision Grinders. All of the grinders shown below need to be ran at 90 PSI and supplied with adequate air flow as measured in CFM. Many of the tools are offered with front, rear, or side exhaust. Check the specific model number for details. Tools that begin with the number "12" feature the ergonomic composite housing, while those that start with "10" come with a rugged aluminum body.
---
SECTION #1:
Low Horsepower Dotco Die Grinders for Tool, Die, and Mold Work - Series 12-05, 12-10, and 10-10 - The tools in this section are compact, lightweight, high RPM, and low horsepower. They are designed primarily for finishing work in tight spaces. These tools are built with high quality bearings which makes them rotate concentrically and with very little spindle run out. Most users of these precision style die grinders opt for the higher RPM models in order to obtain the cleanest possible finish on machined surfaces.
0.2 HP Inline Die Grinder for Tool, Die, and Mold Work - 12-05 Series - with Collet Guard 40,000 RPM 0.2 hp (0.15 kW) - 1/4" collet, composite body, 0.7 Lbs. weight, 5.9" length, variable speed throttle, 1/8" NPT air inlet, ergonomic hand rest.

The Dotco 12R0500-36 is the original die and mold grinder which has been continuously refined over the past 60 years. The ergonomic egg shape housing offers great speed control, fits nicely is the palm of the hand, and is comfortable to use over extended periods of time. At less than 6" in length and weighing under half a pound, users will appreciate the tools small footprint. The spindle speed is controlled by a variable RPM dial throttle appropriately located at the rear of the tool and away from the work.
0.3 HP Die Grinders for Detail and Finishing Work - 10-10 Series aluminum body and 12-10 Series composite body - 1/4" collet, RPM's ranging from 12,000 to 34,000, weighs under 1 lb. The aluminum body measures 4.7" in length while the composite tool with its collet guard measures 6 inches. Both series have lever start activation with the safety "kickstand" style throttle.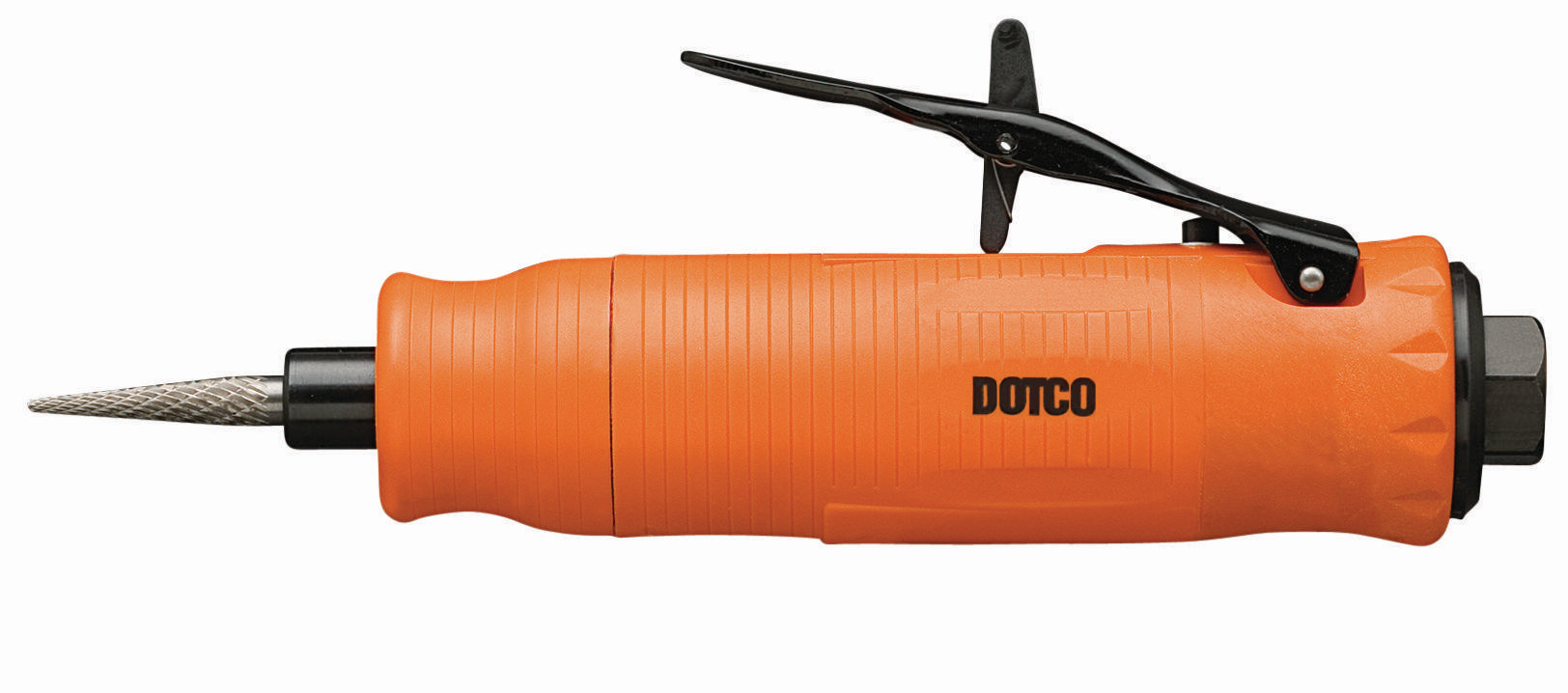 More of a traditional style die grinder than the 12-05 series above, the 10-10 and 12-10 series are still very light, compact, and well suited to detail work in small spaces. The major difference is that these 0.3 HP tools utilize lever start as opposed to the dial throttle mentioned above. Some operators prefer the lever style throttle because it's easier to stop the motor by just releasing the lever instead of fussing with the dial. Also, with .10 more horsepower, the ai motor and housing are a tad larger than the 12-05 series. Our best seller in this category is the Dotco 10L1080-36 which spins at 30,000 RPM and is great for leaving a clean finish when deburring parts in a machine shop.
---
SECTION #2:
Mid Horsepower Inline Die Grinders for General Purpose Grinding - 10-20, 12-20, 216, and 236 Series - This is the heart of the Dotco Die Grinder line up! These proven work horses have enough horsepower to take off stock but can double as finishing tools as well.
0.6 HP General Purpose Industrial Inline Die Grinders - 10-20 series aluminum body, 12-20 composite body, 1/4" collet, RPM's ranging from 12,000 to 25,000 RPM, weight equal to 1.4 lbs. or less. Collet style and housing material dictates the overall length, but no model in this series exceeds 6.9" in length. Check specific model numbers for details.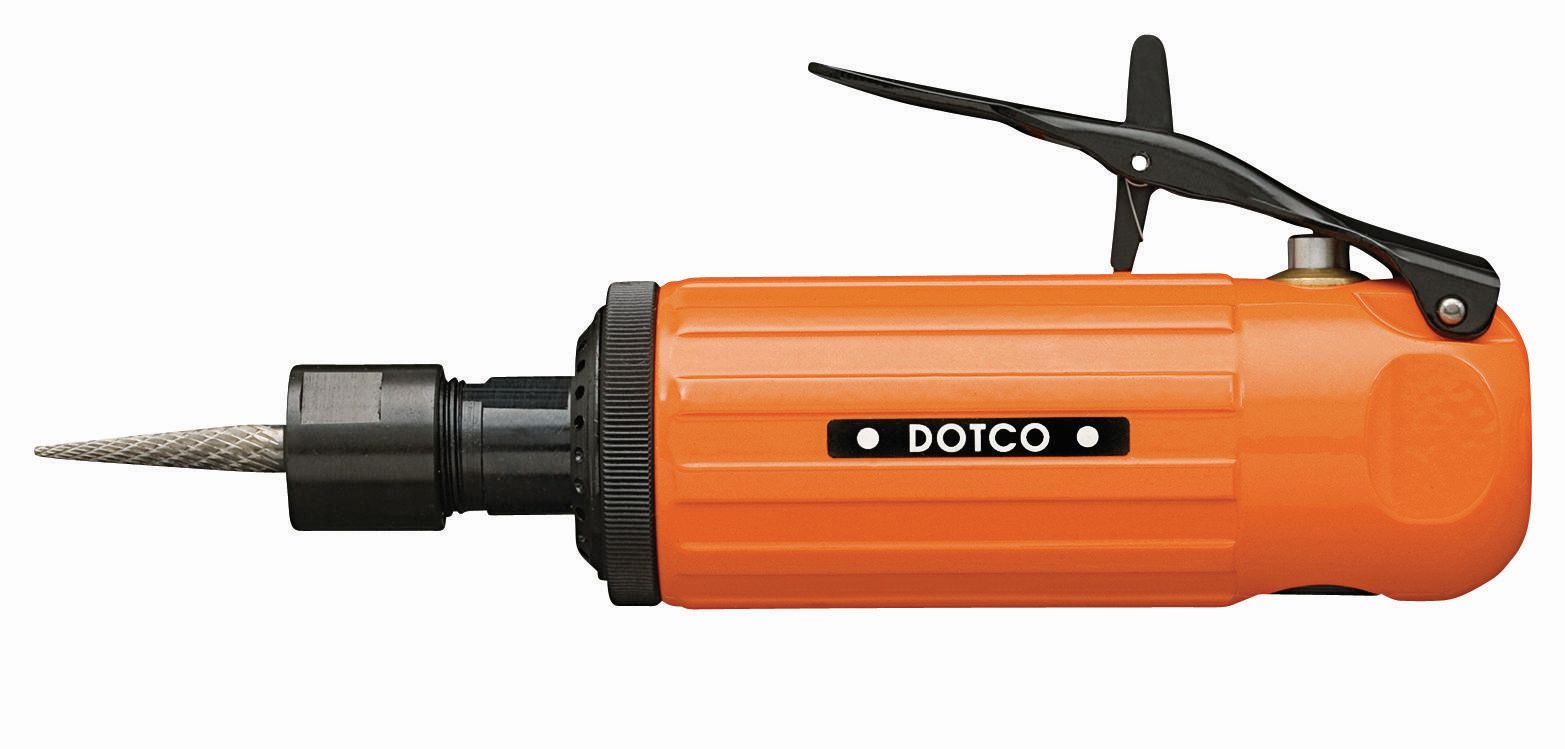 The 0.6 HP Dotco die grinders are the bread and better of fab shops, aerospace plants, sheet metal shops, and general manufacturing facilities worldwide. These tools are great for material removal, maintenance, or pre-finish work. The advantage of the aluminum housing is durability, but perhaps at the expense of comfort. While aluminum die grinder housings hold up to drops better than their composite counterparts, they also transfer cold to the arm of the operator. Composite tools feature an insulated coating over the tools housing which creates a barrier between the air motor and the operators hands. Use these 0.6 HP Dotco die grinders with your favorite 1/4" shank carbide burr. As with all Dotco die grinders, the throttle features a safety lever to prevent activation in the event the tool is accidentally dropped. Our best seller in this series is model 12L2080-01. At 25,000 RPM and 0.6 HP, it is well suited to handle a variety of general purpose applications. It also doesn't exceed the speed ratings of most commonly used accessories.
0.6 and 0.7 HP Heavy Duty "Shipyard Style" Die Grinders for Fast Material Removal and Maximum Durability - 1/4" collet, 18,000 to 25,000 RPM, 3/4" abrasive capacity, weight = 1.3 lbs., length = 6.3", 1/4" air inlet. Heavy duty cast aluminum housing.

The extra thick advanced alloy housing on these rugged body die grinder make them ideal for use in harsh environments such as steel mills, foundries, and shipyards. These tools are built to take a beating. Both the Cleco 236 Series and The 216 series offer an excellent power to weight ratio and keep operator comfort foremost with available rear, side or front exhaust. This "shipyard style" grinder utilizes a robust 200 series 1/4" collet to hold mounted points or carbide burrs firmly in place. An internal speed controller regulates air flow for added torque, which makes them well suited to rapid metal removal when used in the industries mentioned above.
---
SECTION #3
High Power to Weight Ratio Grinders for Fast Stock Removal - Series 10-25 and 12-25. These tools are designed to take down welds fast but without crossing the threshold from "die grinder" to two handed horizontal grinder. At nearly 2 lbs., these tools are heavier in the hands of operators, but are designed to take off as much material as possible while still being held in one hand.

0.9 horsepower inline die grinders for fast weld take down in fabrication shops, aerospace, truck and trailer, structural steel and manufacturing plants - 1/4" shank burr capacity, 200 series collet, weight under 2 lbs., 6.3" to 8" length depending on configuration, 12,000 to 25,000 RPM. Aluminum and composite housings available, front or rear exhaust.
The 10-25 and 12-25 series are the big dogs of the Dotco die grinder line up. Consistent with the rest of the series, the models that start with "10" are equipped with the aluminum housing while those that start with "12" have the more ergonomic composite housing. The safety lever with the "kickstand" is standard on both types of tools as is the robust 200 series collet. While not clearly stated on the Dotco Website, higher horsepower tools require a large amount air air flow to run at their peak performance. A 1 horsepower air tool needs to be used with a minimum 3/8" diameter air hose and paired with air compressor capable of producing at least 20 CFM per tool. If you plan on really digging into the material you are grinding, opt for a "torquier" model such as the 18,000 RPM 10L2582-01.
---
SECTION #4
Light Industrial Die Grinders for General Purpose and Maintenance Use - The MP series grinders were formerly blue in color and known as Master Power. These are Dotco's import-value line and are commonly used for deburring parts and taking down sharp edges on sheet metal.

0.3 HP and 0.5 HP general purpose, medium duty die grinders - A $600 die grinder is not suitable to every crowd and sometimes you just need a tool for intermittent or occasional use. Cleco's answer to this call are models MP4430 (0.3 HP) and MP4458 (0.5 HP). The MP series offers decent entry level tools that are made in Taiwan. The major difference between the industrial grade tools and the MP Series is that the internal components of the MP series are made from cast components that are later machined. In contrast, the industrial grade tools start with purer metals from solid stock, which are precision machined, heat treated, and oftentimes coated. The MP series uses general purpose bearings as opposed to precision beaings. Nevertheless, for the shop who's tools have a tendency to grow legs, or for occasional use only, the MP series is a fine choice.
---
SECTION #5
Extended Length Inline Die Grinders - Single and Multiple Extensions - Ideal for Reaching into Deep Recesses - Used in Casting Houses and Foundries - Series 10-11, 12-11, and 12-26 - Offered standard with 3" or 5" extensions. Some models can be customized to obtain up to a 36" reach.

0.3 and 0.9 HP extended length die grinders - 1/4" Collet for carbide burrs or 3/8"-24 threaded spindle for use with mounted points (select models), 18,000 to 28,000 RPM, composite or aluminum body, accessory capacity up to 1/2", extension range from 3" to 36" in length, weights and lengths vary by extension selected.
Dotco extended die grinders are commonly used to reach the bottom of molds, castings, various aerospace parts, and wherever a long reach tool is required. They are often used in foundries to deburr and remove parting lines or remove gating along the bottom of a cylindrical part. The standard extension lengths are either 3" or 5" long, but series 12-26 can be ordered with up to 36" of reach. Dotco extended length die grinders with a 1/4" part are sometimes used first with a carbide burr, then later with a flap wheel as a secondary process.
At 0.3 HP, the series 10-11 and 12-11 are lighter duty tools designed for finishing projects. In contrast, the 12-26 series jumps up to 0.9 HP and is better suited for bigger jobs requiring a larger diameter accessory.
In conclusion, Dotco makes a die grinder for nearly every application. From repairing molds to grinding a gusset turbine engine work or metal fabrication, Dotco tools have withstood the test of time in nearly every manufacturing environment. More importantly, when you invest in a Dotco, you invest for the long haul by purchasing a sustainably engineered tool which can be rebuilt again and again.
In the next and final installment of this series, we cover the complete line of Dotco right angle die grinders, their salient characteristics, and how to select the right tool for the job. Until then.