Posted by Guest Post on 29th Mar 2023
When you're in the market for the most reliable, high-quality carbide burrs available, PFERD offers the most precisely engineered products you'll find. PFERD designs carbide burrs for machining low- to high-strength materials of all types. Each carbide burr is designed, developed, produced, and tested to meet the highest quality standards. However, you might not know exactly what burrs to look for based on your unique needs.

In this buying guide, we'll help you select the ideal carbide burrs for your application. At the same time, you'll discover the capabilities of PFERD carbide burrs, which you won't find with inferior products.
Wide variety of Carbide Bur Shapes
One of the distinguishing features of these burs is their diverse range of shapes, each designed for specific applications. For instance, flame, oval, and pear-shaped burs are ideal for contouring and shaping, while ball-shaped burs are suitable for creating concave and convex shapes. Similarly, cylindrical and cone-shaped burs are best for removing material and finishing edges.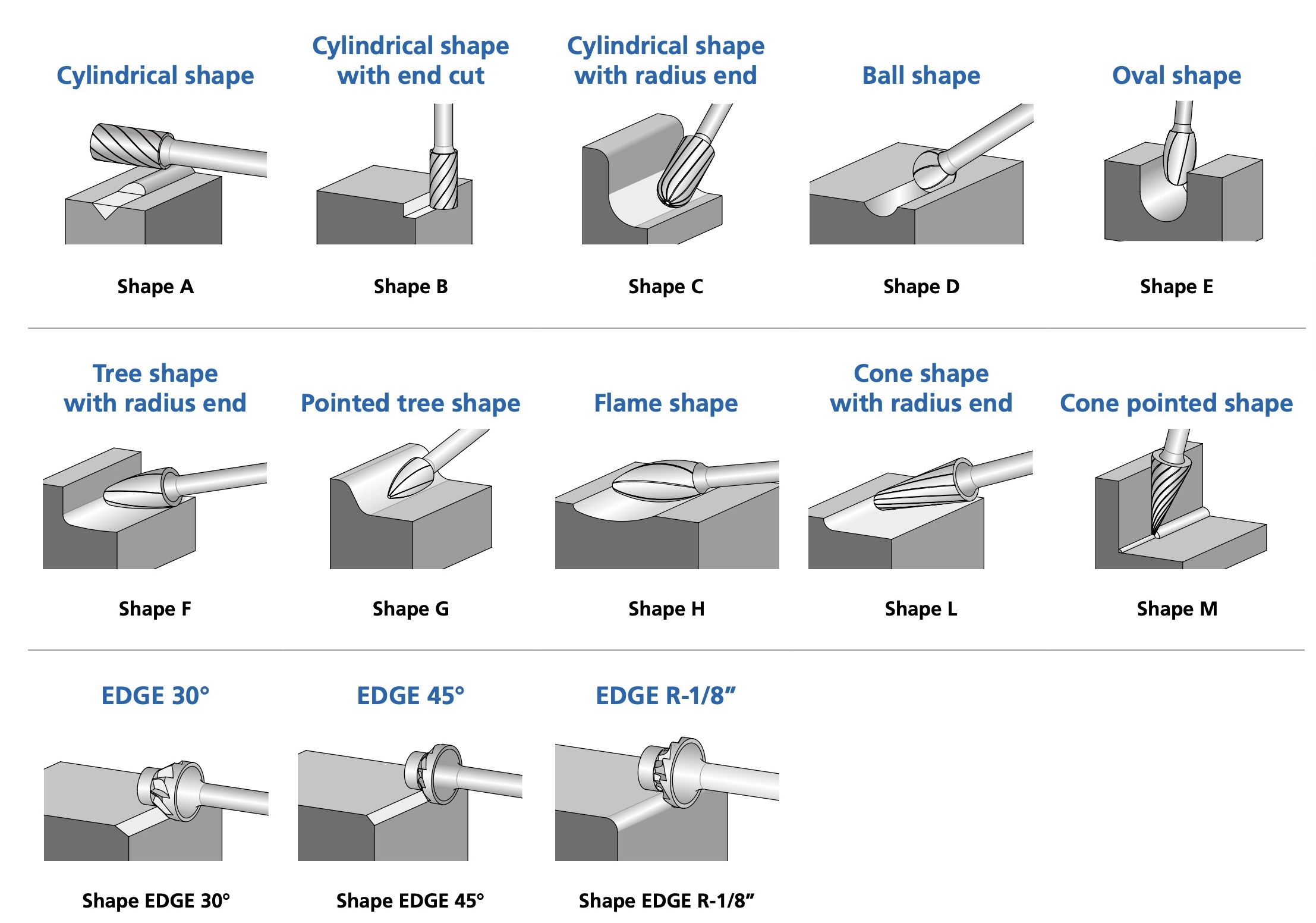 CLICK HERE TO SHOP PFERD CARBIDE BURS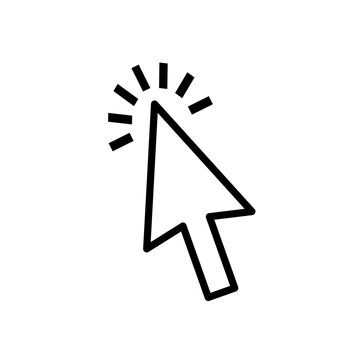 Choose the Right Carbide Bur Cuts
Depending on your unique requirements, PFERD carbide burrs come in many cuts. You'll want to select the right ones for your application. Some examples of available carbide burr cuts you'll find with PFERD products include:
PFERD cuts for universal applications

Single — This cut works for machining cast iron, steel, stainless steel, titanium, and nickel-based alloys.
Double — This design is similar to the single cut. But it features a cross-cut design and machines the same materials as the single cut.
Diamond — The Diamond cut works with many materials, including steel, stainless steel, and cobalt- and nickel-based alloys.
PFERD cuts for performance applications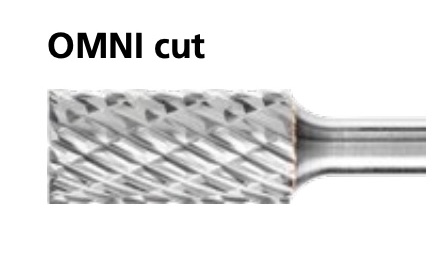 OMNI — This cut removes stock material at a high rate and works well with steel, stainless steel, cast steel, cast iron, and non-ferrous metals.
PFERD cuts for high-performance applications

STEEL — This option features one of the highest stock removal rates for steel and cast steel. It provides smooth milling, noise reduction, and reduced vibration.
INOX (Stainless) — This cut offers high stock removal rate on high temp alloys, acid-resistant, rust-resistant, and austenitic steels, along with soft titanium and stainless. It offers reduced noise and vibration during grinding
ALU — Choose this cut for a high stock removal rate and smooth milling for aluminum and aluminum alloys, plastics, and non-ferrous metals. The open flute structure works best on soft and gummy metals.
CAST — CAST offers an extremely high stock removal rate on cast iron, with smooth milling capabilities. It has reduced noise and vibration compared to other options. Best for ductile and grey iron work in a foundry type environment.
EDGE — The burrs beveled edge forms precise edge shapes of 30°, 45°, or with a 1/8" radius.
TOUGH — Choose TOUGH for a high stock removal rate on hard steels up to 580 Vickers HV (53.7 Rockwell C) as well as cast iron.
MICRO — This offers a high stock removal rate on many materials up to 940 Vickers HV with superior surface quality and noise and vibration reduction.
HICOAT® Coatings for Harsh Environments

Some carbide burrs may feature HICOAT® coatings that help them withstand both heat and work in harsh environments. These coatings use certain anti-adhesive traits for separating chips from removed stock. Burrs may include either HC-NFE or HC-FEP coatings. HC-NFE is ideal for working with non-ferrous metals and aluminum, while HC-FEP works with steel and iron. With HICOAT® coatings, you can increase the lifespan of your burrs and achieve consistent, high-quality finishes.

Get More Versatility With the ALLAROUND Cut
In addition to the previous cuts mentioned, we offer PFERD carbide burrs with an ALLAROUND cut that's suitable for many work environments. Burrs with the ALLAROUND cut work with a wide range of materials, including steel, stainless steel, cast iron, and non-ferrous metals. Save time on carbide burr changes by using one profile for multiple types of materials. Note: If using this approach, be aware of the possibility of cross contamination and plan accordingly.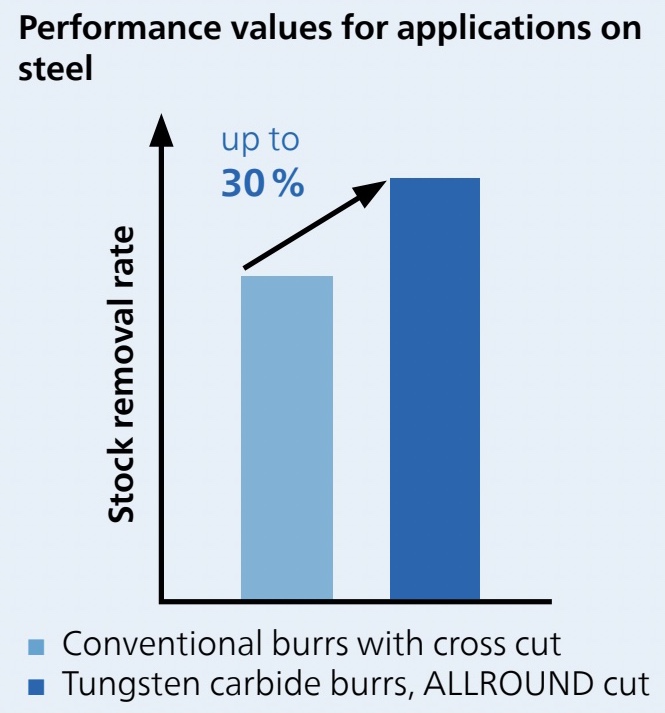 With the ALLAROUND cut, workers benefit from increased efficiency and comfort through noise and vibration reduction. The ALLAROUND cut ultimately helps save money and time with its high stock removal rate and works with many applications, including:
Levelling
Milling
Surface work
Deburring
Weld seam take down
Cutting out holes
This cut also works with multiple matching tool drives, including traditional collets, robotics, machine tool holders, straight grinders, and flexible shaft drives.

Automated Applications with Carbide Burrs
You can use carbide burrs on many automated systems, including CNC machines and robotics systems. Your application's process requirements will determine which burrs are right for you. However, always follow Pferd's recommended SFM and RPM ratings as to not over speed the burrs. By incorporating PFERD carbide burrs into your automated systems, you can achieve higher precision and greater efficiency from your CNC milling and routing operations.
Consider High-Capacity Carbide Burrs for More Demanding Applications
PFERD manufactures tungsten carbide (TC) burrs for use in high-performance applications. These burrs offer a superior stock removal rate and aggressiveness compared to other carbide burr designs. They also provide reliable guidance.
Unlike conventional burrs, TC burrs help increase profits and save time with increased accuracy. In addition, the design prevents the generation of chatter marks, which could otherwise result in wear that would damage the tool and tool drive. These burrs also come with an optional HICOAT® coating for reduced heat and better lubricity during while grinding.

Some of the specific advantages of using Tungsten Carbide Burrs include the following:
Extremely high stock removal rate, good guidance, and high aggressiveness
Significant time savings and long service life
Increased cost-effectiveness related to fewer tool changes
Impact-free material removal that doesn't leave chatter marks in the work.
Select TC Burrs Based on Material Usage
You can also find TC burrs available in many cuts based on the materials you'll use them on, including:
ALLAROUND for optimal versatility
INOX for stainless steel
STEEL

for both steel and cast steel

ALU for aluminum
CAST for cast iron
NON-FERROUS for various non-ferrous metals
PLAST for Composite Work - I.e. - CRP (Carbon Reinforced Plastics) or GRP (Glass Reinforced Plastics)
TITANIUM for titanium and other exotic alloys
FVK and FVKS for CRP or GRP
Extended Shank Burrs for Hard-to-Reach Areas

For applications requiring carbide burrs that can reach those hard-to-reach areas, consider using extended shank burrs. These burrs come in various cuts, including STEEL, OMNI, TOUGH, and Double. With extended shank burrs, you can achieve more precise cuts and better results, even in tight spaces.
Safety note – maximum rotational speed [RPM] for extended shank burs
When working with extended shank burs, it is critical that the bur is in contact with the workpiece (or inserted in the bore or slot to be machined) before the power tool is turned on. As a rule, the bur must remain in contact with the workpiece for as long as the machine is running. Failure to observe this procedure may result in shank failure (bending) and hence an increased risk of accidents. If continuous contact between the bur and the workpiece is not guaranteed, the [3] maximum idling speeds stated in the table must not be exceeded.
To determine the recommended rotational speed range [RPM], please proceed as follows: [1] Select the required bur diameter. [2] For the maximum application speed [RPM] with contact with the workpiece, please refer to the right-hand side of the table.

All-in-One Solutions with Carbide Burr Sets
If your application is likely to require multiple types of carbide burr cuts, shapes, and sizes, International Air Tool & Industrial Supply Company offers a selection of PFERD carbide burr sets to meet your needs. We offer a range of sets featuring various carbide burr models to ensure you're always prepared. Sets are available in up to 12 pieces, providing you with versatile solutions for any job.
Investing in PFERD carbide burrs can help you achieve greater versatility, precision, and efficiency in your operations. Explore our selection of carbide burr sets today to find the right tools for your needs.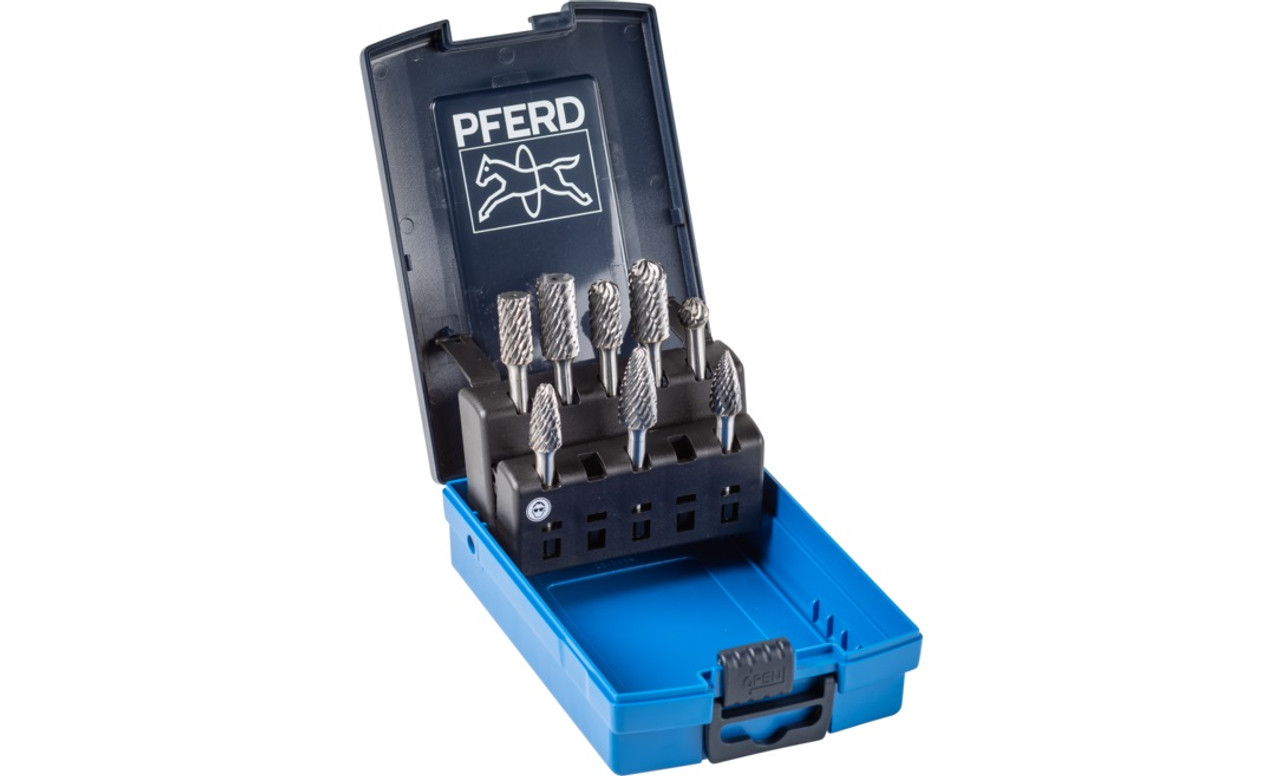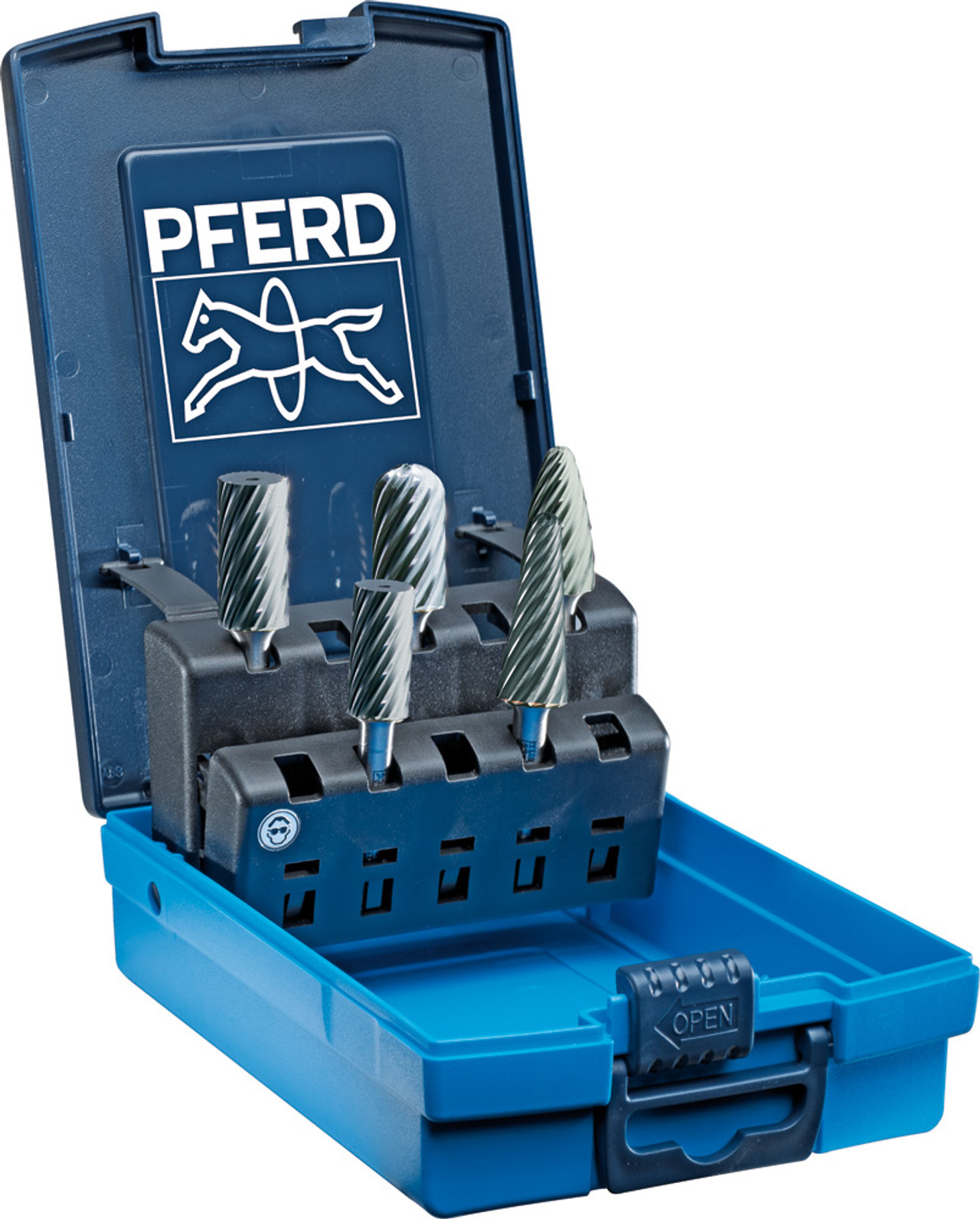 CLICK HERE TO SHOP PFERD CARBIDE BUR KITS
Find the Ideal PFERD Carbide Burr at International Air Tool & Industrial Supply Company
Since 1899, PFERD has built a reputation as the leading manufacturer of carbide burrs and abrasives for material cutting and work on surfaces. If you need a reliable carbide burr for your application, there's an option to meet your unique requirements.
If you're looking for high-quality carbide burrs and other industrial air tool, then you'll find a wide selection at International Air Tools & Industrial Supply Company.
We offer many types of abrasives from PFERD, including carbide burrs in all cuts and shapes. Browse our complete selection of PFERD carbide burrs today to find the right solution for your application.
For help choosing the right carbide burr of abrasive for your hand held machining application, give us a call at (800) 608-5210 or send us an email: info@intlairtool.com