The ARO Professional Series line of 1" Non Metallic (Plastic) Diaphragm Pumps is well suited to general purpose and moderate volume production pumping applications. These popular diaphragm pumps can be found in manufacturing plants, car washes, garages, plating shops, and throughout the agricultural industry. ARO offers different diaphragms for use with specific chemicals. Use the chart below to select the diaphragm best suited to your fluid handling application.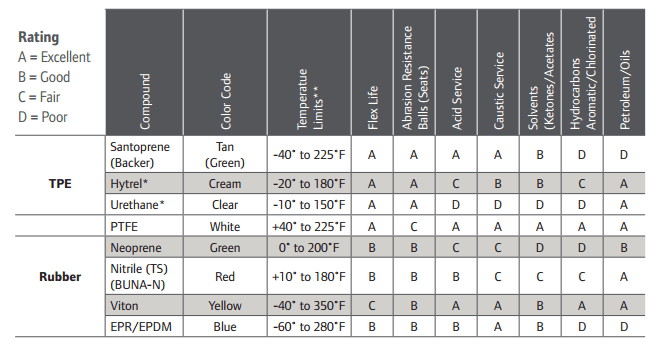 Best of all, ARO One Inch Air Operated Diaphragm Pumps provide stall-free and ice-free operation. The patented "Unstallable" off balance air valve prevents binding issues associated with other brands of pumps. "Quick-Dump" exhaust valves divert cold exhaust air from ice-prone components, preventing freezing. Backed by a five-year warranty, Ingersoll Rand ARO has the most durable pump on the market today.
ARO offers pumps for everything from acid to olive oil. With flow rates up to 237 GPM (897 LPM) and a wide range of material and porting configurations, Ingersoll Rand ARO has the right pump for your fluid handling needs. If you need help selecting the right model for your application call (800) 608-5210 and we'll be happy to assist you.