Since 2011, International Air Tool Co. has repaired hundreds of Industrial Grade Pneumatic Tools and Diaphragm Pumps for customers all over the world. Our technicians are master craftsmen who have been expertly trained by some of the world's largest manufacturers. We can bring new life to your tired tools and save you money versus buying new. Best of all, we offer a 100% satisfaction guarantee. If you are unhappy with our repair work, simply send your item back within 30 days of receipt and we will make it right. Here is a list of the items we work on:
Impact Wrenches - Pneumatic Grinders - Drill Motors - Pavement Breakers - Chipping Hammers - Rivet Busters - Diaphragm Pumps - Needle Scalers - Pneumatic Screwdrivers - Electric Screwdrivers - POP Riveters - Aircraft Riveters - Pneumatic Saws - Routers - Sand Rammers - Tampers - Rock Drills
PLEASE NOTE: We Only Work on Industrial Grade Air Tools. With Garage and Automotive Style Tools its Typically Cheaper to Buy New Than Repair. We also do not work on nailers or nail guns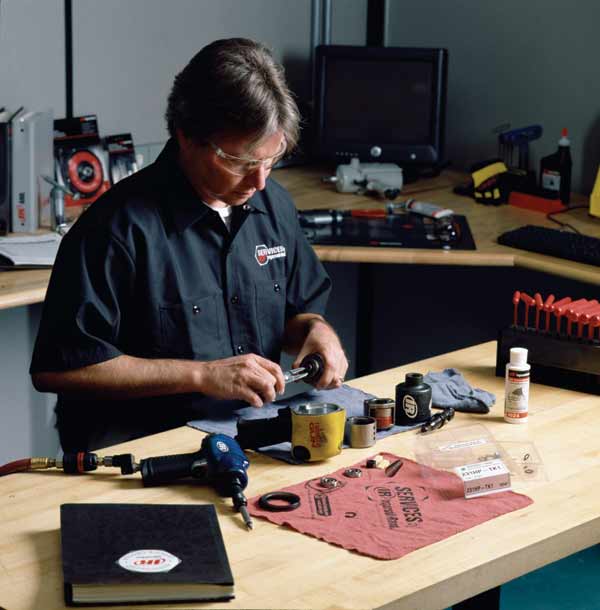 Service Rates and Turn Around
Inspection Fee - There is a $50.00 per tool initial inspection fee which is waived if you proceed with the quoted repairs
Parts and Labor Rate - Our shop rate is $85.00 USD per hour plus parts and supplies
Freight - Customer pays shipping charges to and from our facility
Turn Around Time - Turn around times are heavily dependent on the availability of parts. Average repair time is 2 to 4 weeks.
A Note Regarding Very Old Tools and Pumps with Illegible Model Numbers...
If your tool or diaphragm pumps is more than 5 years old, please call us to verify that parts are still available before sending them in.
Please make sure that the tools model and serial number are legible and try to include them in the evaluation form below. In some cases we can identify tools, but not always. Its a good idea to email photos first: info@intlairtool.com
Shipping Instructions:
Fill out the evaluation form below and include a copy with your shipment

Ship to:
International Air Tool Company
Service Department
3574 Hancock Street
San Diego, CA 92110

We will promptly email you confirmation that we received your tool followed by a repair estimate approximately 2 to 4 business days later.

No work will be performed without your prior authorization.

QUESTIONS? - We are To Help - Please Call (800) 608-5210 or use the form below to contact us.