The All New New Chicago Pneumatic CP75 Series Angle Wheel Grinders. The Most Powerful Angle Grinder in its Class!
LIMITED TIME OFFER, BUY ANY CP 75 SERIES ANGLE GRINDER AND RECEIVE A FREE CP872 INLINE DIE GRINDER, A $66.00 VALUE! - USE COUPON CODE CP872 AT CHECKOUT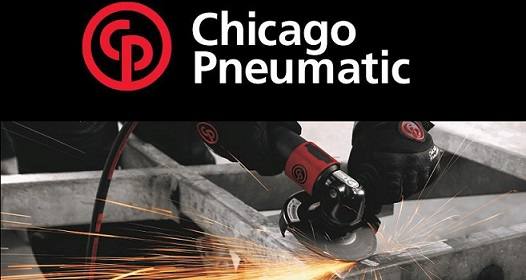 Chicago Pneumatic's new line of angle grinders are ideal for maintenance and repair operations (MRO) as well as light duty production work. CP75 series grinders represent a revolutionary step forward in material removal technology and are upping the bar for mid-market, industrial grade grinders. These compact and ergonomic air tools enable manufacturers to increase their productivity and ultimately, profitability.
The CP75 series is offered with either a 4", 4.5" or 5 inch" guard. Available spindle sizes include 5/8"-11 or 3/8"-24. These tools are compact and lightweight, weighing only 3.5 lbs., they allow for easy maneuverability and handling. The tools may be used with grinding wheels, flap discs, resin fiber discs, or cut off wheels. The head of the grinder is manufactured from aluminum, while it's body is made of steel and aluminum covered with comfortable grip designed to protect the operator's hands from the cold. A safety lever throttle is included standard on all models.
For questions selecting a New Chicago Pneumatic CP75 Series Grinder please contact us at 1-800-608-5210 or 619-795-7955.